"Seattle University is a sleeping giant, and we need to awaken the sleeping giant."
These were the words that Scott McClellen, the current vice president of communications at Seattle University, used to describe the school's recent efforts at rebranding itself.
As part of this ongoing effort, the school has recently made a number of changes geared at making Seattle U a larger contender in the educational market.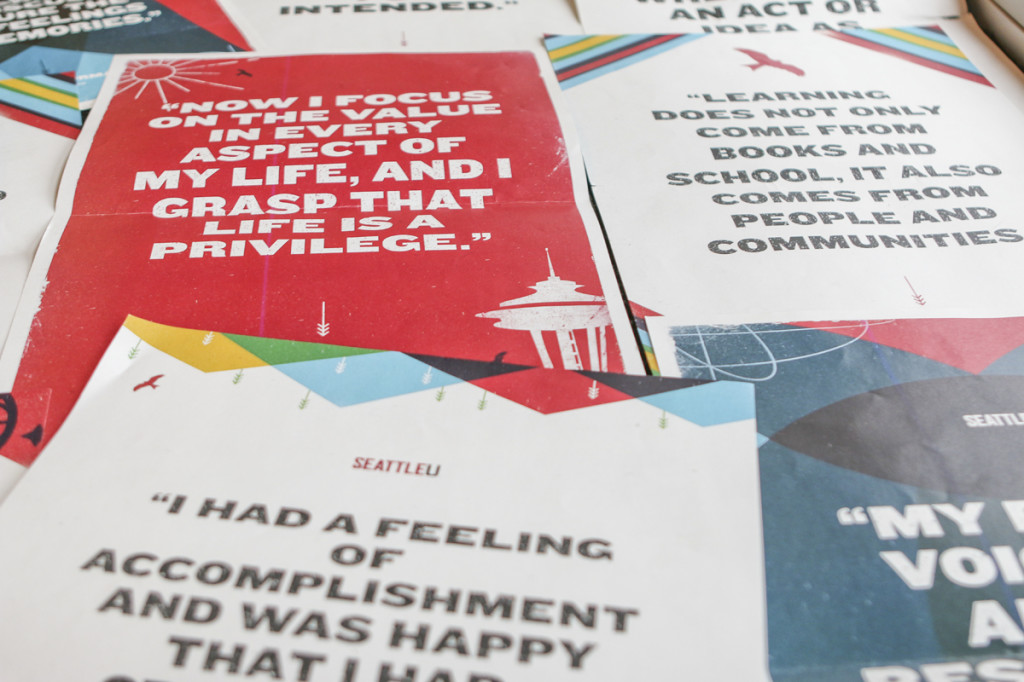 Posters displaying quotes from rising freshmen who have been accepted to Seattle U. The office of admissions has begun sending out the posters to the class of 2018.
Accepted early-admission students saw one example of this endeavor just a few weeks ago when, along with the traditional Seattle U acceptance package, students are now receiving a medium-sized poster featuring a quote from their application essays.
"Your words have made an impression on us. So we made an impression of them. At Seattle University you are one of one. And nothing could be greater," are the words written on the back of the posters.
According to Dean of Admissions Melore Nielsen, the decision to include posters as part of the acceptance package was another way to show students Seattle U's personal approach to choosing incoming students. The company tasked with the university's rebranding campaign, called 160over90, presented the idea as one of many during a recent meeting with the school's Brand Leadership Group.
Last spring the company began a "discovery phase" to try and understand the school's unique personality as an institution. This included interviewing staff, students and faculty about what they thought most accurately represented Seattle U. They also interviewed external group to gauge public perception of the school. Part of their findings, Nielsen said, was the school's emphasis on creating personal relationships with incoming students. This had already taken the form of the personalized letters that accompanied acceptance letters.
"As an agency, that resonated with [160over90], so when they were presenting their findings and talking about things we could do, they said they certainly want to build on that," Nielsen said. "So they kind of had this concept of 'wouldn't it be cool if we took it one step further and we took a quote out of their essay?'"
The idea stuck with Nielsen. When the agency first brought the idea forward, Nielsen said they had only a small number of students in mind: maybe those who had been accepted into the Honors program or received a particular scholarship. Nielsen's thoughts for the plan, however, were much more expansive.
"We don't want to do that for 15 students," she said. "We want to do that for every admitted student."
This involved going back through the 600 essays that admissions counselors had already read and choosing quotes from them. Despite the administrative difficulties that accompany such a decisions, admissions was able to send posters out to all the early-action students, and is currently in the process of finishing up posters for students who applied later, which will go out in March.
The admitted students Facebook page and Instagram have already begun to fill up with pictures of students' posters. A quick scan of #SUONEofONE tag on Instagram reveals over 60 pictures of student posters. The quotes are heavily personalized and, though they may not make sense to the casual observer, obviously hold great sentimental value to the recipients.
"I'm here to stand up for the little creatures and to share their world with our world," says a photo from Instagram user "toomuchwanderlust," posted with the comment: "Coolest college mail ever," and followed up with another comment from a friend saying, "That's so badass."
The poster initiative is just one small part of the school's recent rebranding efforts. McClellen, who put together the Brand Leaderships group, said Seattle U's main goals in the rebranding campaign are to move away from the modesty that once defined the school, without needing to push against larger schools with massive budgets.
"We don't have to shout as loud as everyone else, we just have to make sure we're in the game." McClellen said. "And the reason I say that is we do have such a great story to tell, and if we tell it with clarity, it's going to really position us for long term success."
McClellen and the Brand Leadership group are also working on a more comprehensive "visibility campaign" that they hope to launch in December to increase awareness of the university. Though no materials have been decided on, this could include billboards and redesigned apparel, and will most certainly involve revamping the school's digital presence. The group is also in the process of updating the graduate and undergraduate viewbooks. Like the posters, these efforts seek to make Seattle U stand out on it's own particular merits as a small Jesuit school.
The change also means working on Seattle U's physical presence on the Hill.
"We need to pull back the curtain more. Too many people drive or ride by the campus and do not even realize we are here," McClellen said.