The Mouthful: Bananas Foster Crepes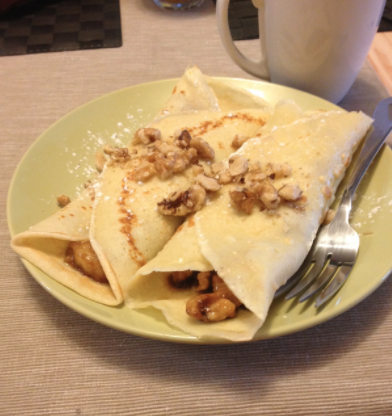 Breakfast for dinner is one of the great innovations of humanity. I'm all for liberating breakfast from the confines of morningtime, when our bellies are too sleep-addled to handle a meal as grand as breakfast should be.
But in that oh-so-draining stretch of time between midterms and finals–in the most depressing month of the year, no less–may deserve an even more potent pick-me-up than breakfast for dinner.
I present to you: dessert for breakfast.
This week, I'll be posting recipes that blur the lines between dessert and breakfast. They'll make your days a little brighter. And your tummies, perhaps, a little more jolly.
To start, heat a large skillet over medium heat.
---
Start by swiftly beating one egg until it has lightened in color.
---
Add 1/2 cup of flour and stir.
---
Gradually add ½ cup milk, stirring constantly, until a thin batter forms. Add a pinch of salt and one tablespoon of melted butter and stir.
---
Add a bit of butter to your warmed pan. Use a paper towel to spread butter in a thin layer on the bottom and sides of the pan. Next, pour approximately ¼ of your crepe batter onto the pan. Immediately after pouring, swirl the pan so the crepe spreads into a thin, large circle.
---
Once the crepe is beginning to set, start running a rubber spatula around the edges to make sure they are not sticking to the pan. Flip the crepe with the rubber spatula once one side is golden brown.
---
Once crepe has browned on both sides, transfer to a plate and set aside. Repeat until you have created four crepes. Don't worry about the crepes getting cold–the warm filling will take care of that.
---
Next, make the filling. Add 2 tablespoons of butter and ½ cup of brown sugar to the same pan you used for the crepes. Stir and let bubble for a few moments. You should achieve a thick, caramel-like consistency. If the consistency seems off, add a bit more sugar or butter.
---
Add 1 sliced banana, ½ cup chopped walnuts, a pinch of salt, a small splash of vanilla, and a large splash of rum and stir. Let bubble for a few moments. Though rum is traditional in bananas foster, any dark alcohol will work well – I used whisky, because it's what I had. If you don't normally keep rum around but would like to use it for this recipe, the small airplane bottles of rum available at liquor stores work well. You can also omit it altogether.
---
To fill crepes, spread ¼ of the banana mixture down the middle of each crepe and fold up sides.
---
Top crepes with powdered sugar or whipped cream and more chopped walnuts.
---
And eat up.
---
Bananas Foster Crepes
Makes four crepes, or two servings.
Crepes
1 egg
½ cup flour
½ cup milk
Pinch salt
1 tbl butter, melted, plus extra for pan
Banana filling

½ cup brown sugar
2 tsp butter
Splash of vanilla extract
Large splash rum or other dark liquor such as whisky, optional
Pinch of salt
1 banana, sliced
1/2 cup chopped walnuts
Garnish
Whipped cream or powdered sugar
Extra chopped walnuts
For crepes: Beat egg. Stir in flour until a paste forms. Add milk gradually, whisking after each addition, until a smooth batter forms. Add salt and butter and stir. Heat large skillet over medium heat. Melt a bit of butter in the pan, using a paper towel to get a thin layer all over the bottom and sides of the pan. Pour ¼ of the crepe batter into the pan, and immediately swirl pan to form a large, thin pancake. Let cook for a few minutes, using a rubber spatula to keep sides from sticking. Once one side has browned, turn the crepe, using more than one spatula if necessary. Let cook until other side has browned and remove to plate. Repeat for remaining crepes.
For banana filling: Melt butter and brown sugar in a saute pan over medium heat until sugar is dissolved. Add vanilla, rum if using, and salt. Stir. Add bananas and walnuts and stir gently for a few minutes, adding a bit more butter if mixture seems too thick. Spread mixture inside crepes, fold crepes, and serve topped with whipped cream or powdered sugar and more chopped walnuts.
Leave a Comment