"Pitch Perfect" fans will want to keep Seattle University's own a cappella group Unauthorized to Harmonize (UTH) on their radar.
For the first time ever, UTH competed in the quarterfinals for the International Championship of Collegiate a Cappella (ICCA) on Saturday, Feb. 15—the same competition that the a cappella groups in "Pitch Perfect" competed in.
And just like the a cappella groups in "Pitch Perfect," UTH worked through serious obstacles to get on that stage.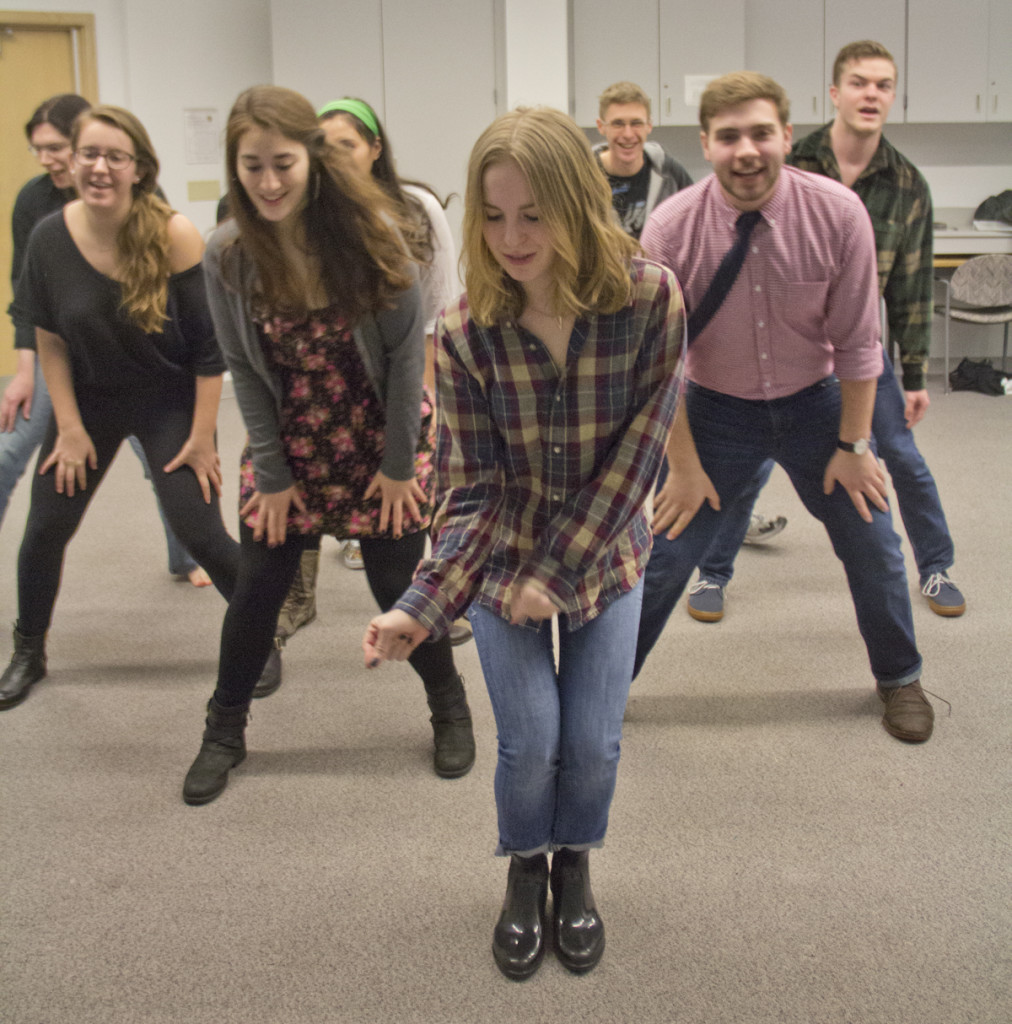 Sage Little and members of Unauthorized to Harmonize practice in the Fine Arts building. UTH is Seattle University's first a cappella group to compete in the ICCA, which occurred this past Saturday at Pacific Lutheran University.
After submitting an audition tape during fall quarter to compete in the ICCA, UTH received news in mid-November that they would advance to the quarterfinals—something they were not expecting.
"We lost over half our members this year, so we really had to rebuild and we have a lot of new people—people that haven't sung together before, people who haven't done an a cappella group like this before," said senior Olivia Ghersen, president of UTH. "So it was really surprising that we got in, but it was also really exciting because it meant we had this new goal."
The group took on this new goal, rehearsing two days a week.
The competition allotted each group 14 minutes to perform three songs. Since it was their first time competing, UTH decided on three songs they knew well, two of which were composed by vice president Justin Barnes—"Ain't No Other Man" by Christina Aguilera, "Bottom of the River" by Delta Rae and a mash-up of a few songs by The Killers—so that during practice, they could focus on the one thing they have never done before and the one thing that helped garner much of "Pitch Perfect"'s popularity: choreographed dance movements.
"It's a little bit of a different animal having to do the singing and dance moves at the same time and keeping track of the different things going on in your brain," said Barnes, a senior at Seattle U.
The group had to find a balance between which dance movements were manageable to learn and remember, while still looking good on stage.
"You can have a lot of dance moves, but it might slow down the song. If you're moving slowly, then the song will probably slow down just because your body and singing is going to be connected," Ghersen said.
Sophomore Chase Anderegg had some difficulty incorporating the dance moves.
"It was so hard for me because I'm not a dancer at all, so I wasn't used to moving around so much," Anderegg said.
On the day of the competition, UTH and the nine other groups arrived at Pacific Lutheran University hours before the start of the competition to check in, do sound check, pull names for the order of the line up and rehearse.
Up until it was their time, members of UTH watched the other performances from backstage.
"It was really cool watching the really, really good groups who have been performing at ICCA for a long time because they've been doing it for so long they're very polished," Barnes said.
The night included some technical difficulties with the microphones for a lot of the a cappella groups, including UTH, but the group still delivered.
HERmonic from Pacific Lutheran, Boots 'n' Cats from Central Washington, and Nada Cantata from Central Washington University placed first, second and third, respectively. HERmonic and Nada Cantata will go on to compete in the semi-finals.
Although UTH did not take any of the big awards, they were excited for the groups that did win.
"A lot of groups really wanted to continue on and we were just kind of there to experience it and have a good time," Ghersen said.
That's not to say that UTH didn't perform well. In fact, there was only a 23-point difference between UTH and third place winner Nada Cantata.
"We would have placed third in quite a few and second in one or two of the quarterfinals, which I thought was pretty amazing," Barnes said.
Regardless of the final results, the group couldn't be prouder.
"All the members—new and old—gave it their all," Barnes said. "I feel it was a really strong first entering into the ICCA world."
"Everyone did such a great job and we sounded really good," Ghersen added.
"I went out there with a smile on my face and I was nervous as hell, but I knew I was just going to leave everything out there, and I think everyone had that mentality. Honestly, I'm very pleased with the performance and I think everyone else is pleased too," Anderegg said.
Though their journey in the competition stops here, this won't be the last of UTH. UTH will be performing at Scratch on Friday, March 7 and could possibly be back on stage at next year's ICCA.
Editor-in-Chief Kellie Cox is a member of Unauthorized to Harmonize.