D1 Brings 'Fun-Raiser' To Seattle Children's
Folks who would rather sit than dance, but who would still like to raise money for a social cause, should be interested in what D1 Improv is cooking up.
On Feb. 21, Seattle University's D1 Improv team will be hosting a "Fun-Raiser" designed to help raise money for the Seattle Children's Hospital. The event will be a fun-filled evening of improvised comedy preceding the related Dance Marathon on Feb. 22.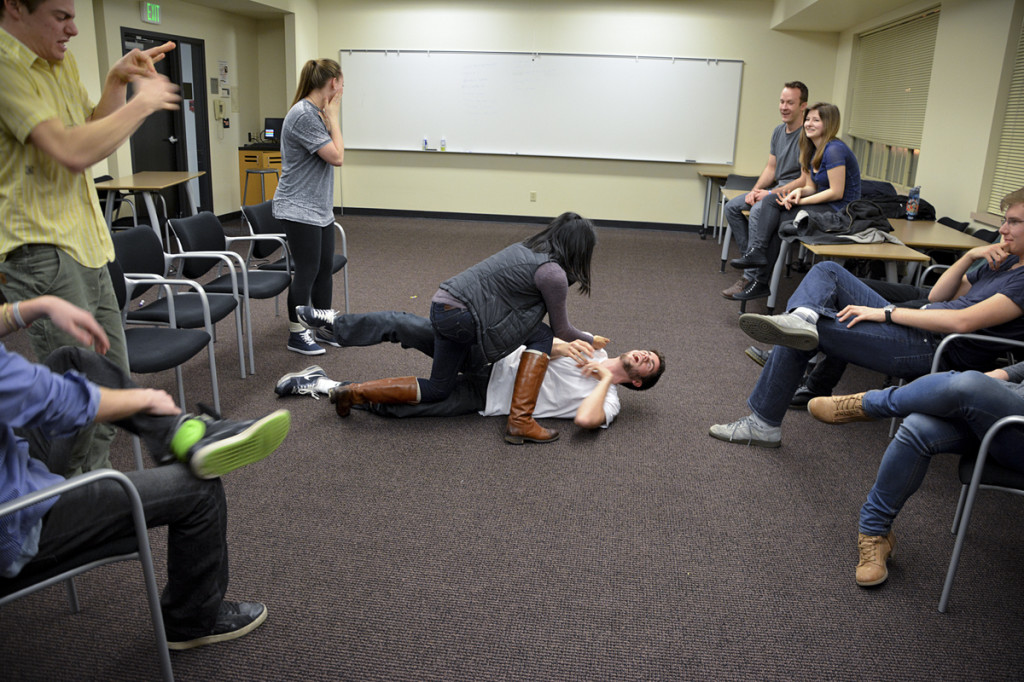 Members of Seattle U's D1 Improv team prepare for their upcoming "Fun-Raiser" on Feb. 21. The funds will benefit Seattle Children's Hospital in conjunction with Dance Marathon on Feb. 22.
D1 Improv, which began in 2005, has some experience in raising money for a cause. When Hurricane Katrina struck New Orleans, the team acted quickly to raise money for the victims of the storm. However, this upcoming event does represent a first for the group in that they will be partnering directly with SGSU, which will be financing the event with appropriation money.
"I think it's important to do something big every year," said the club's co-leader Stuart McMurran. "We have a unique medium with improv, and I would like us to participate in socially healthy events like this one."
The event will be smaller than Dance Marathon, with a short meet-and-greet featuring live music by Seattle-based band the Lucky Stripes. The meet-and-greet will also feature a short speech regarding the Dance Marathon by Kate Granath, encouraging those in attendance to either participate or donate to the cause. D1 will be selling t-shirts and food to help raise funds for the Seattle Children's Hospital. While admission to the event is free, as it is at all D1 shows, patrons will be encouraged to donate to the cause.
The event itself has already undergone several changes. It was originally going to be called the "Laugh Marathon;" however, the name was changed when the group decided that it was too closely related to the "Dance Marathon." By changing the name of their event, D1 has created a small sense of separation from the Dance Marathon, which may help the fundraising in the course of the night.
The Seattle Children's Hospital helps many Seattle families through both research and active help, as well as classes for families raising children with special needs. The hospital also tries to create a healthy, loving atmosphere for its patients. According to the hospital's website, Seattle U's Dance Marathon last year raised "more than $42,000 for uncompensated care at Seattle Children's." Hopefully this year, with the help of the Fun-Raiser, we can raise even more.
D1 is a highly acclaimed group which, according to their website, has won many awards, including Best Student Organization of 2013. At their shows, the audience is encouraged to actively participate.
Whether it's by throwing pies in cast members' faces, or just shouting directions, D1 encourages interaction. The group is skilled at incorporating their audience members in even the most outlandish of circumstances.
D1 regularly sees a relatively large audience, with an average crowd of 250 to 300 people per show—due in no small part to the fact that admission is always free.
"We aim to provide an entertaining evening," McMurran said.
While the Fun-Raiser probably won't raise as much money as the Dance Marathon, it should be a success. If the group, which has been performing the "same" act since its formation in 2005, has any sort of a track record, it is nothing but positive. They have garnered many fine reviews in their time, and this event could only bolster their resume.
"It's going to be a smaller event," said McMurran. "But we still want to do whatever we can to promote helping out the hospital."
The Fun-Raiser will take place on Feb. 21 beginning at 6 p.m. in Pigott Auditorium. While the event is free, donations of any amount are encouraged.
Leave a Comment