Seattle U's Secret Sweethearts: Your Anonymous Valentines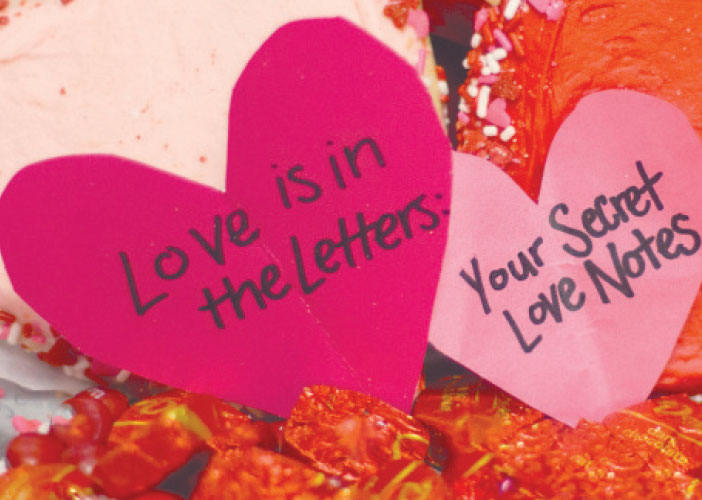 To the girl in the library reading "Game of Thrones," I may not be the king of the north but I will sure go down south on you.
---
ChrisTiana Obey, your activism and passion made me and continue to make me want to be a better person. Thank you for inspiring me with your refusal to back down from a tireless fight.
---
Dear You, I really hope life is treating well. You broke my heart so many years ago, but it sometimes feels like yesterday. I miss you more than I would ever be able to admit. It kills me that I am not living life beside my best friend anymore. My heart still aches from missing its other half. I know you are my soulmate and will always be, but I believe we were not meant to be together forever. Thank you for breaking down my walls for another love. Thank you for breaking my heart. Love, Me
---
Dear Erica Snyder-Drummond: Such beauty. Very valentine. Wow. Signed, Much Secret, Amaze.
---
Dearest Annie, when one gleams into your dark brown stare, you protrude unto the world. No one can help but be baffled by the true beauty you deserved. For I get lost in your flowing brown hair, and that smile of yours, that's divine, That I only find my way back to reality by truly recognizing you can't be mine. My dearest Annie, I think you know, for I faint to your warm glow; but dearest Anns, please know the bottom line, if dreams do tell us anything, I want you to be mine.
---
I want to spend the rest of my night with you -popsicle.
---
Preston Fernandez, You have always been the nicest and sweetest guy around. I admire your sincerity, your compassion and your friendly demeanor. Any girl would be lucky to have you—honestly. Also did I mention you're ridiculously cute? 😉
---
Fast brains make faster love within themselves.
---
Nikki and Bernie: You are two of the most fantastic mentors I've ever had. Thanks so much for your support and your wisdom. I'm a better person because of you both.
---
Steph Verdoia: On this Valentine's Day, I think it's important that you know that there are so many people who have crushes on you, myself included. Thanks for always saying hi with the prettiest smile on campus. Hope you have the best day ever.
---
Nick Chock, you are FLAWLESS. Bumping into you around campus makes my day even though I may not show it (I'm hiding my excitement inside). You are handsome, smart, super friendly, and the list goes on. I try to strategically place myself in places where I would run into you, but it hasn't really been working. We're not super close, but we can work on that. I hope you're single.
Have an awesome Valentine's Day ~ XOXO ~ your secret admirer (BTW I'm a dude and hope you're cool with that too ~ wink)
---
Seattle U: I love you, but we need more traditions. And Playday ain't gonna cut it.
---
Dewey, still crushing on you!
---
When you teach, I get excited. Not excited in a naughty way (usually), but in an intellectual way. You're so animated; so excitable, passionate, and fiercely thoughtful. If I didn't know better, I would say I loved you. In a way, I do. You're who I want to be someday. You're what has inspired a lot of my newfound motivation and drive, and made me think that I could actually do what I want to do. Hopefully, one day, I can do the same to some other kid sitting in a classroom twiddling their thumbs.
---
Cheetah print hair, ain't nobody wear a dress the way that you do. You've had a hold on my heart for the last 6 months, with no signs of slowing. B MINE?
---
TT – I'll always love you.
Leave a Comment