SU Track and Field Sets Four Records
In last weekend's meet, the Seattle University track and field team broke four school records over the course of two days at the University of Washington Invite. With this statement so early in the year, the team looks good going into the rest of the season.
Friday night began with a bang as the women's distance medley relay (DMR)—comprised of Madison Davis, Candice de Sauvage, Sophie Curatilo, and Lila Rice—recorded a time of 12:08.66, and finished 6th in the event. This new record bested the previous mark by almost eight seconds, according to goseattleu.edu.
In the same day, the men's DMR also set a new school record, finishing with a time of 10:15.18. The runners Nathan McLaughlin, Zachary Schlachter, Collin Overbay, and Joe Charbonneau would wind up taking seventh place in the event. This mark decimated the previous record by almost ten seconds.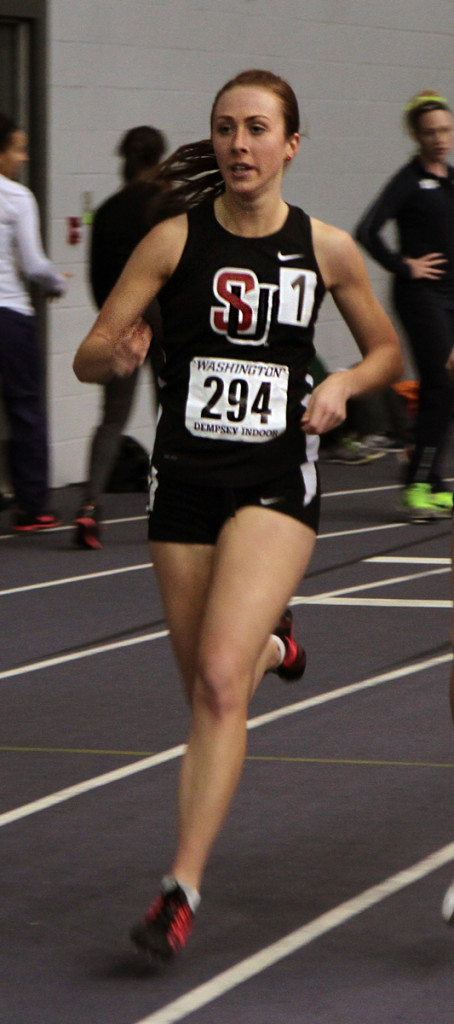 Madison Davis ran the 800m, finishing 6th in her heat at the UW Invitational on Saturday. Davis also participated in the Distance Medley for the meet.
On Satruday freshman Mandy Rusch opened the day by setting yet another school record in the 400 meter dash. Her overall time of 58.54 seconds took a quarter of a second off the previous time.
"I love competing at the college level," said Rusch. "I'm really excited for spring season to start and to see how much more we can improve."
The fourth and final record came in the men's triple jump. Nick Bever jumped 0.2 meters further than the previous record, coming off a somewhat disappointing season last year.
According to athletes Zac Schlachter and Mandy Rusch, the teams aren't doing anything different when it comes to training, given that the teams have always trained hard. However both runners agreed that the teams are improving.
"Everyone's working really hard and is really dedicated to getting better as individuals, and in turn that's making the team better," Schlachter said.
When looking at both the men's and women's rosters, it is apparent that no one class is over or underrepresented. According to head coach Trisha Steidl, this has been very helpful in the crafting of a successful team.
"You can bring in a really big class… but if you can keep it overall consistent over age groups, then—by nature—you're going to have a more consistent kind of success," Steidl said.
Steidl attributes the current success, and the success to come, to the focus and dedication of the team.
"Everybody's very focused, very determined in a very supportive atmosphere," Steidl said. "That's what is pretty unique about our program. There's not that many programs out there that have a competitive drive and work ethic, yet still get along as well as this team does… and we obviously want to keep that going."
---
Leave a Comment