SU, Community Stay Invested In Divestment
At last Wednesday's open forum on divestment, the issue of oil investments began to get personal. The event included four speakers on four different topics, and all seemed to relate back to Seattle University's role in divestment from fossil fuel companies. Ex-mayor Mike McGinn attended and spoke about his experiences with policy and implementation. Among the other presenters was Bruce Herbert, who spoke about divestment economically, Tracey Roberts, who covered the legal aspect, and Cynthia Moe-Lobeda, who tackled divestment in relation to ethics.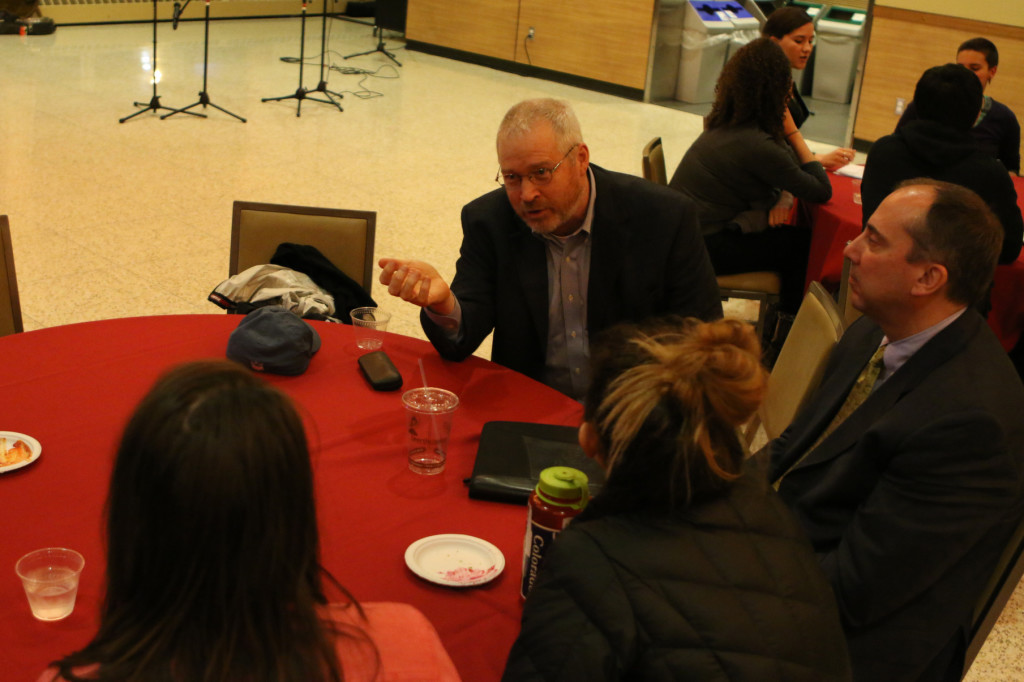 Former Seattle Mayor Mike McGinn talks to students in Campion Ballroom. Last Wednesday, Jan. 29, University Honors Council facilitated an academic forum on the issue of divestment and why it is an important conversation for all members of the Seattle University community.
Multiple speakers, including Roberts and Herbert, kept coming back to the idea of divestment being a brand of "moral apartheid." They spoke of actual apartheid in South Africa and pointed out that divestment in fossil fuels is not without precedent. During apartheid, many people put pressure on companies to divest from apartheid labor, aiding
the end of the era. Similarly, Roberts pointed out that universities have had similar movements as they pertained to tobacco. A call to action was presented to Seattle U by the speakers. Moe-Lobeda said that divestment is an ethical issue, because people have the job of living ethically in a society. Seattle University and other "institutions also have that divine vocation." "Wouldn't it be something if a Jesuit University made that decision first?" McGinn asked enthusiastically. Seattle U's relationship with divestment made students curious. During the small group discussion part of the evening, freshman Sara Orozco asked "What's our next act?" The rest of her table was curious as well, surprised that budget transparency and lack of response from the administration were obstacles that had to be overcome. A question from the audience asked the speakers what they thought about the argument that the goal of a school was to shape people, not the world. Another audience member responded citing Seattle U's own mission statement regarding Jesuit values and "educating the whole person." She said that a result of shaping students in this way is shaping the world in that way as well. The evening
was presented as a fusion of divestment talk and art. The main event was preceded by a performance from Seattle U's Sarah and the Scallywags, and ended with a performance by the Seattle U Dance Alliance. There was an art display, and at the entrance, a haiku sequence by Gregory C. Johnson summarizing a report from the Intergovernmental Panel on Climate Change. The joining of Seattle U's art and approach to the subject of divestment was cemented by the final haiku of the sequence: "Fast, strong action will reduce further warming but rising seas certain."
Leave a Comment