The Olympic Games are known to many as a symbol of solidarity and a chance for all nations to put their political differences aside and come together to enjoy friendly competition. It is inevitable, though, that politics will find a way into the Olympic Games.
This year, news reports across the world have been flooded with headlines warning spectators about the threat of terrorist attacks at the 2014 Olympic Games in Sochi, Russia.
"Large-scale public events such as the Olympics present an attractive target for terrorists, and the U.S. government continues to monitor reported threats of potential terrorist attacks in Sochi or in Russia in general," reads a statement from the U.S. Department of State.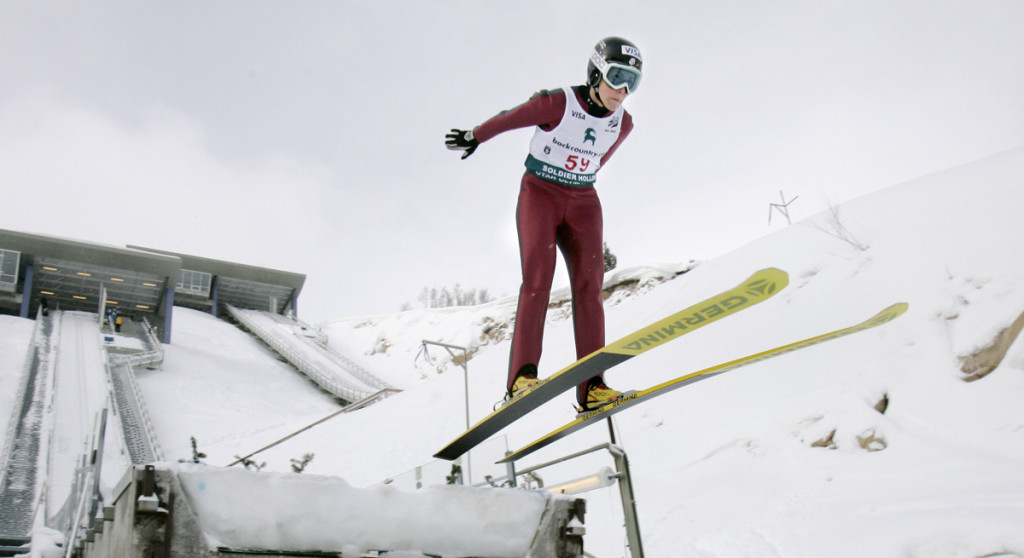 United States' Jessica Jerome takes off during the first round of the ladies' Nordic combined ski U.S. Nationals on Sunday, March 16, 2008, at Utah Olympic Park in Park City, Utah. Jerome won.
The recent surge in terrorist attacks in Russia, especially the North Caucasus region, has raised concerns about safety. According to the U.S. State Department, "there were three suicide bombings targeting public transportation in the city of Volgograd (600 miles from Sochi), two of which occurred within the same 24-hour period." The statement warned that public transportation is a likely target for terrorists, but also recommends using public transportation due to the high volume of visitors.
This danger is also a threat for athletes. But Jessica Jerome, a member of the U.S. Ski Team, told The Spectator that she is confident in the security forces in place.
"[The threat] hasn't really affected me," Jerome said. "The Olympics are supposed to be about just sports and putting all politics and conflict aside and just competing. So I hope that that is what happens."
According to The Washington Post, Russian President Vladimir Putin is confident with Olympic security. A recent article by The Washington Post notes that Putin's security forces include "police officers, soldiers and secret personnel; drones and attack helicopters; and advanced ground-to-air missile systems."
In addition to Russia's security forces, the U.S. has also announced that it has prepared evacuation plans for Americans in Sochi should a terrorist attack occur.
Terror experts believe that the recent attacks in Russia were inspired by Chechen Muslim rebel leader Doku Umarov, according to CBS news. The Olympic Games have also been strained by ongoing tensions between the U.S. and Russia, including tension over Russia's refusal to extradite Edward Snowden. Seattle U students such as Madeleine Sutton are also aware of the threats surrounding the Olympics this year. "It makes me nervous," Sutton said. "I don't want anything disastrous to happen at the Olympics."
Whether the controversy surrounding this year's Olympic Games will increase the number of viewers is unclear. People across the globe watch the Olympic Games for a variety of reasons—whether it's the opening ceremonies, favorite events like speed-skiing or figure skating, or just to participate in watching an event that is broadcast around the world.
Jerome will be competing in the Nordic Ski Jumping. She has been competing with the U.S. team for six years and is excited to be able to participate in the Olympic Games after ski jumping was opened to women for the first time this year.
"It was the only sport that didn't have a women's category in it for both summer and winter," said Jerome, when asked about the change. "And there's been sort of a fight for the last decade to try to get women included. And they finally are." Jerome said she will try to treat the Olympics like any other competition.
"Even aside from the Olympics we have world cups overseas all winter. So I've been training and competing internationally for over ten years now. I've always been training for what I do with the hope that there would be an Olympic event for us one day."
Seattle U students are looking forward to watching Jerome and other athletes compete in the upcoming games.
"I'm really excited [for the Olympics], except for the fact that my classes interfere with all of my favorite events," Sutton said. Her favorite events are the figure skating and biathlon, a sport that combines cross-country skiing and rifle shooting.
"I'm excited for the biathlon and also the bobsled racing," said Chris Trudeau, another Seattle U student who plans on watching the Olympics.
This year, the games are being hosted in Sochi, Russia. The opening ceremonies are on Feb. 7, and the games last until Feb. 23. The 2014 Olympics are the most extravagant ever, with total costs of about $50 billion.
Overall, Jerome encourages people to tune-in to the event.
"It is a really cool platform where everybody comes together and competes," Jerome said. "It doesn't matter what country you come from, or your sexual preference, or your religion. People just compete in their sports for those medals. It's really cool," Jerome said.
The Olympics will be broadcast in the U.S. by NBC. The opening ceremonies are on Feb. 7 at 7:30 p.m. Pacific Time.
Jessica Jerome is the sister of Spectator designer Andrew Jerome.