The Seattle University swim team honored each of their senior swimmers with a bouquet of red roses at their meet against Simon Fraser University on Jan. 25.
"It's been an amazing past four years with the team," said Nicole Doi, one of the eight seniors. "I couldn't imagine swimming with anyone else."
The seniors led the men's team to a narrow victory over Simon Fraser, 131-125. The women's team showed equal passion but came in just behind Simon Fraser, 141-120.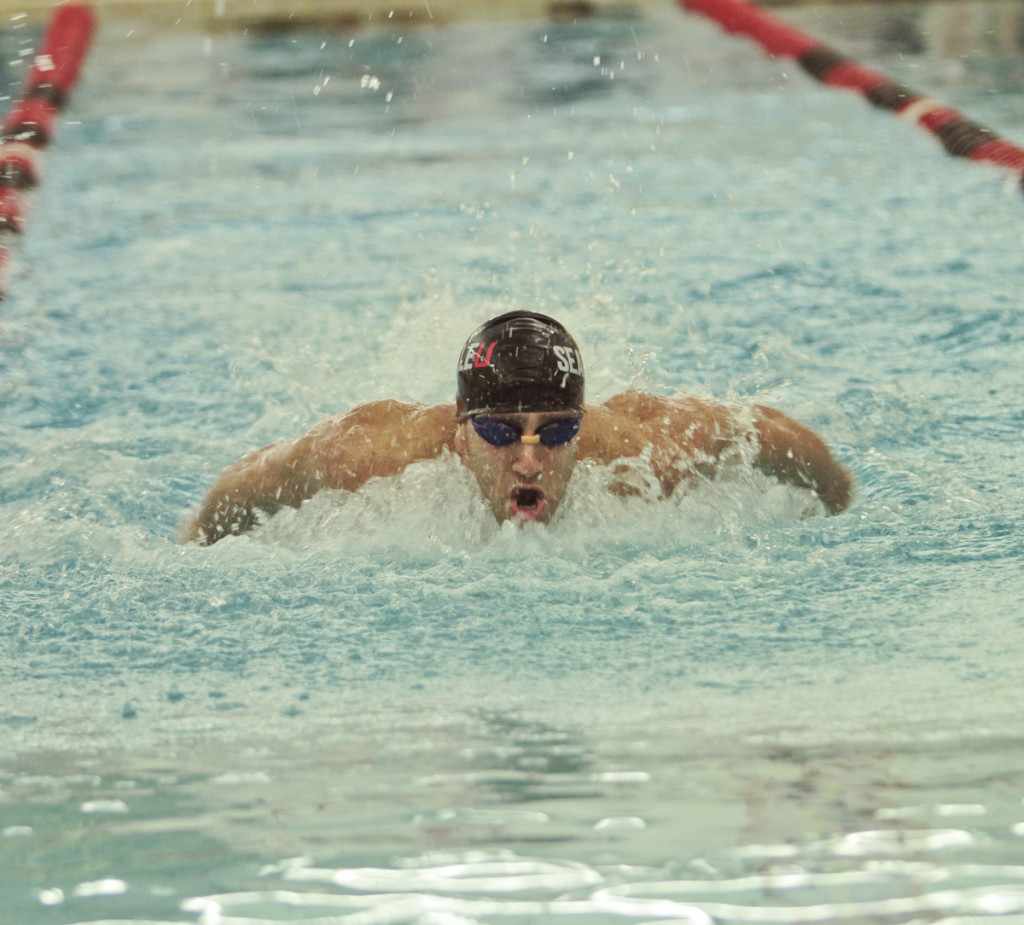 Freshman Michael Cox swam an exibition race of the 100 butterfly finishing with a time of 53.1 seconds. The men's team defeated Simon Fraser on Saturday, Jan. 25.
"It was a great way to send the seniors out," said Seattle U head coach Craig Nisgor. "The team showed a tremendous amount of heart."
Doi won second place in the 100 yard freestyle with a 53.39, a lifetime personal best. She also led off the 200 yard freestyle relay, which scored second with a 1:39.14.
"We showed a lot of depth today," Doi said. "Even if we didn't take first place necessarily, we took second, third, fourth."
Blaise Wittenauer-Lee earned first in the 100 yard breaststroke with a 1:05.17, the 200 yard breaststroke with a 2:20.45, and the 200 yard individual medley with a 2:07.17.
Tanner Schelling won the 50 yard freestyle with a lifetime best of 21.03. Bart Wanot won the 200 yard backstroke with a 1:52.10.
Seniors Doug Pizac and Tomas Mendez-Beck anchored the final event of the meet: the 200 yard freestyle relay. Together with Wanot and Schelling, the men swam a 1:24.93, beating the competition by 0.21 seconds and pushing the men's team into victory.
Pizac was not scheduled to swim in the relay, but after seeing how close the meet was he asked Nisgor to put him in.
"I wanted to step up," Pizac said. "This was my last main swim with everybody at the Connelly Center, so I wanted to prove myself and go out swimming really fast."
Pizac also shined in his individual events: he won the 200 yard freestyle with a 1:44.06 and the 500 yard freestyle with a 4:50.05.
"The seniors definitely stepped up and showed everybody that we're going out with a bang," Pizac said.
"The enthusiasm just kept on picking up throughout the meet," Nisgor said. "They came out with
guns blazing."
The swimmers showed enthusiasm and support during every race.
"We were really there for each other every single event," Doi said. "There were always people cheering. The energy was just amazing."
Nisgor was pleased with the results as well as with the swimmers' commitment to supporting
their teammates.
"There are certain times when you realize you're really proud of your team," Nisgor said. "Today was one of those days."
The team is preparing for the Western Athletic Conference Swimming Championships at the end of February, where they plan to bring the same level of energy and team unity.
"It's been less like a team and more like a family," Pizac said. "We're always spending time with each other in and out of the pool. We're one of the closest teams on campus."