Thurday's basketball game was close to the last second – literally.
Seattle University men's basketball lost the first of two Western Athletic Conference (WAC) games this past weekend. California State University, Bakersfield (CSUB) walked away with a victory by a skimpy four points.
The Redhawks opened the game by establishing a 10-point lead right off the bat. After winning the tip off, they immediately made it down the floor and junior guard Isiah Umipig scored a three-pointer. For approximately the first seven minutes, the Redhawks held CSUB at only four points, with thirteen and a half minutes left in the first half, Seattle U was up 14-4.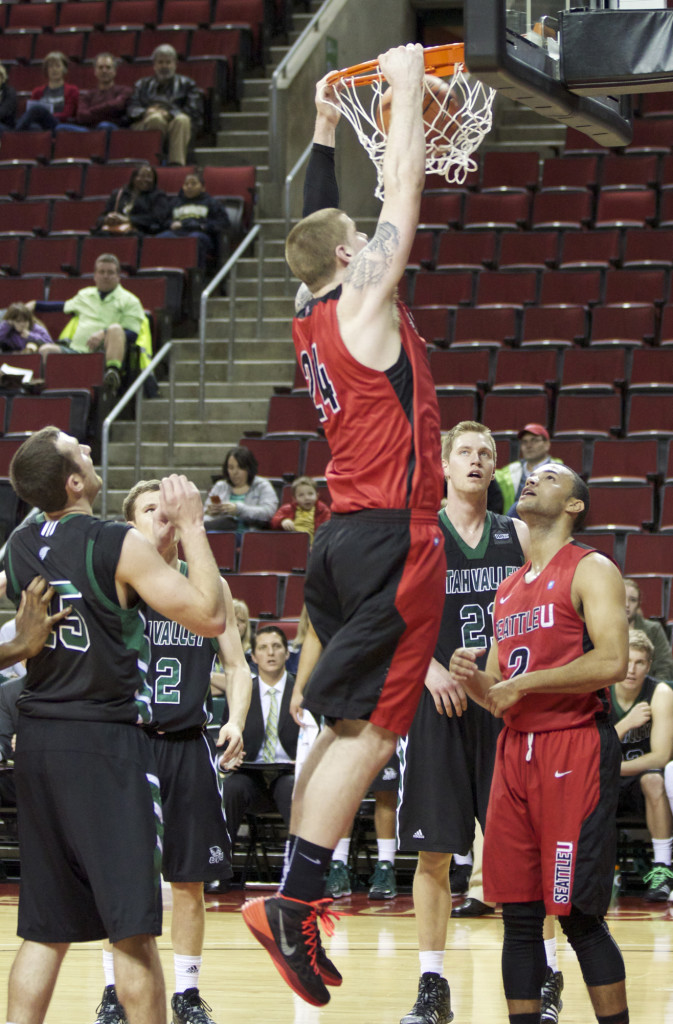 Center, Jack Crook makes the hoop against Utah Valley. Seattle University lost as Utah Valley pulled out a 52-51 victory.
From there, the lead dissipated. Bakersfield started catching up and surpassing Seattle U, seemingly when Bakersfield switched into defense mode. Coach Dollar, however, doesn't attribute the slip to anything in particular, but rather says that his whole team's game was lacking. He said that no particular strengths or weaknesses of the team itself showed through, but that the passing, rebounding, and scoring was not up to par.
He took some of the blame, however, stating, "I gotta do a better job."
By the end of the first half, the score was Bakersfield, 27- 21. For the rest of the game, Seattle U didn't let CSUB too far out of their sights, as they were never more than 10 points behind. During the last few minutes of the second half, the Redhawks closed the gap and stood a chance. With 23 seconds left, they were down by six. Both teams crawled forward on free throws, and with seven seconds remaining Seattle U was down by five. The game ended much the way it started when Umipig scored another three-pointer with one second left, leaving it a two point game. After a last timeout, Seattle U fought to get the ball and score in the remaining fraction of a second. Seattle U fouled Bakersfield on the hopes of catching a rebound, but CSUB made both of their free throws, leaving the final score as 61-57.
After the game, Umipig echoed his coach's sentiments of the need to work on a wide array of skills for their next match-up. Umipig complained specifically that their shots hadn't fallen, and how they needed to play harder, especially on defense. He also mentioned the importance of energy. Umipig concluded that, while one game isn't the end of the world, the Redhawks will be a more successful team once they start "playing with a higher motor."