Innovative Ways to Stay Active in the Office
So far, assistant nursing professor Karen Cowgill has traveled 135.86 miles and burned 13,663 calories—all from the comfort of her own office.
In light of recent evidence showing the importance of maintaining a low level of activity throughout the day, Cowgill has created a treadmill desk that she uses throughout the day. And she's not the only one that's picked up on the trend.
Studies suggest than an hour spent at the gym may not counteract the negative effects of long periods of lethargy. Let's face it, whether we're working at a desk, watching TV or eating dinner, we sit down a lot.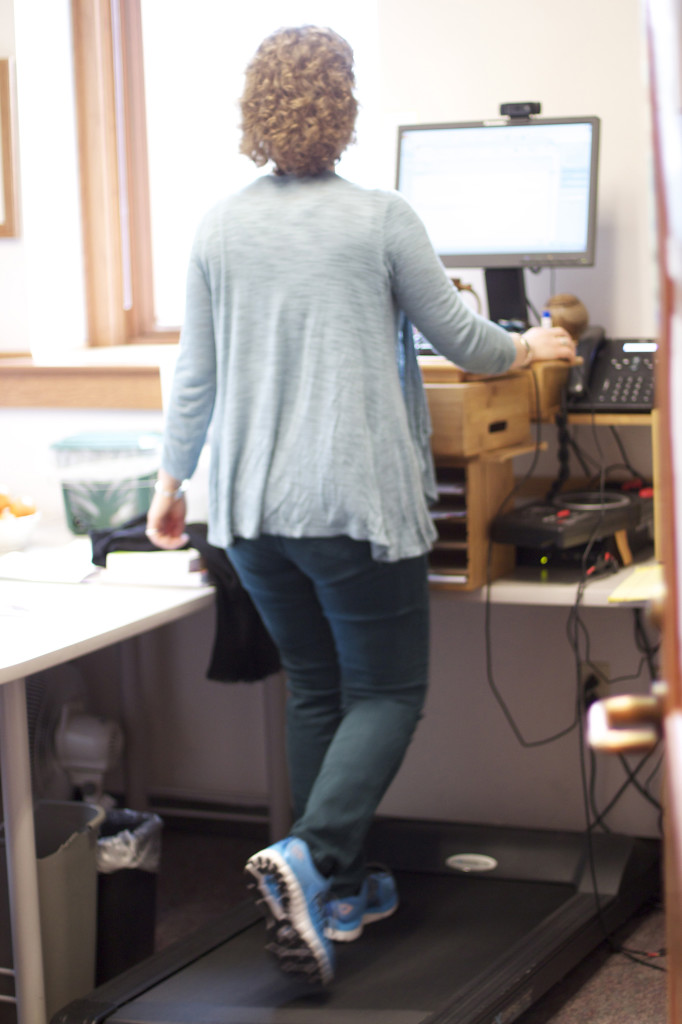 Seattle U's Nursing professor, Karen Cowgill stays active while working hard in the office with her treadmill desk.
An article from "The Economist" discusses the importance of standing up and maintaining light activity in addition to the short bursts of high activity one would experience at the gym.
"I had heard of the treadmill desks when there was an article about them in The New Yorker last spring," Cowgill said. "When I read that, it triggered the desire to actually implement it."
As an epidemiologist, Cowgill aims to predict and prevent diseases. There has been research in recent years showing that people who sit for long periods of time face greater health risks including higher cancer rates.
"It is impossible to be a public health professional and not be aware of the trends in our society toward reduced activity in general," Cowgill said.
Although the concept of walking for hours to nowhere in particular might seem pointless, treadmill desk users reap the health benefits. But if a treadmill desk doesn't work for you —or your miniscule dorm room —here are some other new inventions that could help energize long periods
of inactivity.
---
Other Unusual Modes of Excercise
by Emily Hedberg
The ElliptiGo
Anyone who has visited a gym has seen the ellipticals in the cardio center. Meant to simulate running without the impact, the elliptical is a perfect way to get your cardio in while avoiding injury. Some genius has reinvented the machine and created the ElliptiGo, which is meant for the outdoors. The machine's website champions the ElliptiGo as the best form of cross-training for runners. So, even though the device looks pretty ridiculous, occupies a absurd amount of space, and was recalled back in November because of some structural issues, it is a great device to take a few laps around the company parking lot with.
Hula Chair
If you are not feeling particularly motivated to leave the office and mount a strange (not to mention dangerous) piece of exercise equipment, you don't have to. This chair does the exercising for you. The hula chair has massage and swivel components. So, without the slightest of effort, the seat of your chair will rotate back and forth. The Hula Chair's website boasts that such a movement exercises you on a visceral level, massaging and strengthening your organs to improve indigestion. Who needs a treadmill desk when you can have the exercise done for you?
Kangoo Jumps
Lastly, if you are more mobile than the average Hula Chair consumer, have a gander at Kangoo Jumps. Reminiscent of the childhood must-have Moon Shoes, Kangoo Jumps provide low-impact cardiovascular activity similar to that achieved with the ElliptiGo. In addition to the production of endorphins, a small running store in Bellevue claims that "a few minutes a day will reduce excess fat, manage body composition and improve muscle-to-fat ratio." Well, that just about encompasses the major goals of exercise, so why anyone would consider anything else is beyond me.
Leave a Comment