Deaf Community Struggles To Be Heard
Members of the Deaf community were outraged last month when the sign language interpreter for Nelson Mandela's funeral appeared to be faking the gestures. Many Deaf individuals felt they were being excluded from a historical event.
Unfortunately, members of Seattle's Deaf community feel they are facing similar exclusion closer to home.
Complaints have surfaced regarding the Seattle Men's Chorus's American Sign Language (ASL) interpreter, Kevin Gallagher. Deaf individuals claim that Gallagher is uncertified and his signs are unclear.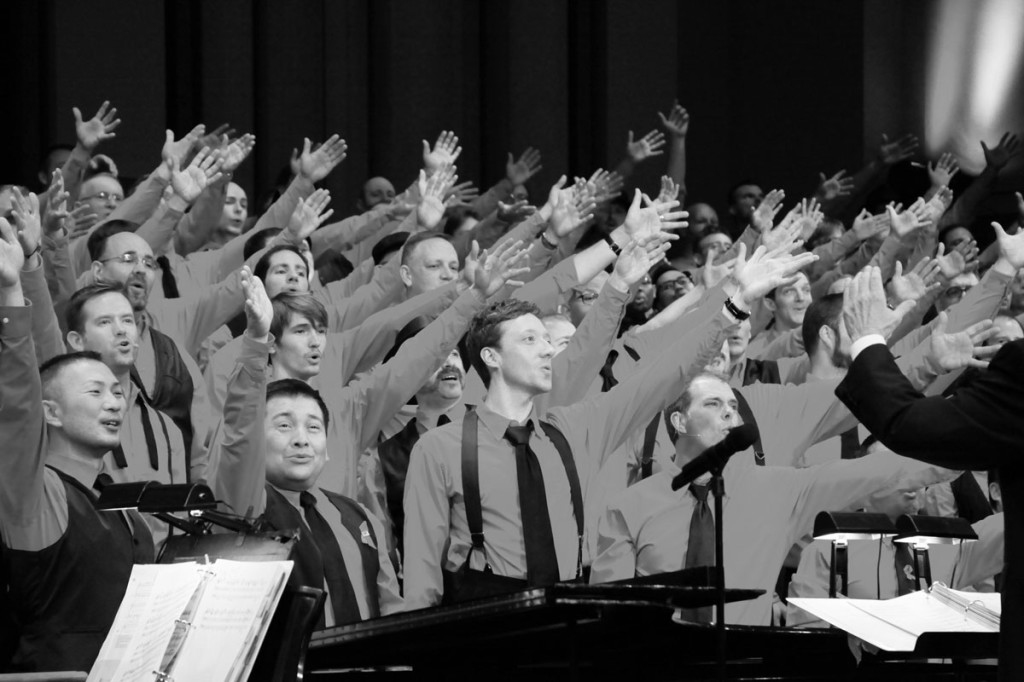 Seattle Men's Chorus sings in a concert. The chorus has received negative feedback about the quality of their ASL interpreter.
Gallagher has worked as the ASL interpreter for the Seattle Men's Chorus since 1981.
According to an open letter written by members of the local Deaf community to the Seattle Men's Chorus, several Deaf individuals have filed complaints during Gallagher's 33 years with the chorus.
The letter, published Dec. 13, states that Gallagher's "signs are not clear, his sign choices are incorrect, he does not follow ASL grammar rules, his expressions are odd. His interpretation of the songs do not match the intention of the songs."
Members of the Deaf community are urging the chorus to replace Gallagher with someone more qualified.
In a written statement responding to the open letter, the chorus's Executive Director Frank Stilwagner said they will provide Gallagher "with ASL coaching and continuing education, including moving toward certification, to improve his skills and ASL accuracy in order to better serve the entire deaf community."
According to Stilwagner's written statement, Gallagher approached the chorus shortly after it formed in 1979 with the express interest of providing ASL interpreting services at all performances.
"I've never seen the Seattle Men's Chorus interpreter, but I've heard a lot of complaints about him," said Tash Hansen-Day, a former Seattle University student who prefers they/them pronouns. They identify as Deaf, but uses a hearing aid.
Hansen-Day transferred to the University of Washington this year, pursuing a major in disability studies.
Hansen-Day reported feeling these recent events reflect a lack of consideration for the Deaf community.
"Disability access in general is not valued enough," Hansen-Day said.
Becoming more considerate and inclusive of the Deaf community begins with education. Hansen-Day differentiated between the terms "deaf" and "Deaf."
"Lowercase 'd' deaf would be a medical term that an audiologist would give you to describe zero hearing," Hansen-Day said. "Capital 'D' Deaf is a cultural term for the Deaf community. So you can have some residual hearing, use hearing aids, or be hard of hearing and identify as Deaf with a capital D."
Hansen-Day described the Deaf community as "a cultural community with a shared language (ASL), customs, history, a lot of shared experience, although there is also a wide variety of diverse experience within the community."
Although the Seattle Deaf community is fairly large, only a handful of Deaf students attend Seattle U.
"We have an obligation to make sure that they have access to everything that everyone else has access to," said Richard Okamoto, the director of Seattle U Disabilities Services.
Okamoto's duties include approving and providing accommodations for students with disabilities, as well as educating students and faculty about the needs and expectations for working with these students.
Through disabilities services, Deaf students can get ASL interpreters for their classes and extracurricular activities.
Seattle U also offers FM radio systems for those who are hard of hearing to use during class. These are radio transmitters that attach to a microphone on the professor and transmit to a device for the student.
Students may also request Communication Access Realtime Translation services, in which a trained captioner types the information being said in class so the student can read it on their computer screen in real-time.
Interpreters are also provided for graduation ceremonies and for major speakers on campus.
Interpreters are available upon request for all other on-campus events, but students have to notify disabilities services several days in advance.
Hansen-Day noted that constantly having to reach out for these accommodations "can be really tiring and kind of disempowering, too," which voices a need for "more awareness and more commitment to supporting students with disabilities."
While Seattle U has taken many steps toward accommodating Deaf individuals, there is still a long way to go. Currently there is no ASL program or club on campus, nor are there disability studies classes.
While at Seattle U, Hansen-Day noticed "there isn't really a space for students with disabilities. And not really any sort of support network either."
Hansen-Day helped create the Coalition for Students with Disabilities, a student-run disability advocacy group.
"Interacting with the hearing world as a Deaf person can be challenging," Hansen-Day said, adding there are a lot of negative stereotypes surrounding the community.
"Not everyone who is Deaf also identifies as having a disability," Hansen-Day said. It is important to ask "how they want to be referred to and how they want to be accommodated."
Leave a Comment