Eastside Students Sit Down to Take a Stand
Mark Zmuda, 38, was fired for getting married.
Last month saw the dismissal of Zmuda, vice principal of Eastside Catholic High School (ECHS) when he married his same-sex partner. The dismissal caused uproar in the school. With students protesting and walking out of class, the school closed down earlier than the scheduled winter break date.
While the school is gaining a great deal of press, Seattle University Professor Gary Atkins believes ECHS is not alone in the gay marriage debate.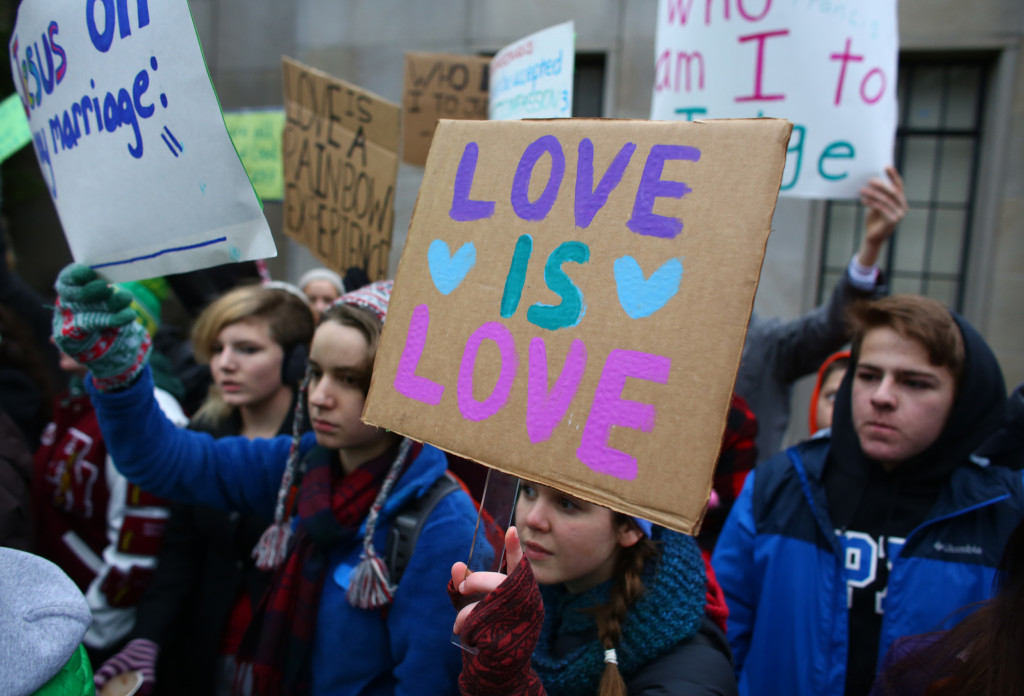 Area Catholic high school students hold signs outside of the Chancery building for the Archdiocese of Seattle, Friday, Dec. 20. The students were rallying for Eastside Catholic High School Vice Principal Mike Zmuda, who resigned his position after officials when the archdiocese discovered that he was in a same-sex marriage.
Atkins, a professor in the communication department and author of the critically acclaimed books "Gay Seattle: Stories of Exile and Belonging" and "Imagining Gay Paradise: Bali, Bangkok and Cyber-Singapore," says that even Seattle U has to face these issues.
"The Mark Zmuda firing leads us into new ethical and legal as well as political terrain. We know the Catholic Church doesn't celebrate marriages equally. But does that mean that its institutions should fire people because it disapproves of their legal marital status?" said Atkins.
It has been reported that Zmuda was let go after ECHS authorities questioned the truth of his marriage. In an interview with KING 5, Zmuda said that Sister Mary Tracy, president and CEO of ECHS, told Zmuda he could keep his job if he divorced his husband. The school would even pay for a commitment ceremony with his partner, he said in the interview.
"[Tracy] said that she was okay with me being gay," Zmuda told KING 5. "She was okay with the fact that I had a partner and that we live together, but that piece of paper that said we got married is where she had the real issue." ECHS attorney Mike Patterson said that this statement was untrue and the question of divorce was raised hypothetically in order to seek a solution.
Julie Shapiro, a professor in family law and law and sexuality among other courses at Seattle U, believes Zmuda was wronged by being fired. Because schools do not question employees about other issues such as birth control, the subject of divorce should also not be their concern, Shapiro said.
However, she said, sometimes contracts can have clauses that mean giving up certain freedoms. If a person signs that, they are agreeing to give up those rights.
According to Patterson, this is exactly what happened.
Kelby Lind, 19, psychology major and an officer of the Triangle Club at Seattle U said that if gay marriage is legal in Washington state, the dismissal of Zmuda is not justified.
The conflict over this incident has resulted in multiple sit-ins between authorities and the students who want their coach and vice principal back. The students of ECHS have launched campaigns on Facebook and Twitter, urging people to support them in their struggle and have received overwhelming support from parents, students and the new mayor.
Robert Gavino, a junior at Seattle U, said that he is in contact with some of the students of ECHS and is doing everything he can to reach out to them.
According to Gavino, the dismissal is an example of selective homophobia because the school isn't questioning other employees to see if they are breaching the teachings of the Catholic Church. This is a conversation that needs to happen, he said.
"Based on the conversations I have had with many students, there are currently insufficient spaces and resources for students who want to talk about faith and sexuality," said Gavino. He feels the need to have an open "dialogue space" so that people could talk about faith and issues concerning the LGBTQ community.
But Lind and Gavino feel that there is positive dialogue on this topic at Seattle U and there are many professors at the university who are in same-sex relationships.
Professor Atkins, though, feels that more needs to be done.
"Why isn't there an LGBTQ major or minor to strengthen our intellectual understanding of the kinds of LGBTQ issues that are occurring all over the world?" he said. "Do we reach out sufficiently to our LGBTQ alums to involve them in LGBT-supportive ways on campus? Do we challenge small discriminations and insults that still occur on campus—for example when LGBT discussions [faculty members] have included in their courses are suddenly deleted or when LGBT perspectives are marginalized?"
These are questions that will continue to be examined at ECHS, Seattle U and across the nation in the ongoing same-sex marriage debate.
Leave a Comment