"A narrow break. An opening. A sharp cut. A revelation of the mystery."
These are the opening lines of Fr. Trung Pham, S.J.'s, artist statement for his current solo show, "Crack."
The exhibition is a collection of abstract oil paintings inspired by themes of creation, transformation and growth. For Pham, the crack symbolizes an opening, as well as an opportunity for new life.
Pham earned his M.F.A. in drawing and painting with a secondary focus in sculpture at the Pratt Institute in New York. He also earned a degree in theology from Santa Clara University. This is his second year teaching drawing, 3-D design and sculpture at Seattle University.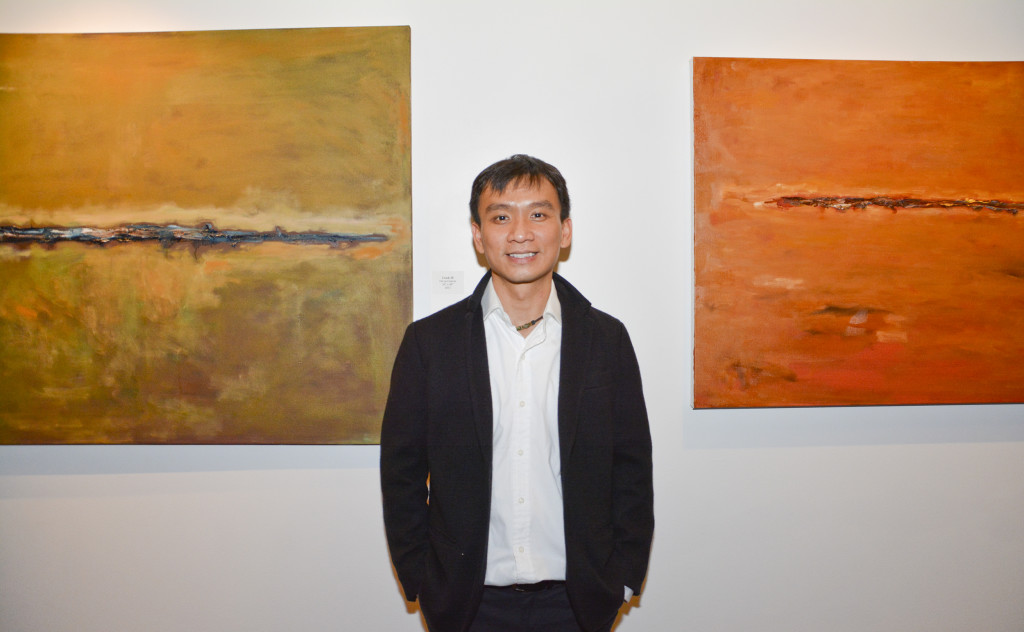 Pham began preparing for this exhibition four months ago, and says that the exhibition focuses on three major themes: creation, transformation and the womb.
His artwork invites the viewer to reflect on ideas of spirituality and new life. Pham began the paintings for this exhibition just four months ago.
"This is a fascinating form that I am engaging," Pham said. "Crack is an amazing metaphor for me to see beauty in the vulnerable, in the brokenness, in the ordinary daily life."
In his first solo exhibition on campus, Pham says he hopes to show his viewers that contemporary and abstract art can be deeply spiritual. "I want the audience to experience the beauty of new life," said Pham.
He also strives to portray three major themes in this collection. The first theme is creation, from both a theological and a secular perspective.
In a written reflection, curator Fr. Tom Lucas, S.J., described the artwork as "a richly chromatic exploration of the primordial instant: when 'Let there be light' resounded from the mouth of God or the dark mystery of The-Before-The-Universe."
The abstract pieces can also be interpreted as a meditation on the creative breakthrough in an artist's mind: the creation of a new idea. Pham describes the moment of creation as "a slap, a flash of light. Something begins, and space begins to expand, temperature rises up. All these forces come together."
His paintings express this moment of creation as a searing crack in the middle of each otherwise simple, atmospheric canvas. "It has very visceral, physical strokes of paint," Pham said of the crack. "It is like sculptural form."
In his reflection, Lucas describes the way the canvases "crackle with energy as light breaks through the various muted tones of matter; bright promise flows from what is static, undifferentiated, monochromatic."
A second theme present in the crack is transformation. Pham specifically referenced the way a caterpillar changes into a butterfly.
"Think of when a butterfly comes out of a cocoon and it's cracked," Pham said. "That crack; something is ajar, something opens up. A new beginning."
The horizontal line in the middle of each canvas signifies this type of transformation. Each crack is thick with textured paint in an array of colors.
Lucas described it as "this eruption of really three-dimensional energy coming through these very smooth canvases. There's a kind of haunting beauty to the whole thing."
The cracks resemble thick, colorful scars across each canvas. Pham suggested through this imagery that we may grow from our injuries.
"We all go through life with certain psychological, emotional and spiritual damage," Pham said. "But from there, we grow. That's the crack."
A third prevalent theme is the womb, which symbolizes new life.
"All three [themes] are metaphors about new life," Pham said. "Creation is the beginning of life. Transformation is a new form of life. The womb is an opportunity to grow: new life."
Pham experiences and expresses this energy through his textured brush strokes and carefully blended colors.
"I'm just playing with the form," Pham said of his artistic process.
"Different colors, different thickness, different viscosity, different material. It is the form that keeps me up at night."
"The creation is in the energetic process, whether that is bringing order out of chaos or whether that's organizing ourselves creatively," Lucas said. "I think that he captures that moment of insight, that moment of power and of transformation very effectively in his work."
Pham is excited for the opportunity to show his work on campus.
"It shows that this school allows for diversity," he said. "I am a Vietnamese-American artist and priest, and they accept my identity or my contribution as part of the enrichment of the school. They allow me to express a unique dimension."
Furthermore, Pham hopes to inspire his students through his artwork.
"It's important for our art students to see that our arts faculty are not just teachers in the classroom, but they're also productive artists," Lucas noted.
"Crack" is on display in the Kinsey Gallery through Jan. 31.