Trans Day of Remembrance Emphasizes Life
Seattle University worked with Capitol Hill's Queer Youth Space to commemorate the Transgender Day of Remembrance (TDoR)—a day that focused on life. The event on Nov. 20 reflected on the victims and the systemic issues of trans violence and discrimination.
Transgender Day of Remembrance comes annually on Nov. 20, memorializing those killed around the world as a result of transphobia. The TDoR group recognized that not all people represented during the Day of Remembrance were transgender, but they were still a victim of a bias against transgender people.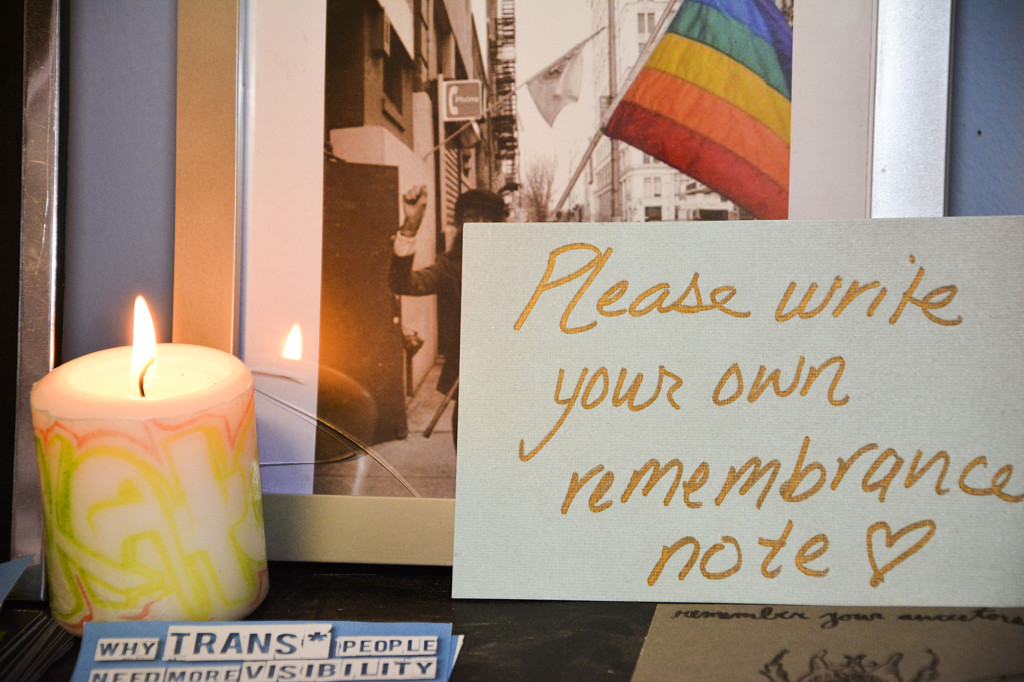 A candle burns during the Transgender Day of Remembrance at Queer Youth Space in Seattle. The Transgender day of Remembrance takes place on Nov. 20 to bring awareness about violence against transgender people.
The event was created in honor Rita Hester, murdered Nov. 28, 1988. Her murder, like many committed against transgender people, has yet to be solved. The Transgender Day of Remembrance organization strived to honor all trans people who have fallen victim to transphobia. The group currently reports all information they can concerning deaths of this community of people around the world, even if details such as their name cannot be found. Transgender Day of Remembrance events originally focused on the violence against transgender people by things such as reading the names of the documented victims and reflecting on how they were killed. But that method has since been refocused.
"In addition to being a real downer, it's also just remembering people the way they died rather than the way they lived," said Sabina Neem, associate director of the Office of Multicultural Affairs (OMA) and co-chair for the Seattle LGBT Commission. Neem explained that the previous approach didn't change anything or highlight the conditions that led to the violence.
In fact, it even overshadowed the daily challenges transgender people face.
"It's not always physical hate-based violence, but additionally poverty, lack of access to health care, discrimination in housing or employment, harassment by police, and other components, especially for transgender people of color. This brings additional discrimination," Neem said.
Last year Seattle U students worked with the Q Center at the University of Washington to observe the Trans* Day of Remembrance.
The Q center offered a traditional approach to the Day of Remembrance while the Seattle U cohort focused more on a healing approach. The Facebook invite for the event explains that the goal of the day is to focus on the way the victims lived rather than how they died.
The event is meant to avoid trauma tourism and negative/violent contexts, and instead create an altar to remember those who have been lost to institutional violence as well as establish a place of healing and meditation for the community.
Seattle U Triangle Club and Seattle U GenderGalaxy worked in collaboration with Queer Youth Space and other sponsors to put on this event.
"For students I think it's a time to learn about the history of a community that they are a part of and also gain awareness of how to think about these things in a systemic way—not just walk away feeling sad. Some of the things that have caused this loss can change," Neem said.
The purpose of TDoR is to raise awareness of the hate crimes and honor victims.
"I think the way Seattle celebrates this day is different than the rest of the country, because Seattle is so social justice-y," said Josh Lowe, coordinator of Wellness at the Queer Youth Space. "Here this event is more positive."
Queer Youth Space (QYS) offers many resources to the homeless and teens in need with a place to sleep, food and information for other services. QYS is one of the only programs in King County that offers chest binders. Lowe has been working with QYS since 2012. He was living in a shelter when hired.
QYS originally hoped to use their floor space on Capitol Hill for barista training. "We wanted young people to come in here and learn barista training so they could get a job and have the training, and get paid while you learn," Lowe said. "From there we wanted to have a café to make us more sustainable and to start a Queer Trans sex body-positive health course."
QYS celebrated their one-year anniversary of being open to the public on Nov. 26. QYS is currently fundraising, hoping to reach $3,500 to keep their facility open as they are facing closure as their grant has ended.
"It's such an essential space," said Neem. "A lot of young people need a place they can hang out in without feeling concerned about their safety, a place where they can have their basic needs met, and build community. Queer Youth Space Provides that."
Meanwhile, Seattle U is working towards an environment that eliminates as much trans discrimination as possible.
"There are lots of ways that Seattle University is working to support trans students," Neem said.
The Committee to Improve Transgender Inclusion (CITI) is currently looking into increasing the number of all-gender bathrooms on campus, since currently there are single stall locking restrooms that could be gender neutral. CITI also has a student guide to help students through obstacles such as changing their name on the student email and knowing the policies and rules of athletics.
Leave a Comment