"My country is being tested by this hell-storm called Super Typhoon Haiyan," began Filipino Representative Naderev "Yeb" Sano in a speech to the United Nations during their climate change negotiations in Warsaw, Poland.
Typhoon Haiyan hit the Philippines on Friday, Nov. 8, while the conference was taking place.
While more than 10,000 are believed to be dead, the U.N. placed the number of confirmed deaths at 4,460 as of Thursday, Nov. 14. With winds of 147 miles per hour and a rise in water level of 20 feet, Typhoon Haiyan wreaked disaster on the Philippines.
"The initial assessments show that Haiyan left a wake of massive destruction that is unprecedented, unthinkable and horrific," Sano continued, pausing to steady himself against tears. The damage to infrastructure included in this destruction has also made it very hard to get an accurate sense of the death toll and to effectively deliver aid. Significant aid distribution didn't begin until almost a week after the typhoon had struck. Even after help arrived, however, many argued that the problem wasn't being addressed.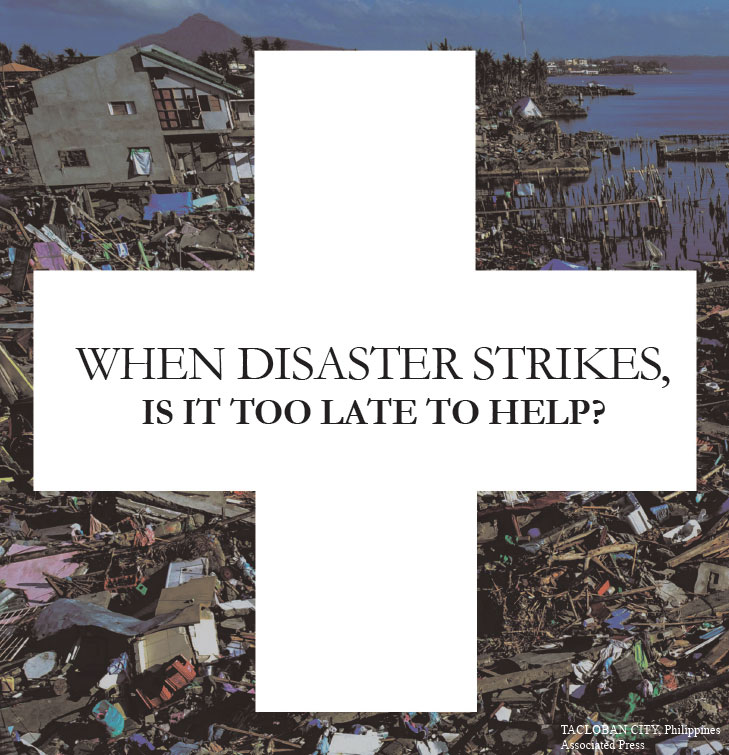 As of Nov. 18, $182.2 million was pledged to the Philippines from international donors.
In order to really help the Philippines, Sano said, there needs to be a change in the way we talk about climate change. Its effects are real, he believes. And the best way to help is to accept that.
"The climate crisis is madness," Sano told delegates. "We can stop this madness."
For now, the islands are hoping for all the help they can get.
"The need is massive, the need is immediate, and you can't reach everyone," said Philippine Interior Secretary Mar Roxas to BBC reporters.
But the world is trying.
Many Seattle University students have offered support to aid efforts. Student Armand Shabazian supports big organizations like UNICEF and the American Red Cross because of their extensive reach.
"The main problem right now is that the supplies are not able to reach the victims, but I believe that larger organizations such as the Red Cross have the resources to deliver aid faster," said Shabazian.
Student Sarah Lynne Penalosa advocates the use of Facebook in order to donate to American Red Cross. Social media sites such as Facebook and Tumblr have placed a donation link on their homepages to make it easy to donate to relief efforts.
Seattle U's United Filipino Club (UFC) has already organized various avenues of providing aid including collections at five different church masses, bake sales and an event this Saturday called Barrio Hype Night.
It is a free event that will focus on Filipino culture, how it was affected by Typhoon Haiyan, and what students can do to help. The club hopes this cultural celebration will bring out what UFC Vice President of Activities Germe Ambion describes as the strong value Filipinos place on family.
Barrio Hype Night will capture this "by cultivating a family within our club, community and beyond," said Ambion, who called the event "cultural awareness for a cause." EMPACT Northwest will receive the proceeds from the event. They are a local non-profit working to provide medical relief in the Philippines.
"Though the typhoon in the Philippines did not impact my family directly, the burden of the aftermath of the typhoon is put on the shoulders of all Filipino people around the world," Ambion said.
Internationally, the UN has launched a $301 million action plan to focus on aspects of relief like sanitation, food, health and debris removal. For the most part, the global community has been eager to pledge monetary aid to this cause.
Even with all of this response, the need is still great and the damage vast. This isn't the first time a natural disaster has ravaged a global community and it certainly won't be the last. With the talk over the continued change in the world's climate status, communities and countries are faced with the looming effects of a global climate crisis—worsening natural disasters are one such potential effect.
"By failing to meet the objective of the convention we may have ratified our own doom," Sano said in his address, relating natural disasters such as the typhoon to global climate change. While it is impossible to say the typhoon was indeed a result of a change in climate, scientists are not ruling it out.
The Philippines are ranked third in the world in vulnerability to climate change thanks to both geography and poverty. Not only is this location vulnerable to changes in sea level and precipitation, but the communities do not have access to adequate preventative resources.
As the planet's climate continues to fluctuate, many places that are already in danger of natural disasters because of inherent factors like geographic location will continue to be in danger of increased flooding.
Professor Robert Larson, an ecological economist at Tacoma Community College, visited Seattle U last week to talk about fracking and its devastating effect on the environment. Fracking is another term for hydraulic fracturing, which is when high-pressure liquid is used to extract oil.
Larson explained that the business of fracking is an economical game: our energy system is rooted in fossil fuels. It's an economic bubble that condemns the environment.
"I hope the carbon bubble crashes hard," Larson said.
While it's often pretty obvious that human action is impacting the environment for the worse, it is difficult to absolutely prove it, Larson added.
"Of course it's hard to look at a particular storm like Haiyan and definitively attribute it to climate change—it's like asking if a particular Barry Bonds home run was caused by his steroid use," he said.
But Larson believes it will be worth it to take preventative measures against climate change disasters anyway.
People worldwide seem to agree. Some communities are experiencing hardship and attempting to adapt to it—hoping such efforts will make future natural disasters less devastating.
According to a National Geographic piece entitled "Rising Seas," the island of Schouwen Duiveland in the Zeeland province suffered a very large storm in 1953, during which flooding caused mass destruction. They have since taken multiple extensive measures to protect themselves from ocean or storm-related threats, including building sea barriers and dikes.
Their defensive mechanisms are paired with a forward-thinking mindset that tries to take into account not only potential disasters, but also the inevitable rise in sea level. A rise that will affect the entire world.
New Orleans, Louisiana is still rebuilding from the effects of 2005 Hurricane Katrina, but was considerably helped by their improved disaster-prevention technology when Hurricane Isaac struck.
In light of Hurricane Sandy, New York is considering ways to inhibit flooding and unnecessary death should the city be struck with another disaster.
As featured in National Geographic, Malcolm Bowman is a physical oceanographer at the State University of New York at Sony Brook. He considers it essential for New York to invest in constructing storm-surge barriers, similarly to other harbored regions such as London, St. Petersburg and Shanghai.
In the same article, landscape architect Kate Orff proposes an alternative solution: oystertecture, a chain of archipelagos and shoals with a natural shape. Orff's idea echoes the structure of the harbor before New York was a flourishing city.
National Geographic goes on to say that Mayor of New York Michael Bloomberg outlined a plan for addressing preemptive action last June. It's a $19.5 billion proposal and it encompasses multiple approaches to increase affectivity on the premise that simply building a wall will only protect against storms, not the rising sea-level.
Aside from trying to block out the sea when it comes, there are other preventative measures that begin with the idea that the ocean will eventually infiltrate. How do we prepare the world for such disasters?
Some people knew the typhoon in the Philippines was coming, but not everyone.
A mass warning didn't reach the whole population—many didn't realize the coming of the storm until it was upon them. Those who did receive the message took refuge in the largest or safest buildings, which still weren't sufficiently stable to resist Typhoon Haiyan.
According to Larson, putting money into preventative efforts now might eventually save us costs in damage in the long-term.
"Eventually we'll have no choice but to take measures," he said. Sano agrees saying that science is showing us the effects of climate change on tropical storms. And it's time to fight back.
"It cannot be a way of life that we end up running always from storms," he said.
The editor may be reached at [email protected]