A 'Chastity Belt' For The Modern Woman
A new crowdfunding campaign has been sweeping the Internet and making waves—a campaign to kick off the production of what many are calling a modern chastity belt.
It's less metal and more beefed-up fabric resistant to cutting and tearing, and it's being used to make anti-rape underwear.
The product was developed by AR Wear, made up of two New York designers who go only by their first names, Ruth and Yuval, due to the sensitive nature of the product. The Indiegogo crowdfunding effort was launched last month to raise the money it will take for them to "finalize prototypes that can be production ready," according to their site.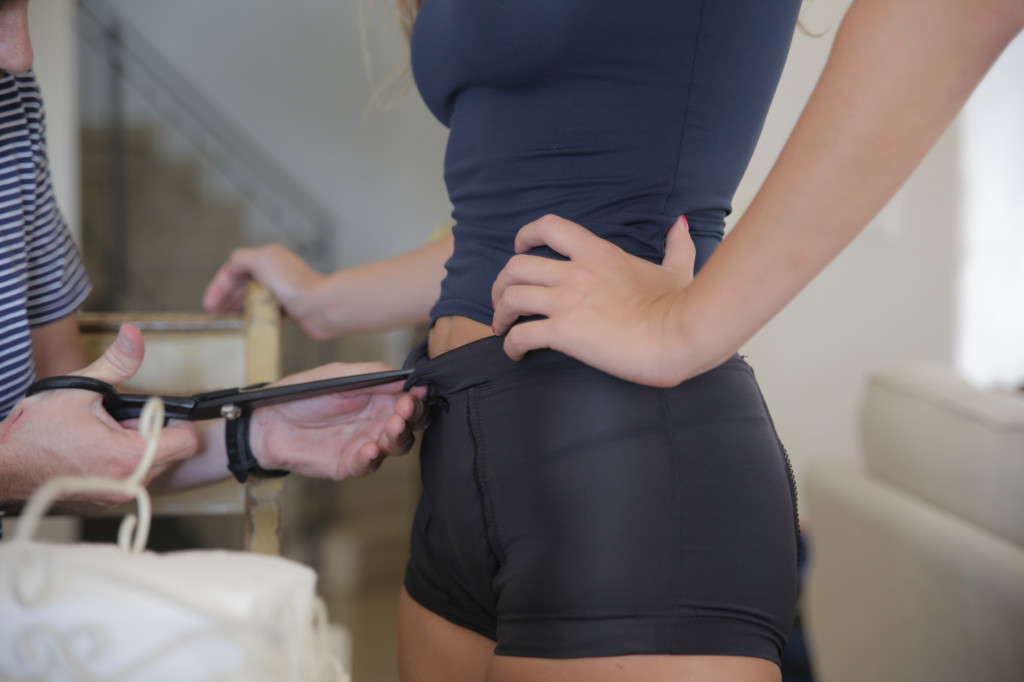 Anti-Rape Wear, or AR Wear, demonstrates the strength of its material by attempting to cut it. The underwear is advertised with a unique locking system that does not allow for the underwear to be pulled down or cut.
They've already exceeded their goal of $50,000, but Internet users haven't ceased expressing concern about the very concept of anti-rape underwear. Right off the bat, people objected to the tagline of AR Wear, which reads: "A clothing line offering wearable protection for when things go wrong."
Many raised concerns that "anti-rape" clothing is tragically flawed in the way it attempts to approach the problem of rape in the first place. On Nov. 9, an online petition was launched to persuade Indiegogo to stop hosting the campaign.
The product is tight-fitting and looks a lot like a pair of shorts. The waist, thighs and center panels are reinforced with "specially designed, cut resistant straps and webbing" which make up the "unified protective skeletal structure," says the product description.
The thigh straps and waist are adjustable and, once fitted, are supposedly impervious to being tampered with by anyone but the wearer. The waist strap features a locking mechanism that requires a combination of sorts in order to be loosened. The idea is that no one but the wearer can remove AR Wear because of its strong reinforced material and a lock that only they know how to unlock.
"We wanted to offer some peace of mind in situations that cause feelings of apprehension, such as going out on a blind date, taking an evening run, clubbing, traveling in unfamiliar countries and any other activity that might make one anxious about the possibility of an assault," the Indiegogo page read.
AR Wear intends to eventually expand their product line to workout clothes and traveling shorts.
Seattle U Society of Feminists officer Jolyn Kelsch said she thought the intentions behind the product were good, but that "it's placing the responsibility on the woman to protect herself instead of teaching men and boys to respect women."
"I think it's good they're trying to do something, but I think the problem is when they say that's enough," Kelsch said.
Kelsch also noted that the promotional video released by AR Wear doesn't address the issue of acquaintance rape. Junior Joshua Sturman spoke to that as well.
"Their advertising is very specifically geared towards stranger rapes," he said. It ignores acquaintance rape, which typically doesn't involve physical force.
Sturman also said he thinks the concept is "ridiculous" because "it shifts responsibility for rape from the rapist to the victim and it also encourages rape culture because it starts to send the implication that if you're not wearing rape shorts, it's okay for someone to have sex with you."
Most of the responses visible on the Internet feel along the same lines as Kelsch and Sturman do. A writer for She Does The City responded on Nov. 12.
"Instead of arming women with a glorified chastity belt and fear of dark alleys, we should be providing information on abusive relationships and consent to both sexes," the writer said.
Comments on the site, however, are supportive of the intentions behind the product.
"Great idea, I really hope this gets produced," said one commenter, Myles Vance. "It would be a good idea, as some other comments have mentioned, to think about creating something similar for men. And to the people who think this just reenforces the idea that it's the victim's fault—it takes time to teach society to not rape. Telling someone that they should not produce a product designed to prevent rape simply because people shouldn't rape is naive."
Sophomore Olivia Sundstrom felt that "there's not necessarily a wrong solution, it's more about the outlook people have towards rape." She also didn't agree with the product being gender-specific and only available to women because rape is a universal problem.
While Sundstrom doesn't think anti-rape underwear is wrong, she felt that "it's not necessarily the right perspective of the problem either."
The Guardian blogger Vicky Simister echoed Sundstrom's thoughts in her own response to the crowdfunding campaign, writing on Nov. 11 that "this modern-day chastity belt is yet another product of a society that teaches women to avoid being raped rather than men to avoid raping," and the solution should "aim to change society's attitude to women and to lock away more rapists, rather than our vaginas."
Despite what seems to be most vocalized, over 2000 people have donated to AR Wear, whose crowdfunding will cease come Friday.
View Comments (1)