Students Armed with Info After Shooting
A typical Friday morning at Los Angeles International Airport can be chaos; Thousands of travelers from around the world fighting to escape from L.A. rush through the shiny terminal to board their planes, others still frantically attempting to get their documention in order and make it through a security screening.
Say what you will about stringent TSA screening, it certainly provides a sense of security to travellers who make it beyond the scanners.
That is, until a lone gunman shot himself past the security forces and shattered that sense of security – adding panic to an already chaotic environment.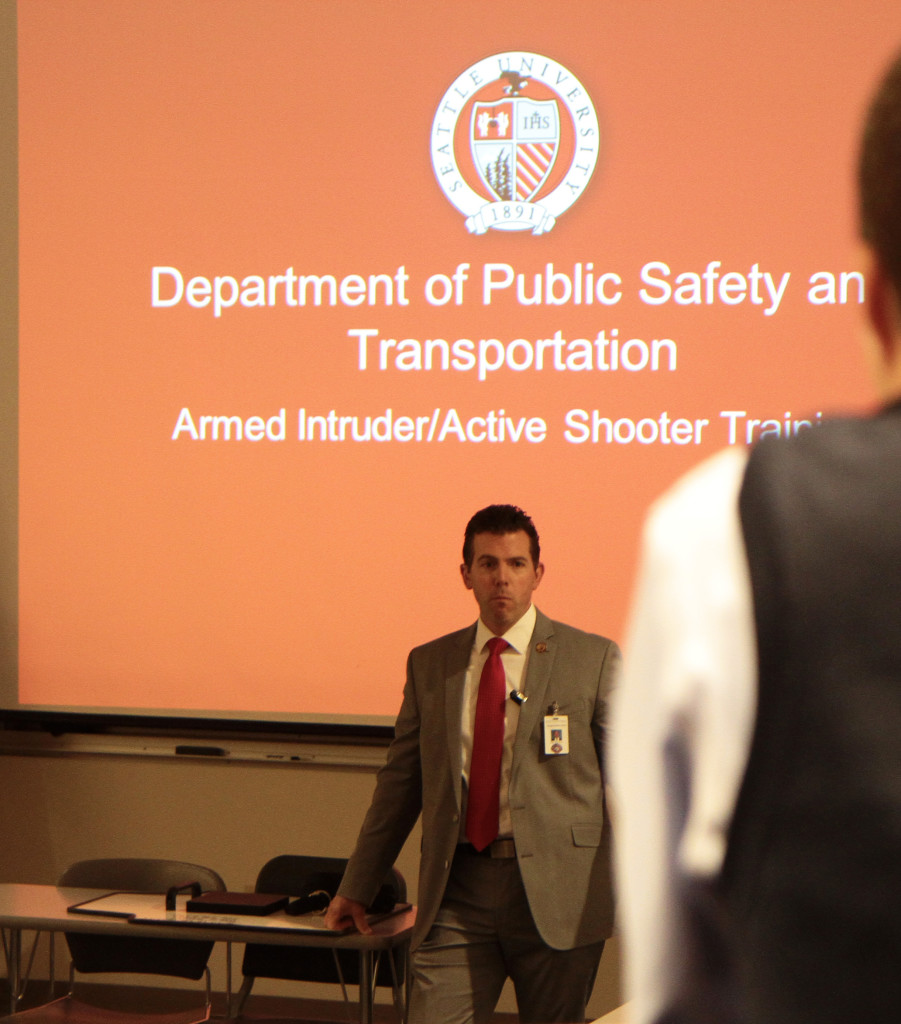 Department of Public Safety and Transportation Executive Director Tim Marron gave an informational seminar on how to respond to an armed intruder.
The shooter, a young male, opened fire in LAX last Friday and the tragedy has forced officials and the public to take a new look at airport security.
Starting at 9:20 Friday morning, the Los Angeles Police Department was flooded with a wave of emergency calls from terrified passengers in LAX Terminal 3. The gunman began his rampage by opening fire on Transportation Security Administration officer Gerardo Hernandez, who was checking IDs and boarding passes that morning.
After murdering Hernandez and wounding three other TSA officers, the gunman made his way through security, firing his semi-automatic assault rifle in the Terminal 3 concourse and continuing on to the gate area. Victims and bystanders of the event stampeded as shots and screams rippled through the terminal.
Hernandez was the first TSA officer to die in the line of duty since the agency's inception after the attacks on September 11.
The shooting has since sparked a heated debate among airport security officials, police and Congress. The national president of the American Federation of Government Employees, J. David Cox Sr. proposed the creation of a "new class of TSA officers," one that would possess the formal training of an armed police officer.
These armed officers would protect airport checkpoints, replace police forces and earn law enforcement status.
Former Homeland Security Secretary Tom Ridge, spoke out against Cox's proposal, calling the arming of officers "a big mistake."
"You have literally hundreds and hundreds of armed police officers roaming every major airport in America. And I don't think arming another 40 or 50 or 60 thousand people … would have prevented this incident from happening," said Ridge.
Ridge went on to say, "At the end of the day, I think there are certain kinds of risks for which there is no sensible, thoughtful, reasonable, economically appropriate way to abandon or to eradicate. And this happens to be one of them, at airports."
Rep. Michael McCaul, R-Texas, chairman of the House Homeland Security Committee presented plans for improving coordination between law enforcement officials and TSA representatives in Congress.
He suggested increasing the use of VIPR teams, which pair armed air marshals with other agencies that then patrol airports together. Moving checkpoints closer to terminal doors has also been proposed, but no changes in airport security have been implemented yet.
The need for stricter security has been made evident locally as well with SeaTac Airport officials narrowly avoiding what could have been a similar disaster the very same day as the LAX tragedy.
At around 8:30 p.m., a man in his late 20s broke through a security checkpoint, ran down Concourse D, and proceeded onto the tarmac. The individual broke a window at the end of the jet way and crawled through it, onto an unoccupied American Airlines plane. Trapped in the plane, TSA officers tackled the individual and police arrested him on accounts of trespassing and the assault of an officer.
Officers stated that the individual appeared to be under the influence of drugs and they believe the event to be an attempted bombing.
While airports undergo security changes to better aid the safety of the public, so does Seattle University. Public Safety has been working on its own security improvements under director Tim Marron in light of the frequency of public shootings like the one at LAX.
Last Wednesday, Public Safety and Transportation held an information session on the Armed Intruder/Active Shooter response. The event is an introduction to the type of emergency preparedness education that Public Safety will be providing throughout the coming year. Marron, who led the event, advocated situational strategy of what to do in a shooting situation.
To ensure survival, Marron seeks to engrain basic training into the reversion responses of Seattle U students.
In his four months as director of Public Safety, Marron has instituted officer training in the Rape Aggression Defense system program to better protect and empower students.
The event showed an instructional video produced by the Department of Homeland Security that depicted the sequence of events in a typical intruder invasion situation. Marron stopped the video at varying intervals, providing feasible options or alternatives of defending oneself from the occurrences depicted in the film. He called on attendees to listen to their instincts while accounting for the factors at hand.
Students can expect workshops with R.A.D. training in the upcoming quarter as equipment arrives on campus in the coming weeks. Seattle U Public Safety is also working to install Big Voice, a public address system that can be heard in a 3-mile radius of the projection.
In light of the happenings at LAX, trainings and safety implementations such as these are aimed to help students feel more secure and confident in their daily lives.
Leave a Comment