The Mouthful: Cranberry Ribbon Bread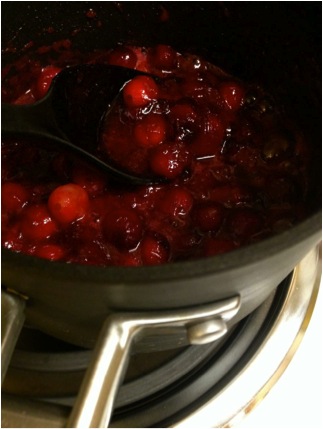 My mother is many things: whip-smart Seattle U School of Theology and Ministry grad, Julie Andrews lookalike, fearsome Pétanque player (look it up, and no, I'm not kidding). But I wouldn't call her an enthusiastic chef.
She doesn't loathe cooking, don't get me wrong, and she was certainly not bad at it. There were no kitchen disasters coming out of Cocina Ferguson when I was growing up. But when she realized that I loved cooking, shrewd woman that she is, she encouraged it, and I ended up gradually becoming the primary cook of the household.
There are, however, a few exceptions–things that are my mom's specialty and hers alone: caramel pecan sticky buns, Christmas tree-shaped Spritz cookies, and most of all, this cranberry ribbon bread, which she whips up at least once every holiday season. It's only 15 minutes of hands-on time at most, but those fifteen minutes will reward you handsomely, with a nutmeg-laced, cakelike bread shot through with spiced cranberry compote.
I made mine into muffins for a number of reasons: 1. I didn't have a loaf pan 2. I prefer muffins anyway, and 3. it's my column so we have to do what I say.
But no matter what shape you bake it into, please make cranberry ribbon bread this November. If not for me, do it for mama Ferguson.
---
To start, place 1 heaping cup of cranberries in a small saucepan. Add ½ cup sugar, ½ tsp cinnamon, and a splash of vanilla and stir.
---
Turn burner to medium-high and cook, stirring frequently, until cranberries pop and the sugar forms a caramel-like sauce. Remove from heat and let cool.
---
Next, combine dry ingredients: 2 cups flour, ¼ cup packed brown sugar, 2 tsp baking powder, ½ tsp baking soda, ½ tsp salt, ½ tsp cinnamon, and ½ tsp nutmeg.
---
In a separate bowl, combine ½ cup milk, ¼ cup melted butter, and two eggs. Beat with a wire whisk until combined.
---
Pour liquid ingredients into dry ingredients and stir with a rubber spatula until just combined.
---
The batter will be thick; don't be scared if it looks like this. Add a splash of milk if it needs to be thinned out a bit.
---
Spoon half the batter into a greased loaf or muffin pan. I learned the hard way: this won't make 12 muffins, more like nine. Don't do what I did.
---
Spoon half of the cranberry sauce over the batter.
---
Top cranberry sauce layer with the other half of the batter, then spread the remaining cranberry sauce on top. Bake at 350 degrees, 18-20 minutes for muffins, or 35-40 minutes for a loaf.
---
And then enjoy, because my mom says so.
---
Leave a Comment