In Emerald City, Redhawks Top at Going Green
Seattle University has long prided itself on being a green school and this year it has the plaque to back it up.
On Oct. 30, Seattle U was awarded with a Green Washington Award from Seattle Business Magazine. Last year, the university was lumped into the Green 50, Seattle Business Magazine's list of the greenest organizations in the state of Washington.
This year, Seattle U was bumped up from the general Green 50 and named champion among governmental and academic institutions.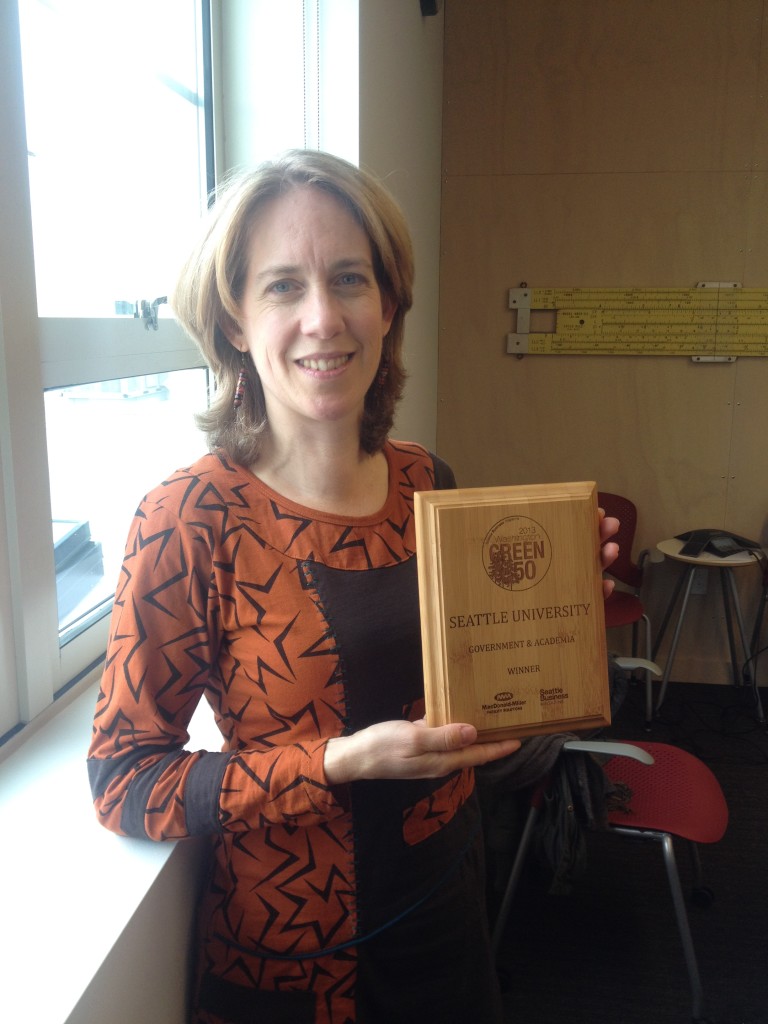 Karen Price holds the Green Washington Award that was awarded to Seattle University on Wednesday, Oct. 30.
The University of Washington came in second.
On the Seattle Business website, editor Leslie Helm said the goal of the annual awards is to encourage efforts of going green "by recognizing the best organizations and holding them up as models for others to follow."
Seattle U earned its role model standing this year through academic efforts, according to Campus Sustainability Manager Karen Price. Seattle U won the award in 2008 as well, but more so for campus operations.
The new Center for Environmental Justice and Sustainability, which attempts to integrate environmentally-centered education and programming throughout the school, was a particularly large contributor toward Seattle U's victory this year.
Price said that there is a focus for this year on educating students about sustainability through academics and co-curricular education. To measure the success of these efforts, a sustainability literacy assessment is conducted, evaluating the evidence of learning amongst students throughout their four years at the university.
In applying for the award, Price wasn't sure what to expect. The notable competition was UW, the only other university in the pool of applicants. It is a much larger school and a research university that could have easily done well, according to Price. As a small, private, faith-centric university, the win this year is a big one considering this competition.
Despite the success, there is still more on Price's agenda for improving the university's sustainability.
First and foremost is the amount of paper being used on campus. The Office of Sustainability will be working on this issue with other departments in order to cut down on the excessive printing by students, staff and faculty.
Print Share is a program being put forth to address this problem by putting more of financial ownice on students for their printing on campus. As of right now, students are allotted a number of free prints each quarter, following which they pay a nickel per sheet printed. Ideally, Price said, students would pay in full, because it costs the university a considerable amount to provide paper and toner cartridges for everyone printing on campus.
Price and university librarian John Popko agree that having students pay more for their printing would have an effect on the amount of printing, as they will be much more careful if more of the costs were coming out of their pockets.
Popko plans to discuss the Print Share initiative with SGSU next week.
Price also expressed excitement about eco reps in residence hall councils, who keep on track with sustainability for their respective residence halls, through programming in their halls to educate students about how they can adjust their lifestyles to conserve more energy and water.
Another huge point of Seattle U's success with going green has been the new trash cans in academic buildings, which were a major financial investment on the part of the university. Every building now has at least one compost or food waste bin, and where there isn't a compost bin, there is at least recycling and trash.
Price's budget may be small, and she may be the only person in her department, but she has big dreams. Without financial limitations, she said she would definitely have the university go paperless and raise the school's recycling rate up from 60 percent to 90 percent. She also cites the construction of living buildings and addition of electric vehicle charging stations as ideal.
As of right now, a third of the campus fleet of vehicles are electric, but vehicle and equipment emissions have doubled between the 2010 fiscal year and the 2013 fiscal year. This increase of emissions is largely due to the doubling of miles driven by students and employees in vehicles rented from Public Safety and the huge increase in miles driven on the Public Safety pickup from 1,169 miles to 18,498 miles.
According to Price, some of the increase in total emissions on campus can be attributed to the 5 percent budget cut on campus this year. The cuts have kept the university from buying carbon offsets, which has long been a large part of keeping emissions down.
This year, a lot of the focus will be on reducing campus vehicle emissions because, unlike the limitations instilled by budget cuts, it is something in our control.
Price is interested to see how Public Safety's new use of Segways affects those vehicle emissions, as they are completely electric.
As for what students can do to aid Seattle U's sustainability efforts, there is still room for improvement in terms of energy and water use in residence halls, paper use and educating themselves about composting.
Regardless of budget, Price has said that the university is committed to "not only reducing [our] greenhouse gas emissions in [our] operations, but also to educate students about climate change and sustainability both in the classroom and outside the classroom."
Sustainability is interdisciplinary and a group effort. Price will be coordinating the university's efforts this year to keep improving sustainability, but students also play a large part in that effort.
Leave a Comment