Despite an impressive cast, Oscar-winning director and Pulitzer-winning screenwriter, "The Counselor" is–to be frank–a festering trash heap of a film. Director Ridley Scott ("Gladiator," "Alien") and novelist Cormac McCarthy ("No Country for Old Men," "The Road"), who teamed up to tackle a suspense-thriller about the devastating wake of Mexico's drug cartels, have churned out a flaming dud—the duo's visually stunning, but hopelessly uninspired moral tale failed to live up to even my mildest expectations.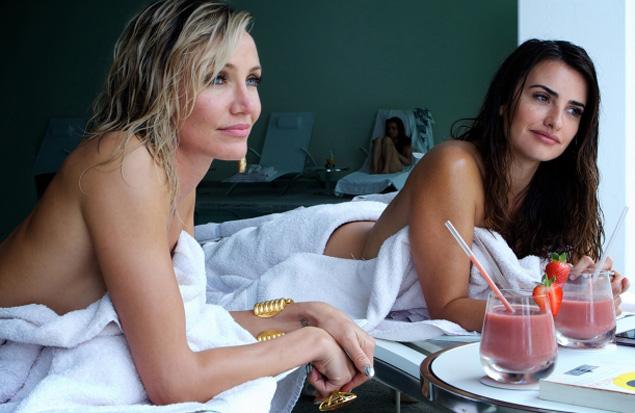 The conniving Malkina (Cameron Diaz) and naive Laura (Penelope Cruz) talk about Laura's recent engagement to the Counselor and the merits of religion.
The disjointed film follows an upstanding lawyer called only "the Counselor" (Michael Fassbender) as he greedily dips his toes into a profitable drug deal with a Mexican cartel. When a member of the cartel is beheaded and the gang's bricks of cocaine are stolen, the Counselor and his friend Reiner (Javier Bardem) are unfairly implicated. Burdened by his foolish avarice, the Counselor soon finds himself and his naïve fiancée Laura (Penelope Cruz) in grave, inescapable danger.
Even though a number of heads are chopped off throughout the film and Cameron Diaz has sex with a car (seriously, she actually has sex with a car), the plodding "Counselor" is inexcusably boring—I actually struggled to stay awake.
Although Cruz, Bardem, Fassbender and Brad Pitt manage to overcome their droll, maudlin lines most of the time, the gifted cast still couldn't salvage all of McCarthy's abstract dialogue and Cameron Diaz is altogether defeated by the nihilistic script. Even though her character is undoubtedly the most compelling in the film, Diaz notably lags behind her co-stars—where Pitt and Cruz perk up their lackluster lines, Diaz fumbles.
Like other recent depictions of Mexican drug cartels, "The Counselor" trivializes horrific cartel violence and lazily stereotypes the Mexican nation—"The Counselor's" Juarez is filled with more wild, emotionless killers than average citizens. However, unlike last year's "Savages" or the Showtime series "Weeds," "The Counselor" makes only a half-assed attempt at satirical filmmaking and fails to decide if it's a tepid black comedy or a melodrama—the result of this clumsy genre flopping is a film that is both tasteless and unintelligent.
The film is littered with less-than-monumental themes like good versus evil and predator versus prey, all of which McCarthy inelegantly addresses through obvious symbolism. For instance, a pair of jaguars—yes, Diaz's character owns two pet jaguars—represent the predatory nature of mankind and a persistent diamond motif seeks to equate greed with misfortune.
To be fair to both Scott and McCarthy, the film's central romance and cinematography are stunning. Cruz and Fassbender's on-screen relationship is well developed and, by the film's end, truly heartbreaking. Scott directed the couple with grace—their scenes together are natural and, for lack of a better word, quite cute. Dariusz Wolsky's camerawork really shines in the couple's opening scene as the audience catches them canoodling under their bed sheets—like most of the shots in the film, this opening scene is beautifully and thoughtfully rendered in the eyes of Wolsky's camera.
Unfortunately, Wolsky's work isn't nearly enough to overcome the project's glaring shortfalls—his gorgeous shots dwindle in the shadow of McCarthy's tedious narrative.