This Halloween season, there will be a handful of spooky sporting events open to the public in Seattle. It's time to get in shape to really show off that white sheet on the street come Oct. 31. Not to mention, you'll have to be prepared to work off those Reese's that so rudely imposed their deliciousness on you.
In the spirit of Halloween, there will be several races happening to really get Seattleites in gear to run for their lives.
On Saturday, Oct. 26, the Magnuson Series Halloween Run will be at Magnuson Park in Sand Point on the shoreline of Lake Washington. Like all Magnuson Series running and walking events, there will be a variety of options for participants. At 10:00 a.m., a 5k, 10k, 15k, team run and kids dash will commence. This event is different from most Magnuson Series runs, though, in that there will also be a two mile "Howwwloween" dog dash an hour prior to the main attractions. All dogs and humans are encouraged to wear a costume. Advance registration is $3 for kids, $14 for dogs and $17-$34 for adults.
Also on Oct. 26, there will be the 18th Annual Pumpkin Push 5k. The Pumpkin Push does not actually involve pushing pumpkins, but will be pushing to support Seattle's homeless population. The costumed event is run by Neighborcare Health, a 501(c)(3) non-profit organization that provides medical and dental services to uninsured and low income families in Seattle. This event is USA Track & Field certified, and will offer a timed 5k run and a two mile family walk. The best part? 100 percent of the money raised will go to funding health care services for those in need. The Pumpkin Push will take place this Saturday at Seward Park with a $5 registration fee for kids and a $30 registration fee for adults.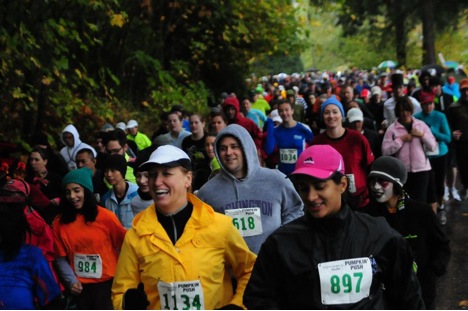 Seattleites running for healthcare for the city's homeless at last year's Pumpkin Push.
On Sunday, October 27 at Seward Park, the 5th annual Run Scared 5k starts at 9:30 a.m.. The goal of this event is to raise $50,000 for The Leukemia and Lymphoma Society. Options for participants include a 5k run, a 4k walk and a kids dash. Advance registration is $35. To close out the day, there will be a costume contest with categories for scariest, funniest and most original, which will all be rewarded with prizes. If you're not interested in running, there are also volunteer opportunities.
Lastly, the Woodland Park Zoo will be hosting the 2nd Annual Pumpkin Dash Fun Run presented by Chevron also on Sunday, Oct. 27 at Green Lake Park. Money collected for this event will benefit the Woodland Park Zoo. There will be a kids run, as well as a 5k run (or walk) for adults, starting at 9:15 a.m. Registration costs $10 for kids and $30 for adults, and comes with a free post-race zoo pass. Being a Halloween event, costumes are of course highly encouraged.