I have about nine cats back home.
I'm guessing here because I know there's definitely nine, but I can't remember how many were born right before I came back to Seattle at the beginning of the school year.
I know what you're thinking, and some of my friends have already beat you to the punch line in affectionately teasing that I am that crazy cat lady.
(Long story short, the cats found me, by the way).
I don't mind because I love cats (did you read my bio below?) and ever since cats became "hipster," cats have become a trend.
Cat-inspired fashion is finding itself everywhere and on everything from clothing to accessories.
Since I love cats and fashion, of course I think combining the two is purrr-fect.
Below are some of my favorite cat-inspired style picks (with links to samples) that you can try right meow!
---
This might have been considered weird to some last year, but weird is totally in this season as well as cats. So combing the two together? Genius. Also, just plain cute. I've seen beanies with bunny ears and bear ears on them, but I have my eyes on the beanies with cat ears because those are paw-some.
---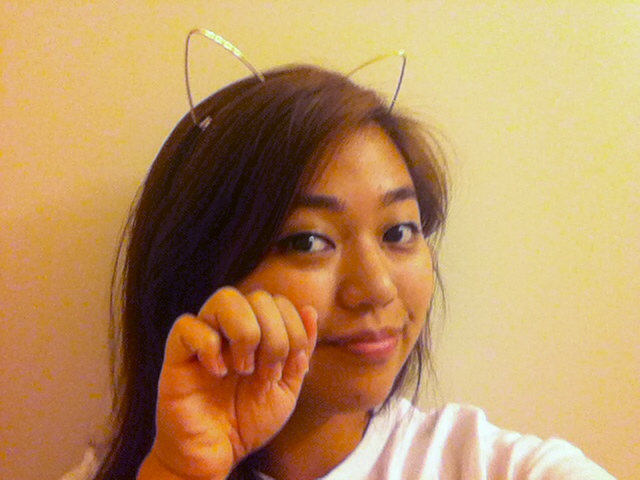 A photo of me raising a paw as I wear the cat ears I spontaneously bought. As you can see, no regrets in this purchase.
Over the summer, while shopping with a friend, I bought some cat ears. I just had to have them even though I didn't know when or where I'd use them (I actually ended up wearing them when we went out that night just because I could). Many stores are selling them and this is paw-sitively a cat-inspired staple that you can wear any time
---
Cat clothing
From sweaters to shirts to socks and any other article of clothing that incorporates cats, I definitely appurve. It won't be hard to find these around.
---
I am loving all these cat-inspired bags and pouches and I need to get my paws on at least one of these cat bags. Cute? Absolutely. Stylish? Fur sure.
---
Cat accessories
Purrrhaps you've seen the cat jewelry or watches when you were out shopping or looking online. They're fun and playful. It's a great way to show off some cat-atude.