SGSU Budget Cuts: Clubs Take Brunt of Budget Shortfall
In 2010, Seattle University's Student Government had a budget of $105,000. Now, just three years later, it has dropped to $81,200.
The cuts are part of a five-year trend in which the university has made cuts across the board for student activities. Student representatives in SGSU feel the cut conflicts with their abilities to properly fund campus clubs and projects for constituents.
Many students may not realize that SGSU's budget is fundamental to club activity on campus. Their appropriation fund this year, which moves funds to organizations and clubs recognized by the appropriations committee, is $61,225. That makes up 75 percent of their total budget—SGSU's primary concern is making sure student clubs get the money they need.
The appropriation fund was $65,000 dollars last year and, like their total budget, the money has been decreasing more and more every year. The result is that SGSU has had to try and find new ways to make sure clubs get an equal share of the money they need.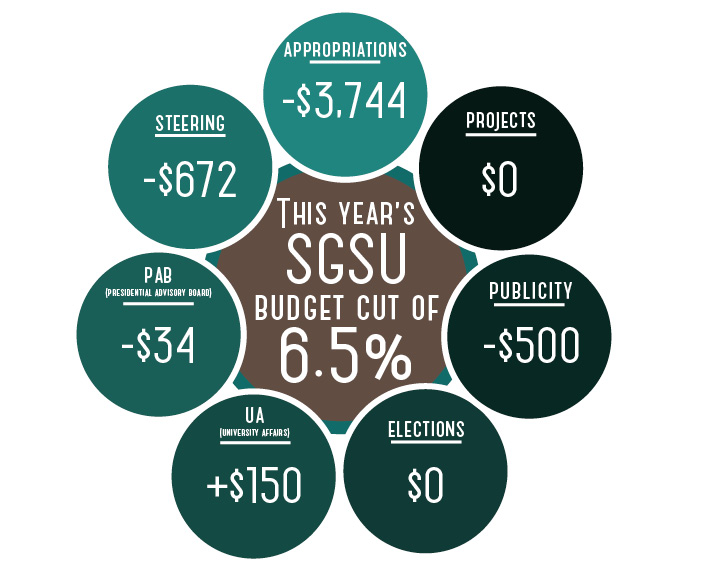 Andrew Jerome • The Spectator

For Bharat Bhojwani, a senior finance major and the SGSU Vice President for Finance, the cuts have made it more difficult to provide clubs with the money they need for events and activities. But he remains positive about his office's ability to try and make sure clubs feel as little of the cuts as possible.
"The whole university is facing 5 percent budget cuts. We're facing 5 percent, so it's something that we have to accept and deal with," Bhojwana said. "But one thing I can promise is that clubs will get funded if they meet the appropriations requirements."
The appropriations committee uses a series of guidelines to determine if a club should receive funds, ranging from how many students the group tries to reach out to and if its intentions are in-line with the Jesuit tradition. According to Bhojwani, however, the committee does its best to ensure that clubs all receive an equal allotment of funds. If clubs don't receive money, he told me, it's almost always because of budget constraints in SGSU.
"[Ninety-nine] percent [of the time] it's lack of resources. Very rarely will we not give a club funding," he said.
Bhojwani also pointed out that, despite the cuts, there are a number of avenues for clubs to procure the resources they need. He advises club members who feel like they need more resources on campus to fundraise. Organizations like the Office of Multicultural Affairs are also available to help groups which fit their particular guidelines.
Not every club, however, will be affected by the cuts in the same way. The Seattle U Tennis Club actually experienced an increase in funding.
"This year we received a budget of $2000—that's $200 more than what we received last year," said Ryan Kondo, treasurer of the Seattle U Tennis Club.
Kondo acknowledged that things are looking better this year for the club despite budget cuts within SGSU. In part, that may be due to the rising status from a tier four club to a tier three club.
Kondo explained that there are four tiers in sport clubs and all clubs go through a meeting every spring quarter where they present cases for funds from the school. Kondo explained that club funds typically go directly to the purchase and maintenance of equipment as well as for touring and competing with various clubs.
"The tier system really depends on the number of members of a club, as well as the club's ability to raise money through fundraising. I think that's why the rowing club and the soccer club rank so high, because they are able to do stuff like that," Kondo said.
Andrew Jerome • The Spectator

When asked how the club will react to the surplus in funds, Kondo said the club will try to do at least one tournament every quarter, which will cost about $600 to $700 per tournament depending on travel expenses and hotel fees, which Ryan will be in charge of. He recalls when the club travelled down to Oregon to compete with other tennis clubs and the expenditures associated with it—the cost is covered by a club membership fee.
"Typically, we charge members a member fee of $15 a year, and we still might this year," Kondo said.
Eric Chalmers, the current president of SGSU, is both frustrated and emboldened by the cuts.
"It's frustrating because it limits our maneuverability. But it's a little bit exciting because it really does make us work politically to justify why we need money and give us opportunities to pursue different avenues and create more partnerships between groups," said Chalmers. "I think it really forces what this campus has needed for a long time, which is more collaboration across groups. "
Chalmers also said that SGSU has been making cuts internally to try and accommodate funding for clubs. The president's advisory board, which manages outreach efforts, has lost money and the steering committee, which creates policies that keep SGSU accountable to students, has been cut by $1,000.
"Pretty much, we cut as much internally as we could to keep the clubs as balanced as possible," Chalmers said.
SGSU is also looking into new ways to fund club activities. Chalmers said they would continue to look into having different colleges support clubs. Another project in the works—though there's no guarantee at present that it will happen—aims to have athletics pay different groups to "sponsor" Seattle U games and encourage students to attend.
A third option in consideration: Chalmers and members of SGSU are also exploring the possibility of charging all students an "activities fee" each academic term, similar to the technology fee students began paying last year. Many of Seattle U's peer institutions charge a similar fee.
For the foreseeable future, however, it appears that SGSU's purse strings may be tied a bit more tightly.
Sheldon may be reached at [email protected]
View Comments (1)