'Carrie The Musical': Bloody Brilliant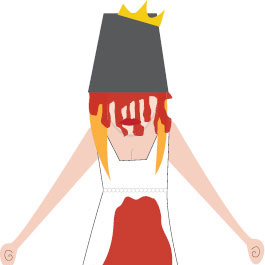 "Carrie," the renowned horror story by Stephen King, has been resurrected.
Originally a novel published in 1974, the classic has since become the allegorical sword in the stone, grasped by various contenders whose adaptations have soared—or flopped—to varying degrees.
The first adaptation, and one of the most successful, was the 1976 film directed by Brian De Palma and starring Sissy Spacek and Piper Laurie, both of whom received Academy Award nominations for their performances. In 1988, Broadway played host to a musical rendition that was both hugely expensive and hugely criticized. Yet another feature film, starring Chloë Grace Moretz and Julianne Moore, will hit theaters this Friday, Oct. 18.
Just last year, the MCC Theater in New York City united the original writers of the Broadway musical with a new creative team to revamp the production. It was a considerable success. Artistic Director Louis Hobson of Balagan Theater has brought a slightly altered rendering of the 2012 musical to Seattle's own Moore Theatre. "CARRIE the musical," a co-production between Balagan Theatre and Seattle Theatre Group, will feature music by Michael Gore, lyrics by Dean Pitchford and writing by Lawrence D. Cohen, as well as Tony Award winner Alice Ripley as Margaret White and Keaton Whittaker as Carrie White.
In an opening performance on Friday, the cast and crew put on a show that delivered, as promised, "A night you'll never forget." Although there were hiccups with sound and a few instances where writing could've been improved, there was also a strong reinvention of characters and exemplary acting, music and lighting.
In short, "Carrie" is the story of Carrie, a high school girl who suffers abuse from both her peers and her Bible-pushing mother, Margaret. This eventually leads to Carrie discovering telekinetic powers that are partly fueled by emotional distress. The story is rife with teenage drama and lots of cringe-inducing outbursts from Carrie's religious fanatic of a mother, who believes God is punishing her sinful daughter.
It all comes down to a bucket of pig's blood dumped on Carrie's head at the prom by malacious bullies. This sends Carrie into an emotional and paranoid breakdown in which she lashes out with her telekinetic powers.
Overall, the shining achievements of the production were rooted in character development. Whittaker has developed an even better Carrie than her beloved predecessor Spacek. Her performance is so powerful that the audience empathizes with Carrie's unbearable pain and despair even in the face of her violent actions.
Director Louis Hobson couldn't imagine anyone else who could better fill the role.
"This is the best Carrie and Margaret that you'll ever see in any production of 'Carrie' ever," Hobson said. "They're simply stunning, the work that they're doing is brilliant, and I would put them up against any cast anywhere in the history of the show."
This is exemplified in the first act. Arguably the best song of the entire production, "Evening Prayers" features a heart-wrenching piano lead and powerful lyrics that amp up the audience's already vulnerable sense of empathy: "Mama sees inside my soul, but her face is cold as stone/ If she loves me, why do I feel so all alone?"
Ripley, a Tony Award winner and revered Broadway veteran, put on a stellar performance, both in song and character development. In this duet with Whittaker, it is clear why she is so well respected on Broadway; her operatic and highly expressive vocals complement Whittaker's equally awesome execution of the song.
Shortcomings were present, but outweighed by successes. As expected of the first show, there were technical issues with microphones and sound levels, which unfortunately rendered some of the dialogue and lyrics indecipherable. But the set and lighting design operated flawlessly; lighting by designer Tom Sturges shined throughout the musical.
Hobson explained that despite all of its achievements, the musical does have an inevitable weakness: high expectations. Audience members who arrive with expectations founded on previous adaptations will almost surely leave disappointed in one way or another.
Yet Hobson isn't worried: "If you're going to see the production—if you're interested in seeing 'Carrie'—I think this production is one of the best you'll see."
"CARRIE the musical" will play at the Moore Theatre until Oct. 26. Tickets range from $30 to $40.
Abby may be reached at [email protected]
Leave a Comment