Local Food Touches Down at CenturyLink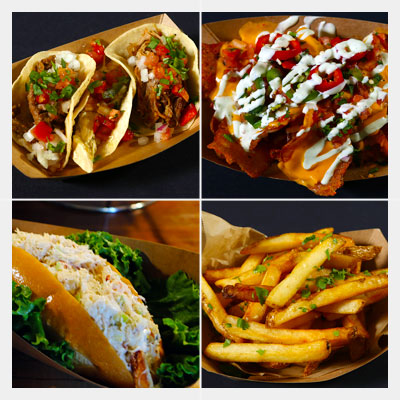 It's a sandwich that would be as at-home on the glossy cover of a local food magazine as it would on the menu of any Capitol Hill gastropub: fried cotto salami from the renowned Pioneer Square deli Salumi Artisan Cured Meats, topped with glistening, almost nutty caramelized onions, a hint of garlic and black pepper, all between two pieces of chewy, flour-dusted Macrina Bakery ciabatta.
All rhapsodizing aside, this isn't your typical stadium food.
CenturyLink Field's revitalized Community Concessions Program has reached out to a number of local eateries to feed the crowds who will flood the stadium for Seahawks and Sounders games this season.
The program kicked off on Aug. 17 for a game against the Denver Broncos.
This isn't the first time CenturyLink has chosen local purveyors over big-name corporations. In 2007, it became the only stadium in the National Football League to have a beverage contract with neither Coca-Cola nor Pepsi. The rights went to Seattle's Jones Soda instead, only to be replaced by Coca-Cola in 2010. Jones moved its headquarters to Pioneer Square a year later, hoping that game-day foot traffic would boost revenue.
The former Community Concessions Program was similarly short-lived. Under the old system, which started when CenturyLink first opened in 2002, local restaurants would send their own staff members to the stadium to prepare food to sell. This proved to be a financially unsuccessful model and most eateries pulled out within a few seasons.
The new program retains its predecessor's locavore flair, but is more streamlined. This time, restaurants sell their recipes and ingredients to CenturyLink and food is prepared on-site by the stadium's own culinary staff, including Executive ChefSeisuke Kamimura.
"Seattle is an international, multicultural city, so it's important that our food selection reflects a strong local influence," Kamimura said in an interview with the Seahawks' official website.
Salumi's cotto sandwich is only the beginning of the mouth-
watering new selection.
Many of the local dishes will be served at a new booth called "The Best of Pioneer Square, Chinatown, and the International District," located in the stadium's Main Concourse. Here, the International District's legendary Kau Kau offers their famous barbecue pork served over steamed rice, and Pioneer Square's McCoy's Firehouse serves up a tangy brisket sandwich.
The new Brougham Beer Hall within the Main Concourse, as well as two hot dog carts, carries cheddar-and-beer-infused Tailgator Sausages from Pike Place Market favorite Uli's Sausage.
True to the stadium's community spirit, Brougham features a bevy of local beers and wines.
Field level carts sell a $12 Dungeness crab roll, with local crab inside Macrina Bakery bread.
It's a far cry from the cheap beer and garlic fries of yesteryear – though CenturyLink certainly still offers more pedestrian fare.
The program is part of a larger change within CenturyLink: the stadium chose Sportservice as their
concession provider for the 2013 season. "The hot dogs and Bud Light will always be the core of our business, but we're always looking for the newest and greatest thing," Assistant General Manager and Director of Operations for Sportservice at CenturyLink Field Matt Krauss told the official Seahawks website.
CenturyLink isn't the only stadium that's dabbling in artisan fare. Neighboring Safeco Field courted epicurean sports fans last spring with an upscale Mexican menu by local chef Ethan Stowell, as well as a variety of vegan steamed buns created by chefs Rich Landau and Kate Jacoby. Landau even created a Portobello carpaccio for Safeco's Private Suites.
Though some may balk at the notion of fancy-schmancy stadium food – a number of recent Yelp reviews complain about the prices – that doesn't seem to be hurting sales. The stadium regularly sells out of the specialty items: according to Krauss, guests who want to sample Kau Kau's pork should act fast, as it's often gone by halftime.
Early reviews have also been positive.
"While free food is rarely bad, I can say all of this stuff was good anyway," said the Seattle Times' Bob Condotta after the unveiling of Brougham Beer Hall on Aug. 17.
We'll keep watching as CenturyLink continues to raise the bar for stadium fare – while we're not too busy making sure that fried artisan salami grease doesn't ruin our Sounders scarves, that is.
Leave a Comment