Fall Fashion 2013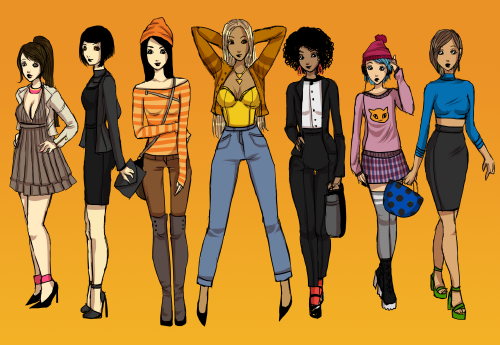 TALL BOOTS
The knee-high boot is back, y'all. This fall, boots are hitting right below the knee, or even above. Those that aren't are paired with thigh-high socks that elongate your limbs and cover your fading summer tan. Don't fight the height. Boots that eclipse the lower half of the leg are taking over shelves and closets everywhere. And hey, at least they'll keep your calves warm.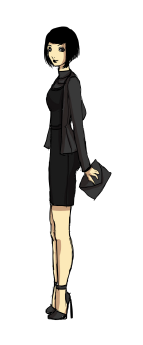 BLACK ON BLACK ON BLACK
This season, black is the new black. The dark side is undoubtedly winning this fall with gothic trends and witchy designs flying onto runways and fashion blogs like nobody's business. Trendy people all around the world are wearing Darth Vader's favorite color in slimming getups for both day and night. Be classy and wear a little black dress and blazer or go for an edgier look with fishnets, black tailored shorts and a crop top. However you want to spin it, stop doubting yourself and wear that black from head to toe. Everyone knows it's cool to look like you host séances and dabble in Wicca.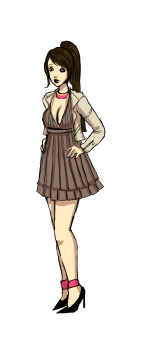 BABY DOLL
The kinderwhore look is so hot right now. This season, fashionistas and designers everywhere are telling us to make like Courtney Love circa 1993 and flaunt nursery-inspired attire. Take a hint from Wednesday Addams and don a black Peter Pan collared blouse. If goth chic isn't really your thing, try a babydoll dress a lá Shirley Temple. And if you really want to go the whole nine yards, pair your dress with Mary Janes or Danskos and you'll really be ready for recess. So what if you're cold? Fashion is pain.
TUXEDO
The tuxedo has stepped out of the prom and onto the runway. Men have been wearing tuxedos since the late 1800s, but now it's the ladies' turn. So far, they're wearing them a lot better. Whether it's long, tuxedo-inspired vests or coats with satin lapels, models everywhere are looking a little bit like penguins. As we learned from James Bond, nothing says classy quite like a tuxedo, so on your next fancy night out pair your usual dress with a tuxedo-style jacket and you'll look just
smashing, dahling.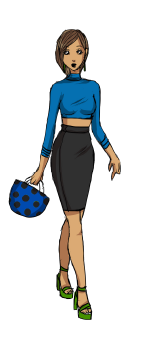 TURTLENECK CROP TOPS
Over the summer, the dorky turtleneck mated with the cute crop top and their lovechild is taking retailers by storm. The turtleneck crop top packs two of the 20th century's favorite shirts into one glorious, albeit tight and tiny, must-have item for fall. Pair your crop top with a full skirt or, better yet, put on some mom jeans for a nerdy-chic look that says "I'm stuck in the '90s." There's no need for scarves while the turtleneck is back in town, but you might want to keep that jacket buttoned for the sake of your exposed belly.
MOM JEANS
Ladies, it's time to admit that we still have a little something to learn from mom. Last year, the slouchy boyfriend jean was popular, but this fall, pants that make you look like you're 40 are all the rage. Mom jeans—the dumpy, high-waisted version of boyfriend jeans—are the pants of the season, and motherhood has never looked so hip. Yes, they make everyone's butt look a little saggy, but who says saggy butts can't be chic? Pair them with a crop top and cuff the bottoms above a pair of cadet boots and you'll feel like you're ready to hop in the minivan and take to the carpool lane in style.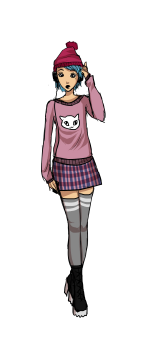 PLATFORM BOOTS
It's time to get your hands on some old Dr. Martens because clunky pleather platform boots are definitely back in style. The cumbersome platforms pioneered by go-go dancers and The Spice Girls are back with a vengeance, and this season there is no such thing as too chunky or tacky. Studded platforms, sparkly platforms, green platforms – all are fair game this fall. If you want to be really edgy, try out some Jeffery Campbell boots for nighttime or take a hint from Lady Gaga and wear a pair so high you can't even walk (perfect for those Seattle hills). These boots weren't made for walking – they're high-end artwork. The higher the platforms, the closer to God, I
always say.
YOUTHFUL PRINTS
Vogue says it's fashionable to be immature this fall. Inspired by the wardrobes of middle school, Givenchy brought a Bambi print to the runway this season and other designers followed suit, presenting pieces smattered with hearts, starts and fast food products. Good news for us — we have yet another opportunity to prolong childhood. Try a printed pullover with a leather skirt for a grunge look that says "hooray, irony!" or pair a printed cardigan with a floral babydoll dress and make everyone's eyes bleed. Pull out your old graphic tees because if Givenchy says it's cool to dress like a teenager, it probably is. So let's all buy socks with tacos on them and mourn the passage of time.
BEANIES
It's time to replace the wide brimmed hats of spring and summer with a floppy blob of wool. The beanie is no longer reserved for skateboarders, stoners and happy kids on sleds. The fashion elite is wearing them too. Try a beanie with a pom-pom on top for a festive look that says "I'm ready to hop on a sleigh and drink some cocoa" or a subtle black beanie that lets everyone know you're too cool to care about the top of your head. But here's the best thing about beanies: they can hide male-pattern baldness and splotches of discoloration created by freak salon accidents. I think that's something we can all be excited about.