Sunday Market Blooms on Broadway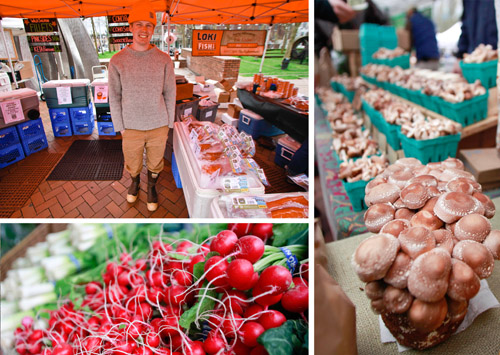 Fresh fruits, vegetables and other local and healthy goods can now be bought blocks away from campus—but in somewhere other than the local QFC or Safeway.
The Broadway Farmer's Market opened this past Sunday to start its ninth year in Capitol Hill. From now until late December, customers will be able to buy a fresh selection of local goods from the Puget Sound and Eastern Washington every Sunday.
Run by the Neighborhood Farmers Market Alliance (NFMA), the Broadway market is welcoming a great deal of new vendors this year to satisfy the growing customer base, and, according to the Alliance's website, hopes to "support and strengthen Washington's small farms and farming families."
Julian O'Reilley, the operations manager at NFMA, explains that while the market opened on Sunday, the start of the season is truthfully in the preceding winter, when the organization is working through the market's preparation, when vendor applications are processed and ideas about recruiting new vendors are discussed.
"We spend a lot of time working with the neighborhood and businesses in the district. We want to make sure to have a great diversity of products for our shoppers," O'Reilley said.
For this upcoming season, a variety of new vendors will be offering new product bases to the customers, according to O'Reilley. A few of the vendors who will be present at the market are Oh Yeah Farms, Cascade Pies and I Love My GFF, who also operate their cart on the corner of Minor and Madison weekly for the Wednesday lunch rush.
d:floured is also a newcomer to the hill for the Sunday market. Operating as a whole for three years, the bakery specializes in gluten-free goods, such as olive bread, lemon coconut cakes and flourless chocolate chip cookies big enough to share between three people.
Justin Scott, an employee who worked the bakery's booth on Sunday, explains that the bakery's owners, Phebe Rossi and Amanda Bedell, are both gluten intolerant and are interested in baking for others who have allergies to gluten, eggs or dairy.
"The goal is always to make a product that is gluten-free, but that you wouldn't know is gluten-free," he said. "They taste the same, feel the same, and look the same as typical wheat based products."
According to Scott, d:floured, which already operates at several other farmer's markets including the Ballard and Edmonds markets, hopes to have a bigger presence in the Capitol Hill community and create greater awareness of who the company is, as well as what they do, by having a booth at Broadway.
"We want to let people know who have certain allergies that we have something for them, and are also letting the people that don't have allergies know that there's a delicious option here as well that doesn't contain what you usually eat," he said.
Although the market usually opens with stalls in the thirties to forties, O'Reilley said that as the peak season of summer approaches, the number of vendors on Broadway may well increase to 50 or more. When asked whether the NFMA would try to "fill in" empty spots with other vendors, O'Reilley stated that the market is farm-focused, and tries not to fill in with non-food related items.
"We open the market with a lot of great farms, who organize their crop planting based on the opening date of the market," she said.
As for now, the question has risen regarding whether the Broadway market will extend to be year-round. O'Reilley doesn't have a definite answer, but believes that once the Sound Transit station in Capitol Hill is completed, the building will be utilized for that very purpose.
When possible, a year-round market would be determined by the customer base and growth in sales; in the last year alone, there was between 8 and 10 percent growth, and O'Reilley hopes that sales growth doesn't slow down.
"We're always hoping for more shoppers—the farmers are getting up pretty early and driving all the way over here, so it's incredibly beneficial to them when we have a good stream of customers," she said. "We've had really good growth over the last few years, which is what it takes to extend a market like this."
From now until Dec. 22, depending on weather conditions, the Broadway Farmers Market will be open from 11 a.m. to 3 p.m. every Sunday in front of Seattle Central Community College.
Grace may be reached at [email protected]
Leave a Comment