Super Mash Bros
One thing that is a part of the lives of most college students is the occasional weekend party. But for those who tout the motto "YOLO," every day is a party.
Super Mash Bros.' music should be the soundtrack to your life if you identify with the latter. From their debut album "F*ck Bitches, Get Euros" to their latest album "Pure Fix Mix"—and let's not forget the Miley Cyrus-inspired "Miley High Club"—Super Mash Bros.' creative names are just as fun as the mix of songs they've mashed, which span from the '90s realm well into the hits of today.
The two "brothers" are friends Dick Fink and Nick Fenmore. Since they've been in the music scene, the duo has managed to balance their crazy weekend performance schedule with a full-time college one. Mixing was probably their only extra-curricular activity, but they're good at it—their combined digital expertise is designed to get you on your feet as quickly as possible.
However fun playing music at parties may seem, it definitely isn't as easy as one might think.
"For every 20 seconds of a mash-up we make, we probably have at least an hour of work behind it… We almost treat every mash-up as our own individual song in a sense," one of the bros said.
The Super Mash Bros. have toured across college campuses all over the United States excessively and will surely have no problem unhinging all the Seattle University students at Quadstock—dancing, belting out hit songs we all know the words to and hopefully losing ourselves in the fun of it all.

Brother Ali
Brother Ali's music is described as "real hip-hop." The rapper uses poetic, catchy rhymes to tell stories about life's trials and tribulations, placing particular emphasis on analyzing the United States.
Growing up inspired by Slick Rick, Rakim and Public Enemy, Brother Ali began writing and recording music as early as junior high.
Following the release of his first EP in 2004, Brother Ali kept growing in his music and using his autobiographical rhymes to dig into something deeper than just opinion. He decided to share stories about who, and what, shaped his views.
Named Jason Newman at birth, Brother Ali was deemed legally blind and moved to and from different cities throughout his childhood. Although he faced many challenges growing up, the one that alienated him was his albinism. In spite of his Caucasian heritage, Brother Ali, though having never admitted to being black or white before it was divulged, was often assumed to be black. In one of his songs entitled "Daylight," Brother Ali raps, "They ask me if I'm black or white, I'm neither, race is a made up thing, I don't believe in it but my genes tie me to those that despise me."
Brother Ali embraced Islam at 15 years old and has stated that, "Everything in Islam is an act of worship — everything good and pure and genuine you do is an act of worship."

Youth Lagoon
Befitting the essence of Quadstock, Trevor Powers a.k.a Youth Lagoon makes songs based on the idea of psychological dysphoria and expressions of what he has called a "pretty sporadic" mental state.
The dark-haired 23-year-old Boise native, with hair that is curly at one moment and vibrantly colored the next, embodies the introverted, but psychedelic nature of his music.
He often wears paisley or flowery blazers, nerdy glasses and presents album artwork with color and depth rather than the typical imprinted, generic image of a new artist's face.
Powers manages to create pop-y and profound sound—two words that are rarely strung together. At least in music.
Powers was surprised by the success of his first album "The Year of Hibernation" and was actually planning to release it for free.
"[The album] wasn't about any physical sense of hibernation. But just that mental isolation…a lot of people even experience that in really large cities because you're around so many people, but at the same time, probably feel alone like an ant in a giant ant farm," said Powers.
Powers went into solitude to write his second album "Wondrous Bughouse," which came out last month. As the title suggests, the album is in fact a wondrous house filled with music that bugs the mind. Okay, not really, but it is as psychedelic, soothing and thought-provoking as music can be.
With producer Ben Allen—who has worked with well-known indie bands Deerhunter and Animal Collective—on board, both of Youth Lagoon's albums are bound to entrance us at Quadstock and transport us into our own particular states of mind.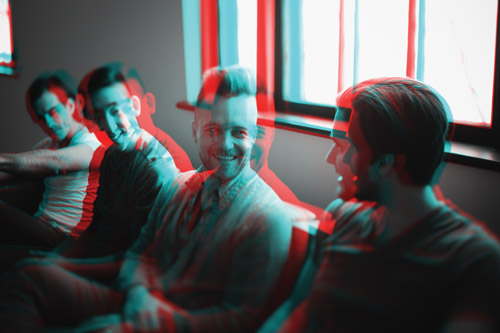 Van & Alyosha
Currently on a tour around the East Coast and Canada, Ivan & Alyosha is a local Seattle band known for its spiritual lyrics and upbeat attitude. With wistful, melodic hooks and powerfully strummed folk-rock guitars, this band produces a sound that evokes a full but light feeling.
Band members Tim Wilson, Ryan Barbary, Pete Wilson and Tim Kim are often accompanied by special guests and present a comfortable family atmosphere, which is extremely important to them. Sometimes they even go on tour with their families in tow.
Ivan & Alyosha was formed by the original duo Tim Wilson and Ryan Carbary in 2007. What started off as a nameless project in the studio became a full-fledged band with ideas for EPs in mind. Alternative radios embraced their fresh-as-a-summer-breeze sound and they performed for multiple stations including KCRW, KEXP, WFUV and WNYC. They released their first EP "The Verse, The Chorus" in March 2009 and it attracted national attention for its compelling messages. In 2011, Tim Wilson's bass-playing brother Pete joined the group, and the lyrical power grew. And finally Tim Kim's exceptional guitar skills contributed a new dynamic to their sound.
It took a few years with tours up and down the West Coast and a few shows on the East Coast for the band to grow together and learn how to play the way they do now. The positive results of the extensive time the members spent together are exhibited in their latest EP "All the Times We Had."
Together, they are embarking on a spiritual, musical journey that brings them closer to each other and themselves. With their swelling harmonies and humble charm, Ivan & Alyosha prove to contribute quality music locally as well as nationally.

The Ramblin' Years
"Play it loud," laughed Katie Sweeney when asked what The Ramblin' Years wants to do with their music.
The Ramblin' Years formed in 2011 after members Sean Clavere, Daniel Dovinh, Finn Anderson, Daniel Dunn and Sweeney began jamming together. As Battle of the Bands approached, they began taking their music more seriously. Since then, they've continued to grow together as a band while balancing school and other responsibilities.
Sweeney and Clavere hail from Sacramento while the rest of the members are from the Pacific Northwest. Attending Seattle University and the enjoying the surrounding musical culture was what drew them together.
"Seattle's a tastemaker city. If you can make it big here, you'll get recognized," said Dunn.
All members provide vocals and have their own talents that contribute to the unique dynamics of their sound. Other reviewers have described their music as Americana, but the members speculated and named various genres.
"We're going for, like, soul-motown," Sweeney said.
Musical influences range from Bruce Springsteen to the soulful Supremes. Dunn plays the saxophone for the band and also raps alongside with the band's guitars, bass and drums.
After Quadstock, the future of The Ramblin' Years is still yet to be determined.
"Those of us who are graduating, which is everybody but Finn, we're all kinda hanging and we're going to keep playing for at least the next…oh, I don't know…year?" Sweeney said.
"The next forever," Dunn added.