Annual Awareness Event Takes Back The Night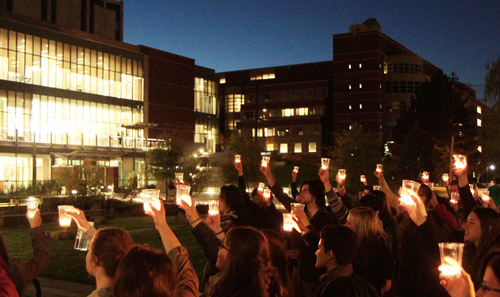 If you were anywhere near campus last Tuesday night around 9 p.m., you probably heard the chants. On April 16, Seattle University students took back the night chanting phrases against sexual assault and violence towards women.
"2, 4, 6, 8, no more date rape!" "Hey! Ho! Date rape has got to go!" yelled the crowd. The well-attended event, though consisting of mainly women, had a good number of male students as well. This is something the lead student organizer, Kara Ortbal, hinted as an encouraging improvement over the years before.
The male presence at a school event like this is especially important because part of the "Take Back the Night" event was aimed at the roles men play in violence against women.
"Take Back the Night" is an annual event at Seattle U with national and global significance. The first documented event took place 38 years ago in Philadelphia, Penn. when a stranger stabbed Susan Speeth, a microbiologist, to death as she was walking home alone at night.
Statistically, 50 percent of women are afraid to walk alone at night and most women, especially under the age of 35, site sexual assault as the number one cause of this fear. These potential fears, however, are nothing compared to the one in four women sexually abused at least once in their lifetime.
Peter Quallitione, a speaker at Tuesday's event, compared these statistics in women to men citing that only in prison is when 1 in 10 men are subjected to sexual assault in that time. He posed a question to the men in the room asking what they did to keep safe from rape.
No male student or attendee answered.
When this same question was posed to the women in the room, plenty of ideas poured out ranging from sharp keys to whistles, and even tasers.
"Generally as men, we walk through the world unconcerned about being raped…[but] men are safer from sexual assault in prison than women are walking in the streets, and that is significant," said Quallitione.
As the co-founder of Seattle-based Organization of Prostitution Survivors (OPS), Quallitione engages in promoting men's accountability in sexual assault. Ortbal, the lead organizer of the event and member of the Health and Wellness Crew (HAWC), agrees with this strategy of empowering men to take a stand especially since most of the time; they are the perpetrators.
"In my opinion, the accountability needs to fall with who is perpetrating, and how we can solve [gender-based violence] is to reach out to men to be involved in this movement," said Ortbal.
In addition to Ortbal's views, students from higher education institutions like Occidental College in California and Swarthmore College in Pennsylvania were also letting their voices be heard recently, but on far more serious charges concerning the mishandling of sexual assault cases.
Victims of sexual assault, harassment and defilement from both these institutions have been dissuaded from reporting these cases and even blamed for being the cause of the assaults.
One female student at Swarthmore said she watched her rapist receive his diploma from the college president and wished that a dean had not persuaded her against reporting him.
These are not the only colleges associated with sexual assault and the mishandling of these cases, but they are able to shed light on the importance of events like "Take Back the Night" in university settings that house age groups often associated with sexual assault as well as healing from it.
Students and attendees at the Seattle U event shared poems and stories describing their experiences with assault, as well as of their families and friends who were victims of this abuse.
Student Alba Chico could not believe that sexual abuse had happened to people she knew, let alone to more than one student.
"I am shocked but I am glad people are taking a stand," she said.
This event comes at a time when just last month, President Barack Obama signed the renewed and expanded the 19-year-old Violence Against Women Act (VAWA).
As such was the case of Diane Millich who is among the Native American women that were or are abused by non-Native American men but could not be persecuted because they were on tribal land. The bill enables this change and also generously caters to undocumented immigrants.
Selma-Al-Aswad Dillsi was another speaker at the event and a community advocate with The Northwest Network founded by and for LGBT survivors of abuse. Dillsi is one of the people that could benefit from the new act as both a lesbian and immigrant from Palestine early in her life, feeling the need to survive in what was a white-dominant society being fed images of the Gulf War at the time.
She did not realize that even in same-sex relationships, inequality can prevail as often does in heterosexual ones, where abuse occurs due to the feeling of superiority over your partner.
"I ended up in a relationship where vulnerabilities were leveraged by my partner to maintain power and control over me," Dillsi said. "[I] began to identify as a survivor."
Tesi may be reached at [email protected]
Leave a Comment