Scholarships Reflect Needs of Choir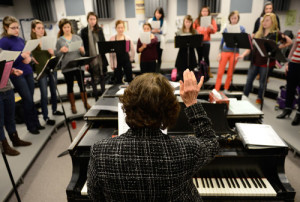 It is difficult to quantify human talent.
Tools of measurement such as GPAs or number of YouTube views have been devised to somehow establish a student or artist at a skill level, but there are often other influential factors.  When the deciding lines of ability are foggy, issues can arise especially when capacity is tied to a tangible reward.
Amongst the multiple chorales at Seattle U, the questions of how scholarships are distributed and whether the system is just have inched their way into the spotlight.
There are four choirs within the Seattle U choir program: University Chorale, Men's Chorale, Women's Chorale and Chamber.  Within these four divisions, there are multiple opportunities for students to earn scholarships.
A significant and often underestimated one is working as part of the crew or management team for the choirs.  These groups prepare the location for choir practice and performance as well as handling publicity.
"Crew isn't just moving equipment," said Rachel Moe, sophomore and former member of three of the four chorales.  "They do absolutely everything, including the technical things."
Another possibility for scholarship is becoming one of the eight section leaders in chorale.  These section leaders work with the singers to learn the new music as well as strengthening the relationships within their section.
"We run our section," said Amy Truong, senior choir member and alto 1 section leader. "We help our part in choir and everybody else who needs help with their music; who need to learn the music, pitches, rhythm. Also, just being a role model for them and take the new students under our wing."
Scholarships are also dependent on financial need and merit. One type of merit scholarship is given to students in Chamber, due to the extra time commitment it requires and because Chamber students are typically more experienced singers.  Another type of merit scholarships are referred to as "Singer Scholarships" and the process of how these are obtained can be found on the Scholarships Fine Arts page of the Seattle U website.  Students must provide an application, an audition tape and meet with Dr. Joy Sherman, Director of Choral and Vocal Music, for an interview.
"It's not a standard amount," said Dr. Sherman on the amount of scholarship money distributed to each individual student.  "It's based on is the student going to be a music major and students who are going to be a music major can receive more. Secondly, it's based on the needs of the choir.  If the choir needs a particular voice part, more than another, then it will go to that voice part.  And, it's talent based."
Dr. Sherman utilizes her expertise in the field of music to determine which students receive what quantity of money based on their talents.
"My first goal is the well being of this organization," said Dr. Sherman on a factor that influences her decision on the distribution of Singer Scholarships.
With the maintenance of a well-rounded choir being the main goal, the disproportion of males and females at Seattle U was an interesting concept that a few students voiced when discussing scholarships.  With 60% of the undergraduate population being women, this ratio prevails in multiple programs within Seattle U, not just the music program.  An effect of this issue could be an emphasis on the distribution of scholarships to men interested in choir, especially if the chorale is in need of male voices.
A former male choir member speaks to this fact directly; after he attempted to quit choir due to a heavy class load, he was offered more money to stay in the program.
"I think that was definitely the case," said the student on the male to female ratio in the music program.  "The reason I was more valuable than a female was because there was less males."
"I feel that in the choir circumstance, this is fair," said the student on his experience.  "Because the balance of males and females in choir actually affects the actual sound of the choir.  Therefore, paying more money for males to stay in choir benefits the end result of the choir."
"It sucks," said Rachel Whitcomb, a senior choir member and section leader.  "But it's just a reflection of the art world and the music world; that there will be a very uneven ratio of men that go into the field versus women that go into the field.  And it's not just choir that this unfairness affects, as far as SU trying to get more men to come to this school.  I see it as unfair but I see it as a lived reality of the university as a whole and also in the art field.  It's something that I've come to understand."
However, Dr. Sherman notes that these thoughts are based on observations that students have made, not hard facts.  Since the amount of scholarship money each individual student receives is classified information, no one student can have the full picture on any sort of disproportion in choir scholarships.
"The specifics of scholarship data are protected by FERPA law," said Dr. Sherman.  "Students do not have access to that information.  Therefore… it is conjecture and should be viewed as such.  It is not a fact that there are more male scholarships than female."
Finally, need-based scholarships are given to students interested in pursuing music at Seattle U.  Before each student joins the program, Dr. Sherman will discuss with students in a private interview their needs, financial and scheduling wise, and how they plan to involve music in their college lives.
During a college career, however, other conflicts always arise and Dr. Sherman is open to discussing these new issues at any time.
"I think you definitely have to be aware that you can have that conversation with Dr. Sherman," said Whitcomb.  "I don't think everybody is aware that she is approachable to talk about these things with."
Although the system could be considered subjective, some students say the number of personal and external factors that play a part in the process make the distribution of choir scholarships a just system.
"When you're a part of a music program it is really based on how much you give to it," said Truong.  "And if you give a lot, I think it is fair.  It definitely shows that you are gifted and that you are trying your hardest to use your gift."
Another interesting point of controversy is the amount of hours needed to be successful in choir in relation to the amount of the credit each student receives for being in the program. Typically, students earn one credit for each chorale they are a part of; so the most credit one student could receive in a quarter is three credits.  However, the amount of time students spend rehearsing as well as individual practice is not proportionate to average amount of work put into a non-Fine Arts credit.
"We have rehearsal every single day," said Moe.  "If you're in Chamber, you have it two, three or more times a day.  There are jokes like, 'My life is choir.'  Well, that's because it is."
"Choir is an art," said Daniel Dovinh, student conductor of choir and former bass and baritone section leader.  "People spend a lot of their free will outside to work on it.  Equivalent to if you had a painting project, you wouldn't do all of your painting in class."
Some students, such as Moe, have participated in the program without receiving any credit at all.  Majoring in biology did not leave Moe with a lot of room to fit all three choirs into her schedule.
"I was on contract," said Moe. "Doc built this program here.  She will do absolutely anything to not lose people due to stupid things like credit.  We sign a contract committing our time and responsibilities as if we were getting credit."
Dr. Sherman recognizes the amount of work students give to the program and comments on the one-credit system being a national standard.  The allocating of choir as one credit also allows students to participate in the program who are pursuing careers in fields with tightly locked schedules without overloading their schedule.
"I just say to students, 'Don't take this class unless you love music so much you can't not do it,'" said Dr. Sherman.  "Because it's going to take a lot of your time and it's going to be a lot of work.  I really try to help students see what they're getting into before they get into it."
One prevailing factor united the students in choir despite these controversial issues.  The love of music and performance inspires the members of choir to pursue this art.
"We do music for the love of it and to tell stories and to express," said Dovinh.
"It says in our mission statement that through the outstanding performance of great music we seek to bring more love into the world.  What we're about is love and bringing together.  And reaching out and helping to bring peace into a world that is so disturbed."
"It's mostly a volunteer group, that's another thing you just don't find a lot in universities that have a music school," said Dr. Lee Peterson, Assistant Director of Choral Music. "Everybody in here is a volunteer and I would stack them up against a vocal major, music school with a choir; I would stack them up any day.  These folks are physics majors, environmental studies, nursing; but they make it [choir] a priority."
"I think the thing that's very unique and very beautiful is that even if we didn't get scholarships, even if we didn't get credit, the people in choir would be there," said Whitcomb.  "Because we love doing this art, we love making music together."