Balagan's Rock Musical is Next to Brilliant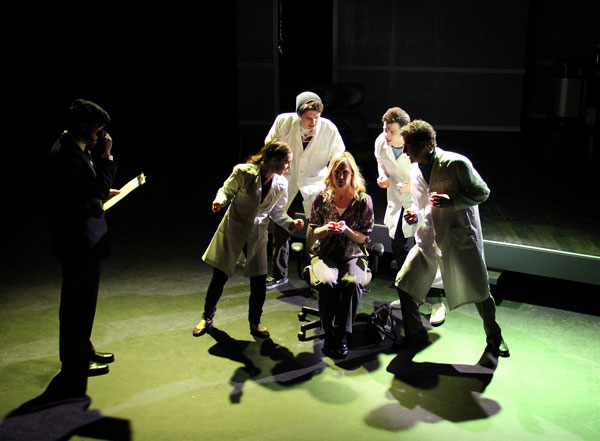 During intermission at the Balagan Theatre, the lesbian couple a few seats over aggressively agreed with each other that the male lead was a narcissist. A little old lady a few rows down admired his stolid devotion to his manic depressive wife.
It's a testament to the Pulitzer Prize-winning writing of "Next to Normal," a musical about mental illness and family, that such varied interpretations of the same character are possible. On the other hand, it's a testament to the phenomenal cast that throughout the formidable two hours and fifteen minutes of the production I was by turns stressed out, sad, vicariously exhausted, amused and dismayed, but never disengaged.
The show chronicles one family's struggle with mental illness. Diana (Beth DeVries), wife to the aforementioned stolid (or narcissistic) Dan, and mother of Natalie, was diagnosed with bipolar disorder 19 years prior to the start of the show. The family, it is quickly made clear, has been dealing with her disorder for a long time.
The production is deft in its depiction of the ravages of mental illness, both on the individuals who suffer and their families. In Natalie (Keaton Whittaker) we get a lonely, angry and talented teenager, acutely aware of the injustice dealt her when she was born to a mentally dysfunctional mother. In Dan (Austen James) we have an inexplicably unrelenting pillar of support. It is late in the show before we get a window into his reasoning, but when we do it is a breath of fresh air.
The most fascinating character in the production, however, is Gabe (Kody Bringman), Diana and Dan's deceased child who haunts Diana as a schizophrenic apparition, but also acts the part of mental illness personified and vilified. In Gabe we get a picture not of what mental illness is, but how it seems to those who suffer. Gabe also represents the ghost of Diana and Dan's child—in him we get a picture of the horror parents suffer when they lose a child.
If a critique of the show's handling of the "issues" could be made, it would be that in portraying mental illness as an outgrowth of extreme grief "Next to Normal" seems to suggest that mental illness needs a reason and fodder. In reality, it does not, and can exist with or without accompanying tragedies. It is its own tragedy.
That being said, the show accurately depicts the "hope springs eternal" phenomenon experienced by so many families. New treatments give way to old symptoms time and time again and still families hang on. Giving up is not an option for families of the mentally ill, and as we see in "Next to Normal," the price of failure is high, sometimes resulting in attempted suicides.
Overall the rock n' roll band and killer score made the show somehow fun, despite the dark themes. The cast seemed to be having fun, going all out and embracing the insanity, and so, somehow it seemed okay for the audience to do so too. There was far more music and singing than spoken dialogue in the play, but somehow nothing was lost. Musicals, often derided as cheesy, shallow or otherwise saccharine, have endured a bad rap, but in the tradition of "Spring Awakening," "Next to Normal" preserved all the grit the story deserved in its musical form.
Director Brandon Ivie probably deserves most of the credit for the seamless transposition of the show from the big time Broadway stage to a much smaller venue. Though some critics thought the production lackluster, the small space and proximity of the cast gave the musical a raw and intimate feel.
Theater-goers should be prepared to be wowed and entertained by "Next to Normal," but they should also be prepared to be shell-shocked. For anyone with any familiarity or experience with mental illness the production will hit brilliantly and painfully close to home.
Even for those not personally touched by mental illness, "Next to Normal" provokes profound unanswerable questions: what can possibly be said in the face of acutely painful, invisible and ultimately incurable diseases? What inspiration can be given in art or in life to those who suffer and for whom recovery is never an option, only a lifetime of medicating and coping?
"Next to Normal" ends with a mixed answer to these questions. It is a testament to the meaningfulness of life, even life spent struggling with mental illness, but it doesn't sugar coat the issue.
"Next to Normal" runs at the Balagan Theatre through March 2.
Leave a Comment