New DIrector Plans Changes for P-Safe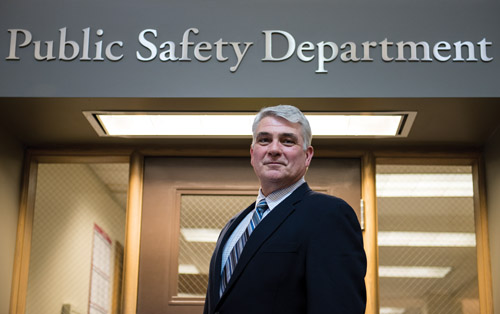 In the minds of some, they are intimidating. To others, they are seen with respect. And some might not know what to think, except that they can be seen around campus.
This is Seattle University's Public Safety team.
Upon seeing them in uniform around campus, it can bring up different feelings in people, but behind their uniforms, they are often students, just like anyone else. And the new interim Executive Director for Public Safety, Randy Carroll, hopes to get that message across as he pushes public safety forward in improvements, which can better their connection with the Seattle U community.
Carroll was offered the position of interim Executive Director in October 2012 from Margolis Healy & Associates, a private firm on the East Coast. Carroll accepted the position and began Dec. 1, 2012.
"He has a lot of background and experience that he brings with him. He seems to be very collaborative and so far we've enjoyed working with him," said Craig Birklid, assistant director of Public Safety.
Carroll has been in law enforcement for about 36 years. He spent 31 years with the Bellingham Police Department, where he was also the chief for eight years. He also consults business teaching leadership institutes for law enforcement executives with the national association of chiefs of police.
Although Carroll does do other interim work, accepting the position as the new interim director was not just another gig for him.
"I saw a number of opportunities for change in advancement, in improvement. I also found the university to be a really welcoming and enjoyable environment to visit and work in," said Carroll. "I found that Department of Public Safety personnel are really a great group of people. They're very dedicated to their jobs and I thought that it would be fun, interesting, challenging to work with that group…and try to make changes to improve services and to improve the overall delivery of service to the university community."
His co-workers are excited to have him as interim Executive Director as well.
"I enjoy working with [Carroll]. We all get along very well in Public Safety and so he's a great guy to work with. He's been a lot of fun," said crime prevention officer Dominique Maryanski.
As an interim director, Carroll does not know how long he will be here. But he brings a fresh set of eyes that look into the Public Safety system and how it works with the Seattle U campus and he has some plans for the university while he is here.
Carroll is working on an updated Policy and Procedure manual. He is also working to move the university to a national accreditation, looking into all the systems—security, cameras, computer, parking enforcement—to see if they need improvements or replacements. Advancements are being made in the emergency and evacuation response plans and there will be a re-organization of the department itself.
But of course, these things take time.
"It doesn't happen overnight. I can't just flip a switch, so we're laying out a plan of how we're going to accomplish our goals for improving the systems that we have or replacing the systems that we have," Carroll said.
"This is difficult in a time when resources aren't abundant but we're looking at creative ways to make that happen."
But Carroll is hopeful and confident of the work he and the rest of Public Safety are doing.
For instance, students will line up at Public Safety to get parking passes every quarter, which Carroll thinks is very inconvenient for the students. And now, these parking pass forms can be found online.
"That kind of service delivery, the improvement of delivering service and in making things more convenient for the community, those are the things we are looking at doing," Carroll said.
Ultimately, Carroll hopes this will improve relationships and communication between Public Safety and the rest of the Seattle U community.
"I'm very excited about the new opportunities and the backing from President Sundborg, that they're looking to invest in Public Safety. And I've been here for a while, so I'm very excited about the new changes that are happening," Maryanski said.
With the excitement on Public Safety's side for the support and improvement, there also seems to be an excitement from the Seattle U community.
Recently, Public Safety had its Night Walk, an event where members of Public Safety and the Seattle U community walk around the campus discussing areas of concern and have a dialogue on suggested improvements for safety. According to Maryanski, over 28 people participated, the most she has ever seen participate.
"It means there's an excitement about Public Safety and our office, so I'm excited about that… It was exciting to see that large of a group," she said.
Carroll is creating a handbook for whoever will be appointed as the new Director of Public Safety so that they are aware of what the team has been
working on.
Bianca may be reached at [email protected]
Leave a Comment