At Long Last, Women Join the Fight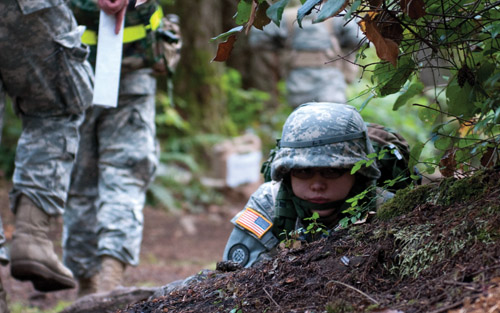 The first women enlisted in the United States armed forces in 1948, but it took them 65 years to finally reach the front lines.
On Jan. 24, the ban restricting women from filling combat positions in the United States army was lifted.
"General Dempsey and I are pleased to announce that we are eliminating the direct ground combat exclusion rule for women and we are moving forward with a plan to eliminate all unnecessary gender-based services," said Secretary of Defense Leon E. Panetta in a speech delivered to the Pentagon Press Briefing Room. "If they can meet the qualifications for the job, then they should have the right to serve, regardless of creed or color or gender or sexual orientation."
Ultimately, the long process to remove this ban ended with a unanimous recommendation from the Joint Chiefs of Staff and a signature from Panetta.
According to a CBS news poll, 66 percent of Americans favor this decision. To them, the time for women to have the opportunity to participate in all factions of the armed forces is long overdue. For critics of the removal of the ban, it could be a catalyst for problems in the future.
Regardless of one's opinion on the decision, it's clear that President Obama is already acting on his inaugural address's focus on equality.
"Today, by moving to open more military positions—including ground combat units—to women, our armed forces have taken another historic step toward harnessing the talents and skills of all our citizens," said Obama. "Many have made the ultimate sacrifice…patriots whose sacrifices show that valor knows no gender."
Senior Katrina Andrews, who is in Seattle U's ROTC, had a positive reaction to the news. Andrews is currently training to enter into a combat support unit. Before the ban was lifted, this was the closest a woman to get to combat in the armed forces.
She supports the removal of the ban, but said that discrimination never played much of a role in her experience. According to Andrews, gender was not a factor at an ROTC training camp she went to last summer.
"We all slept in the same barracks, we all carry the same weight in our rucks," said Andrews. "As an ROTC student we're all required to do the same type of training. There's not segregation of the sexes at that point."
Despite the milestone for equality this removal represents, criticism has not disappeared. Many in opposition to this law question the physical strength of women compared to men.
President of the Center for Military Readiness Elaine Donnelley argued the former in an article in New York Times Upfront magazine.
"These men carry… 50 to 100 pounds," Donnelley writes. "Such burdens would weigh more heavily on smaller female soldiers who have, on average, 45 to 50 percent less upper-body strength and 25 to 30 percent less aerobic capacity, which is essential for endurance."
According to Andrews, these criticisms may not be entirely off-base.
"I'll admit when I first joined the ROTC that I was a go-getter in the sense that I wanted to do everything the guys did," Andrews said. "But as time went on, I started really seeing the physical differences between men and women. I realized that my body may not be able to do that Physically."
Some also worry that the presence of women could dramatically change the dynamic of the front lines.
"They're saying things like [women] will ruin unit camaraderie," Andrews said. "Saying that unit cohesion will be ruined by having women in it is ridiculous… It's not a combat issue."
As for the ROTC program at Seattle U, Neil Glutting, another senior in the program, doesn't think much will change.
"The training that we do is basic officer training," said Glutting. "A lot of the field skills we train to are basic soldier skills and the females in our battalion have learned that basic combat. I don't think that will change much in the program."
Sherilynn may be reached at [email protected]
Leave a Comment