The Spectator's Winter Fashion Directory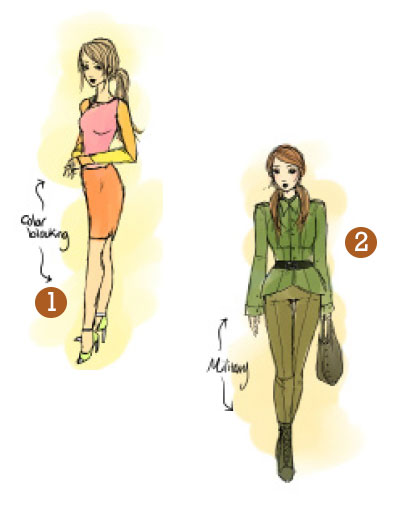 The Spectator's tips and tricks for looking cool this winter.
1. COLOR BLOCKING
Though traditional color blocking had its resurgence a few seasons ago, the trend has now grown to include looser interpretations of the trend. Couple seemingly disparate colors, or different shades of similar colors, for a fresh take on the trend. Tops and dresses with varying patterns are also trendy season, as well as handbags and purses.
2. MILITARY
Army green is neutral enough to go with almost anything and military-inspired shirts and jackets make for easy layering when paired with stripes and other neutrals like beige. Look for military style details in dresses and pants—tailored cargo pants are making a surprising
comeback.
3. FAUX FUR
A perennial winter staple, this year's faux fur obsession has gone far beyond the trim of hoods. This winter, faux fur is no longer a subtle accent on coats and vests. It is the entire coat or vest. A fun and easy piece to layer, a faux fur vest adds a touch of boho chic to any outfit. A reminder: faux fur does not always mean neutral. A colored faux fur coat or jacket will not only add a pop of color to any outfit, but great texture as well.
4. LEATHER GLOVES
Leather is always another winter fashion favorite. A great way to try out the trend without going straight for that leather coat, skirt or pants is with accessories—namely, a pair of classic leather gloves. Great for men and women, leather gloves add a nice touch to any outfit and are a cut above those knit gloves you've been wearing since grade school. Leather or faux fur trim on gloves will also be big this season and an easy way to take on this trend without breaking the bank.
5. OVERSIZED COATS
The most practical winter accessory: the coat. This year, look for oversized, boxy coats that make a statement. This year's menswear-inspired coats will work best in softer, more feminine tones. Oversized coats can be casually paired with skinny jeans or tights and ankle boots, and can also add a great touch of drama to any outfit.
6. VELVET
Don't let its sophistication intimidate you. This winter, velvet is an everyday must-have fabric. Everything is fair game when it comes to the season's softest trend—skirts, dresses, jackets, shirts, scarves, you name it. Even velvet leisure suits have made appearances on the runway. On shirts and dresses, velvet can be cut to look uber-sexy or uber-tasteful—a low v-neck will vamp up the romantic look, while a high neckline will keep the fabric looking classic and mature.
7. OVERSIZED SWEATERS
One of the most comfortable trends of the season is the oversized sweater. Whether it's a large cable knit from Nordstrom or one with a 1980s pattern from Value Village, these are a winter wardrobe staple. Try layering sweaters with collared shirts, or pair them with silk or brocade skirts and pants. Though sweaters look great with skinny jeans or a mini-skirt, try belting one over a pencil skirt or shorts with tights for a fresh look.
8. ASYMMETRICAL TOPS
We've all seen the asymmetrical hemline on skirts in a thousand different varieties, but the trend has now made its way to tops and sweaters as well. With a vast range of iterations, be careful not to create or add volume to the areas that might not need it. Though flattering for most shapes, be sure to pair a voluminous top or sweater with a straight leg pant or pencil skirt to balance out the proportions. Try experimenting with different lengths and cuts to figure out what flatters your body most.
9. TEA LENGTH
So long mini-skirts, hello conservative hemlines. The 1960s housewife aesthetic is a back on the red carpet this winter and is last word in wedding gowns this season. Tea-length is perfect for those days when above- the-knee skirts feel too short and ankle-length skirts feel too matronly. Although tea-length hemlines appear on casual dresses and skirts meant for everyday wear, the trend looks best when formal—an elegant skirt with volume keeps the length looking delicate instead of dowdy.
10. GOTHIC DRESSES
The gothic-inspired dress is a great way to add an edge to your wardrobe. Counter the Middle Ages (or junior high school "emo") throwback with feminine accessories and polish it with softer pieces. Make a statement in all black or pair the dress with neutral sweaters and jackets to streamline this theatrical look.
Olivia may be reached at [email protected]
Leave a Comment