Visiting Artist Searches for the 'Impossible'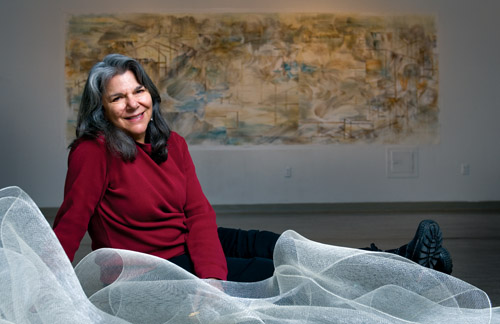 Picture a room. On your right, small black lines etched into the wall appear every so often, until they culminate into a cluster of black swirls.
To the left, tin foil papers the wall with the words "Impossible Monum" pressing against the material from behind it. The only objects are in the center: large, overlapping circles carpet the floor with a lone spool resting on top.
You have entered the world of Mary Ann Peters.
Seattle University's Visual Artist In Residence (SUVAIR) program is featuring Mary Ann Peters for 2013. SUVAIR officially began in 2009, allowing local artists to work on campus, utilize Seattle U resources and interact with students. Peters' work is currently on display in the Vachon Gallery, a space that she has utilized since the summer of 2012.
Peters' relationship with art has been over 30 years in the making. Her transition as an artist began with social service.
"I was just the kid in the class who could draw and do all the posters," Peters said. "I have always been artful. I thought I would use it more in a social services capacity. I've worked with women prisoners, I've worked on first amendment rights, I've worked on things as an artist besides making my own work. It wasn't until my late 20s that I could see this as a viable road to take."
The pieces on display in the Vachon gallery feature a variety of mediums. A few are paintings, while others are composed of paper, three-dimensional objects and the aforementioned tin foil.
"I was playing with the foil, but then I started pondering that if you wanted to make some sort of gesture of remembrance of something…and you didn't have a wealth of resources you would go to what is in your environment. You would go to domesticated materials. That was the first thing," Peters said of her choice in material for that specific piece. "But then I just loved the fragility of it… I made it with something that could disintegrate if somebody bumps into it."
Another piece, a painting, plastered on the next wall, is titled "Map to an Impossible Monument." Peters, who is of Lebanese descent, spent over a year creating a narrative that deeply relates to the personal relationship between her and her culture.
"I ended up going to Lebanon and to Syria right before the Arab Spring, and came back with a new perspective on that part of the world. I think what happened for me is that I was trying to get a handle on my particular nostalgia about my cultural ties. I did not have a visceral response to the place; it was all from family lore that I heard about it. Going there allowed me to start piecing together my own notions of what my particular connection might be," Peters said.
Peters began "Map to an Impossible Monument" before her trip, and completed it upon her return.
"I made this piece…personal, trying to find something that probably I will never be able to find. And that's a viable and valuable thing to do. Somehow immerse yourself in the notion that there is a directive for you that has some sort of cultural link, and it may not be what you thought it was."
Like her inspiration for "Map to an Impossible Monument," Peters finds herself searching for the intangible in all of her artwork. She looks for the things she will never be able to fully grasp.
"I start with an inclination, a notion and I chase it, in sort of a circuitous route. And hopefully it comes back to me in a way that makes sense."
"I asked the curators and directors of all the major art institutions in town… and all of the past artists in residence," said Francisco Guerrero, director of SUVAIR, on the selection process for this year's artist in residence. "I said, 'Everybody, you can give me three names of who you want to nominate.'"
Peters applied for the position and was ultimately selected.
"Somebody like Mary Ann is great," Guerrero said. "She has a long history in Seattle with a variety of different projects. She's been an artist in residence a lot and knows what it's about. So she was a perfect choice for us because we're trying to really organize the residency in a way that's going to be more helpful for the student body."
Sherilynn may be reached at [email protected]
Leave a Comment