Critic's Corner: "Movie 43" Blows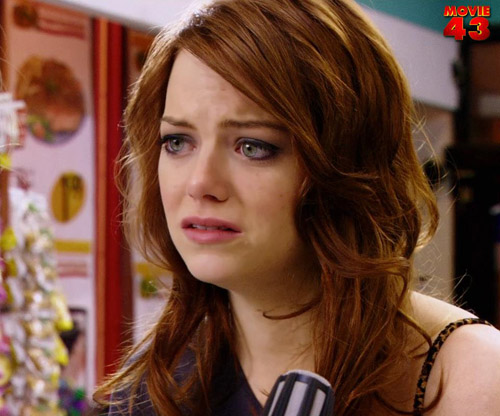 Five people walked out of "Movie 43" during its 90-minute run. Five.
Two were middle-aged, two looked like they were still in high school and the last, who almost stuck it out to the bitter end, was a 20-something.
Only the strongest among us survived the atrocity in its entirety.
Or maybe we were just the stupid ones.
The sketch comedy follows out-of-work screenwriter Charlie Wessler (Dennis Quaid) as he pitches insane storyline after insane storyline to executive Griffin Schraeder (Greg Kinnear). Wessler's 12 proposals take the form of independently directed shorts starring woefully big-name actors—Kate Winslet, Hugh Jackman, Anna Faris, Richard Gere, Emma Stone, Naomi Watts, Jason Sudeikis and Gerard Butler are just a few of the idiots who agreed to participate in the savagery that is "Movie 43." Everyone and their mother is in this movie. That's what tricked me into seeing it.
"Movie 43" is the worst movie ever made. It is so terrible it's pointless to criticize it.
But I'm going to do it anyway.
The film is a barbarous debacle of offensive "humor." For the sake of time and a sensitive gag reflex, I won't spoil any of the revolting situations explored in this tasteless gross-out comedy. But here's a small glimpse of its subject matter: if you think incest, racism, bestiality, masturbation, deformity, mental illness, defecation, "mangled" penises, menstruation, and leprechauns are funny, then this truly is the film
for you.
The crudity is not what pisses me off. What pisses me off is that "Movie 43" is just not funny. For a film that features leprechaun mutilation and talks about blow jobs incessantly, "Movie 43" is really boring. In trying to make the most offensive film the world has ever seen, director Peter Farrelly inadvertently created the least funny comedy ever.
I laughed maybe twice. The rest of the film I spent squirming in my seat, wondering if I was the only one who didn't "get it," and wishing I had paid for "Hansel and Gretel: Witchhunters" instead.
What's more is that the monstrosity is poorly made. With amateurish cinematography and laughable special effects, it's obvious that the $6 million film is low budget, despite the deceiving guise of its star-studded cast.
There are eight Oscar-winning or Oscar nominated actors in "Movie 43." EIGHT. The Washington Post praised these actors for being "game," but I think The Washington Post is crazy.
You want to be "game" and funny? Fine. Star in a comedy like "Bridesmaids" or "The Hangover," both of which struck a balance between tastelessness and intelligence. Do a voiceover on "South Park." But don't churn guacamole with your Oscar-winning breast in a film so dull and appalling it drives people out of the theater (ahem, Halle Berry).
The eight of them might as well have taken their golden statuettes and shoved them up their a**es.
A final shout out to Kate Winslet: I thought you were better than semen jokes and projectile diarrhea.
You have compromised your integrity, Kate Winslet. And I have lost all faith in humanity.
Kellie may be reached at [email protected]
Leave a Comment