Alternative High School Finds Home at SU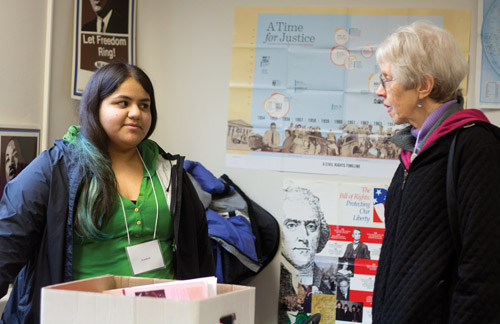 Jacob Ross, a senior at Middle College High School at Seattle University, is interested in studying horticulture.
"Plants have always amazed me because they're used for everything," said Ross. "For medicine, for burns, lotion, clothes, basically everything. That's just really cool."
At Middle College High School, students like Ross who seek an alternative high school experience can come and pursue their goals. A small entering class of about 25-30 receive more individualized attention, experience life on a college campus, and are encouraged to reach long-term success on both an academic and personal level.
"The main reason Seattle U is hosting a Middle College program is because they want to help the young people in the community," Site Coordinator Beth Brunton said. "They're here in the central area, and a lot of young people in this neighborhood who are of lower-income are struggling in school. Seattle U, because [it is] a Jesuit school and Jesuits believe in education, wants to help the young people through academics."
The Middle College program, implemented in various Seattle locations in 1992, welcomed its first class in the fall of 2012.
"The mission is to prepare students for success in college, career and community leadership," Brunton said. "It's not enough to graduate from high school, we tell the students, though that's the immediate reason they come here. We also want them to be ready for life after high school. Not just getting into college but what habits and skills are needed for finishing college. Keeping a job, not just getting a job."
Along with helping out in the local community, Seattle U is benefitting from hosting the Middle College program on location. The Middle College is housed in the same building as Seattle U's College of Education. This makes it easy for Seattle U students, aspiring toward a career in education, to work with the students of the Middle College.
"The College of Education has people learning how to be teachers, counselors, student development and they would like to actually interact with real-life students," Brunton said. "They want students to talk to them about what would make their education more effective. That's why they offered us space, that's why they were the ones who really spoke up for having this program here."
The Middle College campus within Loyola Hall is quite advanced. Students have access to multiple classrooms, a computer lab and a lounge that is filled with packaged lunches and snacks.
"Students get to eat breakfast and lunch in here and then after school they like to socialize, listen to music," Brunton said. "The Seattle Public School District provides food… They give us free and reduced lunch for students."
The Seattle Public School District does not just provide the food for the students at Seattle U's Middle College, SPSD also outlines the infrastructure of how to run a Middle College and pays the employees' wages. This partnership eliminates some of the obstacles that Seattle U would have to deal with if they were to implement a similar program but as a private institution.
Since Seattle U is a private institution, it has more resources. That is why it was chosen to unite with SPSD. The Middle College location consisted of portables at Seattle Central Community College before they were torn down to build a larger location. Unfortunately, due to budget cuts, that area could no longer host the Middle College.
"Seattle U is happy because the district pays for the staff's salaries. So Seattle U can have this program start… It doesn't cost them anything, they just give the space," Brunton said.
"They also don't have to worry about running the program because the district runs the program. It's almost like you could call it a Middle College franchise, it's a ready-made program. We take care of the students, the parents; they don't have to worry about it. It's a win-win situation."
Walking down the main hallway of the Middle College, some of the current students are profiled on the wall. All of these students had to apply and were interviewed by Brunton and the rest of the staff before being admitted.
For the Jan. 24 Middle College Open House, the students profiled on the wall wrote a short biography about themselves, citing their favorite inspirational quote.
"'You have to go through a storm before the calm,'" writes Cihirah Bankston, a second-year senior at the Middle College. "I want to thank Seattle University for letting me go to school here. Thanks again for believing in me, never giving up on us, and always inspiring us to do our best."
Sherilynn may be reached at [email protected]pectator.com
Leave a Comment