Women's Hoops Dominates in Conference Play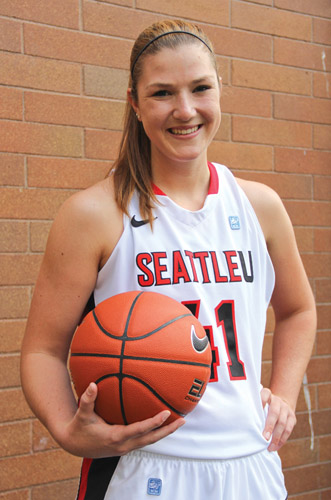 After starting the season 3-6, including close losses to Pacific and Washington, the women's basketball teams has hit their stride, winning five straight to begin conference play. Kacie Sowell has been at the center of the run, scoring 17 points per game and grabbing 9.8 rebounds per game. Her influence has gone beyond that though, forcing teams to adapt to her inside presence and opening up the game for the Redhawks guards to operate.
"It's just about outworking any opponent inside with me. Our team is really focused on playing inside out so our guards do a good job of getting the ball inside and getting me those looks which allows me to score inside," said Sowell.
During the run, teams have been shooting just 40 percent against the Redhawks, compared to 45.4 in the nine previous games. The Redhawks are shooting 43.4 percent from the field in conference play, but are also averaging 61.8 shots per game, higher than opponents' 58.6.
In a tight game, those extra chances and higher shooting percentages can mean the difference between a win and a loss, and is part of the difference between the team's slow start and the roll they are on now.
"We struggled early in the season just finding what was working for our team and just coming together and finding that chemistry," Sowell said. "There's not a lot of time before we start games so we use pre-conference games as a time to really come together."
The Redhawks currently hold a two game lead over three teams, Idaho, Louisiana Tech and Utah State. The team has already played Idaho in Moscow and Utah State at Connolly Center, and faces UT Arlington Thursday and Louisiana Tech Saturday at Connolly with a chance to continue their streak.
UT Arlington brings the second worst record in the WAC into Connolly Center, as well as a four game losing streak. Louisiana Tech must face Idaho in Moscow before coming here, a matchup that will see one of them drop to 3-3 and one move to 4-2.
These two match-ups make Thursday a day that can help add to the Redhawks lead at the top of the WAC, a lead that could prove useful as the Redhawks face a tough stretch of four away games in a row to end January, including Texas State, Texas-San Antonio, San Jose State and Utah State.
"We would like to win the WAC," Sowell said. "That's everyone's goal and to be able to go the [NCAA Tournament]. Its the first time since I've been here and in a long time that a Division I NCAA birth has been available so we just want to take advantage of that and do as well as we can."
One player who has benefitted from Sowell's inside presence has been Daidra Brown, who's points per game have increased, including a 19-point outing in the overtime win over Idaho in Moscow on
Dec. 29.
Sylvia Shephard has benefited as well, notching two 20-point games during the run, compared to just two in the nine games before. With more players getting touches on the ball, Seattle U has been able to showcase the weapons they have on all parts of the court, causing problems for teams on the defensive end.
I think on offense we just have a lot of weapons and that is something that is our teams biggest strength," Sowell said. "So one team will try to take away our inside game and then our guards come in strong and start hitting shots so it's hard for teams to play all sides of our offense because we have so many offensive threats and great scorers on our team."
Kevin may be reached at [email protected]
Leave a Comment