The Spectator Chats With 'Confessions' Creator: Anonymous Posts Are Something to Gossip About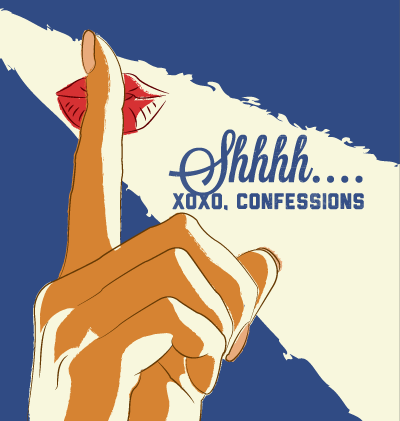 Number 289 hates pants.
Number 247 doesn't know what
social justice is.
Number 332 thinks this is the most exciting thing to happen at Seattle University in a long time.
992 "Likers" on Facebook would agree.
Over Christmas break, in the lull between quarters, the Seattle U Confessions page popped up on Facebook feeds. On the page, students can submit confessions to a web address that will then direct their posts to the page's administrator, keeping the student anonymous and the confession mysterious.
It's a secret look into the lives of Seattle U students.
Intriguing and addictive, Seattle U Confessions is the university's own personal episode of Gossip Girl.
But this Gossip Girl isn't trying to break apart friendships and interrupt social circles. Instead, the page is a way for people to reveal secrets without implicating themselves.
If you read the page, you'd understand why the anonymity is important.
"Rather than having students submit their confessions to my inbox, I direct them to Survey Monkey so even I have no way of finding out who it is," said the Confessions page administrator anonymously in a Facebook chat. "It's a bit uncomfortable to know peoples' secrets."
Since its inception on Dec. 29 the page had 428 confessions at press time, a number that represents only a portion of the submissions. According to the page creator, there were over 600 confessions in the first 10 days.
Approximately around the same time the confessions page was created, another Seattle U-focused page appeared on Facebook.
In true Seattle U fashion, it is all about affirmation.
This page, called Seattle University Compliments, is similar to the Confessions page in that friends can anonymously send in posts about fellow students.
The page now has 723 friends.
Though the pages are similar in setup, the purposes are different. Where the Confessions page feeds human curiosity, the compliments page is a confidence booster.
"I'm glad that it has gotten such a good response and I love seeing people complimenting each other," said the Compliments page creator anonymously over Facebook chat. "It really restores my faith in humanity."
The two pages are unique to Seattle U, but the initial idea for the forums did not originate here.
According to both creators, the idea stemmed from successful Confessions and Compliments pages at other universities.
In a Google search, one can find many such Confessions pages at several colleges in the UK. One particular school administration responded to the page with a cautionary email to the college.
"We wish to remind students that personal information posted on Facebook or other social media channels is there for the world to see," said University of Lincoln administrators. "Do consider the consequences a posting could have for you and others in the future."
Many articles about the sites in the UK, however, were concerned about the content of the posts. Sexist and racist jokes permeated those pages, as well as the disregard of sensitive topics such as rape and suicide.
The Seattle U page has not encountered these problems.
The Confessions administrator said there is a process for posting submissions that helps to eliminate potentially contentious posts.
Some things should stay secrets.
"I ask myself, is this a real confession, not a question or a complaint? Then, is this post going to hurt somebody or can it be taken lightly?" Confessions said. "Lastly, I want the post to be entertaining and not a waste of space. There are so many confessions that they really need to be a good use of the page. I skip through a lot of junk."
The posts range in content from serious to sad to comical to ridiculous. The Confessions page is a way for students to get something off their chest.
In some ways, Facebook has become sort of like group therapy.
"I read through other confessions pages and knew what the posts would be like," Confessions creator said. "But every school is different, and Seattle U students post many things directly reflecting our campus… Our school has a strong LGBTQ community, the presence of SU Choir, basketball—these are all directly related to the confessions I receive."
Though the intention of the page is not to be therapeutic, Facebook has long been considered a space for venting. Statuses are an invitation for complaints, compliments and especially confessions.
According to the Independent, a UK newspaper, there are 293,000 Facebook status updates every minute.
"Facebook Therapy" is even an Urban Dictionary term defined as "when a person uses their Facebook status to vent their frustrations. This is similar to a therapy session with a psychiatrist."
The Confessions page creator isn't trying to be a therapist, however. They the forum doesn't necessarily give students the help they should have in serious situations.
But there have still been posts on severe topics such as depression, suicide, bulimia and anorexia.
"There's actually some really depressing things on it," said student Missy Davis. "It's almost like a cry of help sometimes and the people that read it aren't therapists and it's not like they can do anything about it."
Davis has never gone on the page, but she has heard enough about it.
For her, the anonymity of the posts only make it easier to hide behind the truth.
"Since they do want to say it anonymously it's kind of like a protection or a shield," she said. "But it could make things worse because it worries…the people that go to this school, but they don't know how to help. They don't know what they can do about it."
For less serious posts, however, Davis said it could be a good place to get something off your shoulders.
Wharton School and University of Miami's Behavioral Labs did a study in 2012 about Facebook therapy. Part of their research discusses how such technology limits face-to-face interaction and could therefore lead to people feeling lonely.
The article also states, however, that some online activity could be a good short-term emotional outlet.
The Confession's page creator noted the serious tone of some posts. Though concerned, the creator also saw other students commenting on those posts with recommendations and words of support.
"When I saw the benefits of this page, I realized it needed to stay up," Confessions said. "We could have saved someone's life by allowing them to finally share something anonymously that they had never been able to do before."
Either way, student Nichole Abbey finds the page eye-opening.
"We're kind of in an SU bubble, and I think a lot of people think that SU is a certain way," said Abbey. "And it's like, well, not everyone has the same experience."
The page is an outlet for people to be honest about that.
Though many posts are more serious, the entertainment value of the page is considered to be pretty high by those who read it.
"Simply put it is just fun to read and very interesting to really go into what people are thinking when no one is judging them," Confessions said.
"It's kind of a way for people to celebrate the weird things that they do," Abbey said. "We're all curious by nature…in a way it is connecting SU as a whole even though it's anonymous."
Confessions creator became addicted to reading the University of San Diego page. As a marketing major, the creator was drawn to social media as an outlet and a forum for students; people uniting through secrets in an online world. In a way, Seattle U could be becoming more connected through these Facebook pages.
"Oh, there's somebody out there who spits on his roommates toothbrush when he's not in the room and then washes it. Okay, I know that fact about someone," Abbey said. "Do I know who it is? No, but I now know that fact about someone at school."
Social media also serves a large audience. Confessions aren't always just between a priest and an individual anymore.
It has turned into a community affair.
"The SU community has really turned the page into an entertaining, informative and helpful forum where students express a variety of things," Confessions creator said. "Students confess information that they have never had someone to tell it to."
Both page creators plan on remaining anonymous as long as possible, mostly because they don't want the attention.
"As long as the people show this kind of interest and the page isn't harming anybody, it will stay up and continue to grow," Confessions said.
Interest has continued to expand and post submissions have continued to come in. Abbey believes the curiosity in the pages will remain strong.
"We all have dirty little secrets," she said.
Colleen may be reached at [email protected]
View Comments (1)