Mythic SU Bands Prepare for Battle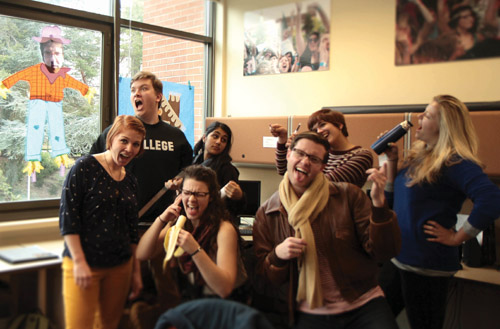 As winter quarter kicks off, the Student Events and Activities Council (SEAC) is hard at work prepping for their biggest event of the quarter: Battle of the Bands.
"Roughly 75 to 85 percent of on-campus events are put on by SEAC,but Battle of the Bands is the largest event we will put on this quarter," said SEAC's Jared Guthrie.
A long-time staple at Seattle University, this year's Battle of the Bands might just be bigger and better with an emphasis on high-energy and a new theme.
"One of my main focuses this year is really keeping the energy up," Guthrie said. "This year we're going to try to incorporate the artistry behind DJ mash-ups between sets to keep the excitement going at all times."
To stir up that excitement, the theme for this year's Battle of the Bands is "Grapple with the Gods."
"The Greek theme will be heavily present," Guthrie said. "We're encouraging people to dress in togas."
Hopefully, the Greeks will inspire some godly performances from Battle of the Bands' applicants, some of whom are already hard at work.
If applicant Bob Martin should be selected to compete, this year will be his second year performing in Battle of the Bands—Martin's band Kithkin won in 2011. He and junior John O'Connor are currently in the writing process and hope to record a few songs soon. They will be playing the keys, bass and electric drums to create a two-man funk band.
"There aren't as many people at Seattle U making music as there should be. Do it, even if you're just using a microphone in your dorm room,"
said Martin.
Traditionally, Battle of the Bands has been composed of six or seven bands affiliated with Seattle U (at least one member must be a current student or alum of the university). Applications went live for the event on the first day of classes and are due Friday, Feb. 1. SEAC is aiming to contact those accepted by that Friday. However, according to Guthrie, the turnaround "depends largely on the number of students who apply."
In order to apply, students can either download the application from SEAC's webpage or pick up an application from their office. Each group is required to record two songs.
"The application process may seem a little overwhelming, but there are great resources on campus for students to use and it really is worth it to record your music," Guthrie said.
This year's judges have not been announced yet. SEAC is aiming for a total of four judges: one business professional, a journalist, a local artist and a prior participant.
"We want the judges to be more like mentors than anything," Guthrie said. "We want the bands that perform to really take something away from this experience."
This year, Battle of the Bands will be taking place on a Thursday night, rather than on a weekend. SEAC feels that having the event on a weeknight will help boost attendance to the event and possibly make it easier for commuter students to attend.
Beyond its Herculean theme and date change, this year's Battle of the Bands will mostly stick to tradition.
"Overall, this year's Battle of the Bands will have a lot of the same format as years before, only a lot more complex and with more details," Guthrie said.
As before, there will be a winner chosen by the audience and a winner chosen by the judges. Like last year, SEAC will be collecting votes from students via text message.
"We are going to ask students to vote within a 20-minute window by texting in their favorite band," Guthrie said.
The band that wins the student vote will get to play on the Quadstock main stage in the spring. The band that earns the judge's vote will win a cash prize and other prizes that have yet to be announced.
Although an prize would, of course, be nice, not everyone is in it to win.
"We'd just like to play in front of our friends and have a good time. [Battle of the Bands] is a great excuse to have fun. It's not really about winning or losing to us," Martin said.
Battle of the Bands will take place in the Campion Ballroom at 7:30 p.m. on Feb. 28.
Holly may be reached at [email protected]
Leave a Comment