Meet Red Robin's Hip, Drunk Sibling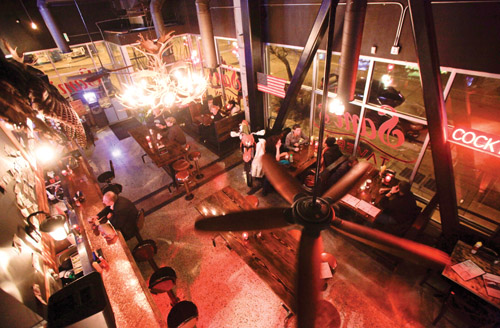 There's a Red Robin on the Hill. Well, sort of.
On Jan. 2, Sam's Tavern—a bar inspired by Red Robin's original restaurant and owned by a family member of the chain's creators—opened on the busy corner of Pike Street and 10th Ave.
Owner James Snyder is following in the footsteps of his family. Red Robin was first called Sam's Tavern in the 1940s before the name change occurred in the late 1960s.
"I based the build [for Sam's Tavern] off of what my dad told me the original bar felt like, so this is my rendition of what the original Sam's was back then," said Snyder.
Snyder's vision is to bring back the original Sam's Tavern concept by keeping the menu simple and affordable with food and beverages priced under $10. Although Sam's is a bar, food is Snyder's priority.
The Juicy Lucy is a street meat-style burger with sauteéd onions and cream cheese, but the brie cheese-stuffed patty is where customers will find the burger's unusual, but tasty, kicker. For bacon enthusiasts, the Sammy's 50/50 Club is for you. This patty is 50 percent Kobe Beef and 50 percent Hickory Smoked Bacon topped with gouda, avocado and a buttermilk bacon ranch that will send eaters straight into a bacon coma.
Each burger comes with complimentary, endless in-house cut fries, an age-old diner tradition that seems to have been forgotten at most of the Hill's burger joints.
Sam's also offers smoked barbeque items including a pulled pork sandwich drizzled with candy caramel barbeque sauce and hickory-smoked baby back ribs. For small portions, an all-day happy hour menu features mini shrimp tacos and the Tornado Dawg—a hot dog wrapped in chili cheese curly fries. Sounds like a heart attack waiting to happen.
"Sam's Tavern doesn't have any vegetarian options on the menu right now but [my head chef and I] are looking to get a veggie burger on the menu," Snyder said.
With a full bar and twelve beer selections, customers can easily find a drink that will wash down their food. Rainier drinkers get a bonus—a free koozie with each beer bought.
"It's a good place for having a conversation and grabbing a beer," said Seattle University senior Stephanie Hodges.
But the boozy masterpiece of Sam's Tavern, the Bloody Burger, is only available on Sundays. This Bloody Mary comes with all the usual fixings, plus a "miniature" burger jutting out of the side of the drink. It is the perfect game day concoction and should be added to their regular house cocktail list.
"Figuring out different ways to present a hamburger is challenging, but we will keep finding new ways to present them," Snyder said.
Bloody burgers and free fries aside, Snyder also deserves a round of applause for transforming a space previously occupied by Chino's into Sam's within just three short months.
"I bought the space in October and [my friends and I] started building within two weeks," Snyder said. "It was a really rewarding feeling to fix a place that wasn't doing very well and completely gut the space." Despite the urban locale and aesthetic, taxidermy seems to be a subtle decorative fixture at many of the Hill's bars and Sam's is no exception—a chandelier made of deer antlers hangs in the center of the restaurant.
"My style is reflected in the restaurant and with Capitol Hill, by being a little funky," Snyder said. "I wanted to be in an area I felt comfortable in and where I am getting a diverse group of people coming into the space."
And with Sam's tasty new spins on old classics, that diverse group is likely to keep rolling in.
Ashley may be reached at [email protected]
View Comments (2)