Critic's Corner: 'Gangster Squad'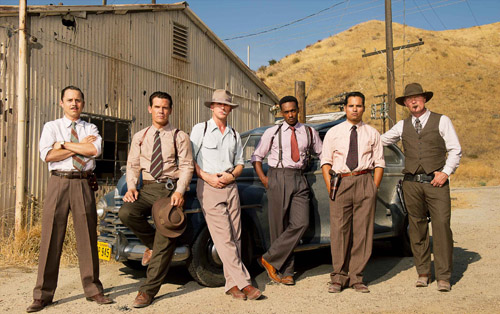 Can a movie with Ryan Gosling consistently wearing a shirt be good? Somewhat.
In director Ruben Fleischer's "Gangster Squad," Los Angeles cop John O'Mara (Josh Brolin) goes undercover to take down one of the city's most powerful leaders in crime, Mickey Cohen (Sean Penn). Set post-World War II, O'Mara assembles a crew of talented but underappreciated policemen, including a perpetually drunk officer named Jerry Wooters (Ryan Gosling). Together, these men begin destroying the pillars of Cohen's crime ring.
"Gangster Squad" adhered to all the standard themes and characteristics of an entertaining yet predictable action movie. We have a hero's struggle between duty and family life, a woman who complicates the task at hand by bringing love into the equation and, of course, plenty of gunshots are fired in the middle of civilian streets.
Although infiltrating a 1940s Los Angeles crime ring is likely something that most audience members don't do every day, screenwriter Will Beall makes the situation relatable through effective character development, particularly amongst those characters who are members of the undercover squad. The flaws in O'Mara's personality shine through—more often than not he chooses getting the job done over the safety of his family—but Beall also shows O'Mara in a positive light, as he becomes the paternal figure for the group, his surrogate family.
One character that disappoints is Gracie Faraday (Emma Stone), Cohen's for-hire girlfriend and Wooters' secret lover. Despite Faraday's frequent appearances, her presence neither hinders nor pushes the plot forward. She first enters as a puzzling temptress to Wooters, but as the story progresses that façade disintegrates and she falls flat.
So did the slow motion. Overall, "Gangster Squad" is aesthetically pleasing and interesting. However, the slow motion scenes interjected throughout the film—coupled with background music that didn't quite match the action—bogged it down visually. The stylistic choice was likely meant to add suspense, but it instead rendered pivotal gunfire scenes bland.
As for the plot, the film does little to stand out within the action movie genre. Although O'Mara's heroic nature tends to lead the squad into unplanned assaults on Cohen's property, "Gangster Squad's" chain of events is anything but spontaneous.
In order to bring this average plot to life, the actors and actresses portray their characters well. Brolin seems made for the role of O'Mara—he accentuates O'Mara's savior complex without making him seem too zealous. Gosling is convincing as a lovable, drunk sergeant.
Originally slated to premiere on Sept. 7 of last year, the date was postponed until Jan. 11 due to the tragic events at "The Dark Knight Rises" premiere in Aurora, Colorado. The original cut of "Gangster Squad" involved a shoot-out at Grauman's Chinese Theater in which mobsters attack the moviegoers with machine guns. Following the Aurora shooting, the scene had to be reevaluated and reshot.
Although the filmmakers should be applauded for their respectful decision to alter the original film, the film in its entirety deserves only a tepid round of applause at best.
Sherilynn may be reached at [email protected]
Leave a Comment