On A Bicycle Built For Seattle University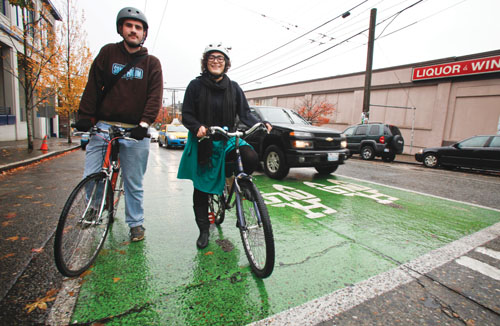 Walking on the sidewalks of Seattle I hear a bell ring twice. I move aside, recognizing the familiar sound of a cyclist wanting to pass me.
Since coming here, I've noticed people biking to work, school or wherever it is they're going.
Seattle has a strong community of bicyclists. As this culture grows, the city will continue to support cyclists by updating the 2007 Seattle Bicycle Master Plan.
This plan served as guidelines to improve Seattle's bicycle network, allowing for increased ridership, encouraging biking as a transportation alternative and creating a safer environment for bicyclists.
In 2007, $240 million was used to implement the plan over the next 10 years. The plan has brought about improvements in bike infrastructure, including 129 miles of bike lanes and bike lane symbols, nine miles of multi-use trail improvements and 2,230 new bike parking spaces.
"That's absolutely huge and I'm kind of excited about that. You always see more bike lanes going in and things like that. It's very impressive," said Max Snyder, president of the Bicycle Club at Seattle University.
The Seattle Department of Transportation and the Seattle Bicycle Advisory Board are working to improve the plan in an updated 2012 master plan by working with the community to come up with the best practices for bike facilities as well as safety and design improvements.
So far, improvements to be implemented in 2012 update include greenways in neighborhoods for those who want to walk or bike away from congested streets and a Corridor Bicycle and Pedestrian Safety Campaign along different streets to increase awareness of bike safety and the benefits of biking.
The city can also expect to see bike boxes. These bike boxes are a green space painted with a white bicycle symbol on the inside which will create space between motor vehicles and the crosswalk so that bicyclists are ahead of vehicles. Bike boxes will give bicyclists more visibility on the road, making it safer when cars are making turns.
The push to create a stronger and safer bike network aligns with Seattle's evolving bike community, which will launch a bike share in Capitol Hill and Puget Sound as early as Fall 2013 to Spring 2014.
"The idea of bike share has been rapidly spreading from Europe where it started into the U.S. and has sort of popped up in multiple cities, especially in the past four years," said Holly Houser, executive director of Puget Sound Bike Share.
Bike share is a program in which the city provides bike rentals as a means of transportation to work, school, or to close the gap between getting off a bus and to their destination which could be blocks away.
Some of the biggest bike shares are located in Washington D.C., Boston, Denver and Minneapolis. Other cities that will launch bike share in their community next year include New York, Vancouver B.C., Portland and San Francisco.
"Seattle has been looking at bringing this innovative transportation alternative to our city and there's a group who over the past four years made up of representatives … in the community who over the past four years have been working to make this happen and discussing the potential," Houser said.
From there, a company made a business plan that tested the capacity of the city for how much it would cost to have bike share in Seattle. Houser was hired as the executive director and has been working for a little over a month.
The business plan was divided up into different phases, and each phase rolls out as a progression of the last.
Phase one will cost $3.7 million and have 500 bikes and 50 stations located in parts of downtown, South Lake Union, some connecting stations around East Lake, University of Washington, Children's Hospital and Western portion of Capitol Hill.
"Basically, the idea is that stations are placed conveniently and sort of densely two blocks away from each other. The idea is that they'll be used really for short trips to connect people from other forms of transit to the workplace or school or retail and services," Houser said.
Though the system is not set in stone, ideally, the way bike share would work is through a 24 hour, monthly or annual membership where the member has a card or some kind of electronic device used to scan at the station to check out a bike.
"The whole reasoning behind that is bikes really are for short trips," Houser said. "They're not sort of a bike that you are going to take on a road trip for three hours. We want the bikes to stay in the city. We want them to stay available and stay accessible to people who want to use them."
The organizations are hoping to raise the funds through partnerships with private corporate sponsorships and grants.
On a smaller scale, the Student Government of Seattle University (SGSU) is working toward having a bike share on campus.
"A bicycle share would be good to have on campus because of the environmental impact as well as the health impact and some of these things like that. Seattle itself is set up for cycling. There has been a lot of infrastructure," Snyder said.
However, factors of cost and maintenance were problematic in implementing bike share on campus. So although the Seattle U community will not see bike share this year, SGSU plans to work toward that so that future SGSU students can eventually see the project.
In the meantime, SGSU plans to bring covered bike racks and lockers to campus, which is a progression toward having bike share on campus.
"You'd have a bike locker that you can store your bike in for a quarter and you'd rent it out for a quarter," Gaddie said.
However, these bike lockers are still a bit costly. One bike locker is two triangles put together to form a rectangle and so it stores two bikes. It costs $2,535.
However, bike lockers would be useful for students.
"It's kind of like a safer storage and convenient way to store a bike. These would be covered so you won't have the damage of rain or the possibility of them being stolen because these are really secured to the ground and lots of people, like really anyone could use these bike lockers," Gaddie said.
Currently, SGSU is planning to have five lockers which would store 10 bikes, and the cost to implement that will be $12,500. However, SGSU is still figuring out how to cover the costs when their project funds for this year is $13,000.
"Anyone can tap into this fund to put on programs or events or if there's something they want to do for the campus. And that's $13,000 this year. So when you think about it, $12,000 for 10 bikes for five lockers would basically be using up this entire funds for our reps to use. So we can't take it all from that," Gaddie said.
Currently, SGSU is working with the Bicycle Club to raise funds for the bike lockers.
With interest in using bikes as an alternative for transportation, the master plan update could not have come at a more appropriate time.
"Biking is just like a healthier option, better for the environment," Gaddie said.
It also works well with other alternative transportation.
"We're making obviously great progress in terms of transit in Seattle and there's sort of a lot of pieces of that puzzle whether it's metro bus, light rail, the street car. Bike share in Seattle is going to be a great way to connect all of those transit types. … It's sort of that last mile connection that's really key," Houser said.
And with attention to more bicyclists, it also makes the community more bike friendly.
"By having more bikes on the road and people riding bikes, it's going to make the bicycling environment safer for everyone," Houser said.
The final update of the Seattle Bicycle Master Plan should be ready for City Council in 2013.
Bianca may be reached at [email protected]
Leave a Comment