Avenue Q Will Elicit An Existential Crisis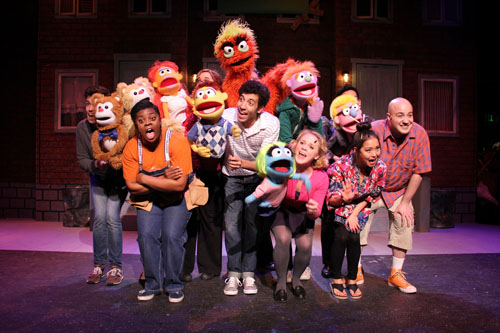 Avenue Q is full of bawdy puppets and lewd jokes. Don't go into it expecting sunshine and rainbows though. I'm here to warn you as a fellow college student—this musical is going to be pretty heavy. When we left the Balagan Theatre on Harvard after the show, a lengthy conversation was had about our unsure futures, the nature of God and existential philosophy.
Again—do not let the puppets fool you. This is heavy stuff.
Opening originally as an off-Broadway production in 2003, Avenue Q has swept theatres across the world. The Tony Award-winning musical is often billed as "Sesame Street for adults." The puppets in the world of Q watch a lot of pornography, struggle with repressed homosexuality and confront racism. There are graphic scenes of puppet sex. There are puppet strippers. The Avenue these puppets live on is far from Sesame.
Princeton, our puppet protagonist, begins the show full of wonder and possibility. At 22, he has just graduated from college with an English degree. Princeton is wide-eyed and wistful, excited to explore his purpose he knows is waiting for him just on the horizon.
Reality hits Princeton about two minutes into the show though. After realizing he cannot afford housing in Avenue A through Avenue P, Princeton finally settles on moving into the run down Avenue Q, the only place that fits in his price range. The neighborhood is full of depressed, down and out puppets, with a robust set of unfulfilled dreams and personal issues. His neighbors are lonely, unemployed and low on cash. Princeton launches into the show's first musical number "What do you do with a B.A. in English?" and the comic horror begins to set in.
We are often told growing up that we can do anything. Our "Millenial" generation gets charged by fuddy-duddy sociologists for being more entitled than previous generations (along with a million other accusations that have to do with MySpace or something). Forget that the world is in the pit of an economic recession. Forget your student debt. You'll be okay. You'll get a great job doing what you love. You are special! Once you are an adult though, the reality is, you've got to eat and pay rent on your own. You might have to find some not-so-special ways to make that happen.
This "special as a child, not so much as an adult" dichotomy is embodied by the superintendent of Princeton's building on Avenue Q, none other than Gary Coleman. The once famous child actor, full of promise as a youth, is now an adult toiling in obscurity. He is a punch line.
And that's why Avenue Q is so heavy. You, my dear soon-to-be college grad, are the punch line. Your hopes, dreams and fears about entering into the adult world are played out in front of you. A bunch of puppets, singing funny songs about your doubts. Russian satirist Nikolai Gogol's work was self-described as an attempt at "laughter through tears." Avenue Q is hilarious. It is full of razor sharp wit and fabulous writing. You will laugh. You will have a great time. The Seattle show is wonderfully cast and produced. Just know going in—this musical is in the spirit of Gogol.
Don't worry though. You are special!
Kelton may be reached at [email protected]
Leave a Comment