Women's Basketball Team Falls to Pacific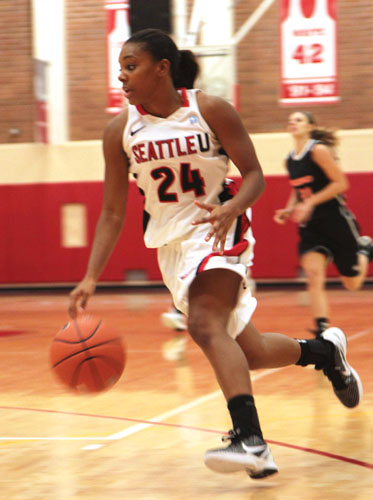 A late rally wasn't enough for the Redhawks women's basketball team to overcome Pacific University, and the Redhawks lost 71-70 on Friday at Connolly Center.
The Redhawks were behind much of the game, trailing by 15 with 10:29 left in the game, ever since Pacific went on a run early in the first half. The Redhawks were able to battle back though, led by 11 late points from senior Ashley Ward.
Trailing by seven with less than four minutes to go, the Redhawks were able to take advantage of missed shots and free throws to cut into the Pacific lead until they were just three down with less than 10 seconds to go. A Pacific free throw made the lead four and looked to seal it.
Ward drove the length of the floor, however, and was fouled on a three-point shot, giving the Redhawks one last breath. After making the first two shots, Ward needed to miss the third to give her team a chance at a tip but the ball bounced around the rim and fell in, ending the game down one point.
Tempo played an important part in the game, as Pacific were able to force turnovers and score in transition, getting open looks from their aggressive defense and pressure.
"I think that we allowed them to create tempo," said head coach Joan Bonvicini. "They forced turnovers and I don't think it was until late which we started playing a lot smarter and more aggressively to get the ball inside. We're always going to be an inside-outside team. We needed to show more balance."
Despite trailing for much of the game, the Redhawks late comeback showcased much of the team's talent and determination, rallying from down double digits to nearly pull off a big comeback win.
"I was really happy the way we responded," Bonvicini said. "We got to the free throw line a lot, took better shots. It was good to see Daidra [Brown] finally start playing aggressively and finally in the last few minutes play with a lot more confidence."
The team was led by senior Ashley Ward's 21 points and junior Kasey Sowell's first double-double of the season, notching 19 points and 11 rebounds in the loss. Senior Brenda Adhiambo was the third Redhawk in double figures, contributing 11 points as well as some key rebounds.
Sophomore Makenna Clark added an important three-pointer off the bench, junior Sylvia Shephard led the team in assists with six while adding six points of her own, and senior Daidra Brown added five points, including two late driving baskets that helped cut the Pacific lead.
"We forced them into 28 turnovers, which is huge. I feel like we capitalized on most of the turnovers," said Brown. "But like coach said, we let them gain tempo, so that's one of the negatives. As long as we keep forcing turnovers, keep staying together and keep building confidence and playing together then we'll be fine."
The Redhawks next action is today against the University of Washington at KeyArena. The game is scheduled for a 7 p.m. tip-off and will celebrate Bonvicini's 1,000th game coached.
Kevin may be reached at [email protected]
Leave a Comment