United Filipino Club Gets its Jam on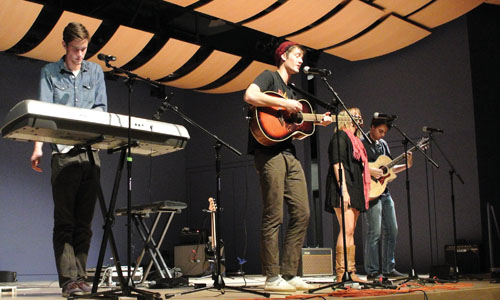 Seattle University's Pigott Auditorium was packed with five musical acts and two local dance groups last Friday, marking the annual Filipino American Student Association's (FASA) Jam concert "Harmonize in Unity."
FASA Jam is a benefit concert hosted every two years that raises money for the Filipino American National Historical Society, which documents and promotes Filipino American history through its archives, books, programs, art and more. This year, it took 30 people—including 13 officers from Seattle U's United Filipino Club (UFC) and officers from FASA at the University of Washington—months to plan the successful event.
On Nov. 9, the two universities came together to organize a three-hour show that included performances by Seattle U's Coho Mountain String Ticklers, Bridget Hermano, the first "Asian American Idol" in the Filipino Community of Seattle, and US, a married duo from Southern California. The evening was hosted by Alyssa Fernando and Michael Bermudez, who moved the show along with their witty script.
Coho Mountain String Ticklers opened up the show with brilliant three-part harmonies and impressive acoustics, scoring the band's first encore ever.
"I was completely unprepared for the reaction," said vocalist Laura Germano. "When you play music or create any sort of art, you pour yourself into your project. So receiving that praise that we did Friday night, about the music we've been slaving over, is an indescribably amazing feeling, and a surprising one at that."
Smooth Technique followed Coho with soulful vocals and homemade beats that often referenced Seattle locations like First Avenue and Tutta Bella. And though lead singer Andrew Pacis was on crutches the night of the concert, it did not disturb his jazzy and smooth performance. New Heights—whose first single "Peaches" was featured in a short film by the Jubilee Project called "Love Language" that reached over 10 million views on YouTube—performed next with lead vocalist Travis Graham, guitarists Chris Kwak and Kiyung Park, Tyler Carroll on bass and Bobby Walker on drums.
Slight changes made to the program's schedule brought local dance crews Sini-Gang and Kasama to the stage early and Kasama closed its act with "Gangnam Style." After the dance performances, Bridget Hermano cooled things down with her amazing vocals, singing original ballads that silenced the entire room. And then came the moment everyone had been waiting for—US.
Formerly known as solo music artists, Michael Alvarado and Carissa Rae not only joined music forces but also got married this past summer, thereby officially forming the duo known as US. Together, they showcase their love by writing and singing songs about their relationship, including one song made up of medleys from their favorite television shows. Though the crowd loved hearing familiar tunes from the '90s, it was the last song of the night that most of the crowd could sing along to. With over one million views on YouTube, US performed the crowd favorite "Missin' You Like Crazy," which ended with many hollers and whistles asking for more.
Chelsee may be reached at [email protected]
Leave a Comment