Gluten Intolerance: Take it with a Grain…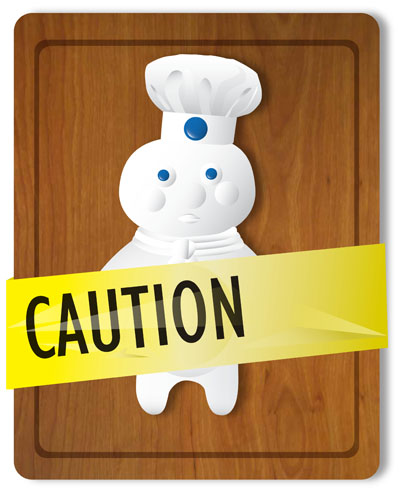 Think about your diet.
The average college student probably eats primarily cereal, bread and pasta.
A constant carbo load.
Yet, if you are one of the approximate 15 percent of the country's population who claims to have gluten intolerance or celiac disease, these staple foods, along with many others, can no longer be a part of your daily nutrition.
So pasta feeds are a bad idea.
As classified by Swedish Medical Center, celiac disease is a problem that affects a child's ability to get nutrients from food containing gluten. Gluten intolerance can be classified as the result of an immune-mediated response to the ingestion of gluten, which damages the small intestine. Many individuals with celiac disease or gluten intolerance typically feel ill after eating products containing wheat, oats and barley. Individuals can show signs of constipation, vomiting or loss of muscle mass, among other symptoms. While the cause of celiac disease is not known, it is believed to often be hereditary.
The Gluten Intolerance Group, also known as GIG, is a nonprofit organization in Washington funded by private donations. It serves as a partner to those with gluten intolerance diseases to aid them in living full, healthy and productive lives. According to GIG, gluten in the food industry refers to storage proteins found in all grains. Hence, those who must eat according to a gluten-free diet should avoid the storage proteins found in grains such as wheat, rye and barley—ingredients which are much more common in food than one may realize.
Because both gluten intolerance and celiac disease only affect a small part of the population, many restaurants, grocery stores and food products do not accommodate those who are unable to partake in eating gluten. While cities like Seattle commonly have many options for those with unique diets, there are still only about 10 completely gluten-free restaurants in the city, with many others only offering a limited variety in terms of gluten-free dishes.
Sophomore Katie Maxwell first discovered her gluten intolerance this past March when she went to a gastroenterologist after months of sickness.
"In November, I started to get really sick to my stomach pretty suddenly. I was in a lot of pain and eventually had to go to the emergency room," she said. "[The doctors] believe that a stomach virus may have caused me to no longer be able to process gluten."
Maxwell, who is also a vegetarian, has had a great deal of help adjusting from her family members. While the transition has been pretty smooth, Maxwell sometimes throws up due to accidental ingestion of gluten.
"Sometimes, I'll eat something and won't even think about it," she said. "But anything that has flour and even some weird things, like soy sauce, have gluten in them, which you wouldn't know until you can't eat it."
While she didn't know much about gluten intolerance before, many of Maxwell's close friends are also gluten intolerant or have celiac disease. Sophomore Paige McAdam was able to help Maxwell through her newfound gluten intolerance, as she herself has celiac disease, which she discovered in 2010.
Unlike gluten intolerance, celiac disease can be much more serious. This disease destroys the villi of the small intestine, causing those affected to be incapable of absorbing the nutrients in their food. This leads those with celiac disease to become extremely fatigued and malnourished.
When McAdam was first diagnosed, there weren't that many options for gluten-free products in the regular supermarket.
"Gluten-free food is so expensive. I would have to go to places like Whole Foods. Going to Whole Foods, which is already expensive, and then adding to that, just makes it a whole big mess," she said.
As she said, Maxwell is lucky to have been diagnosed recently instead of a few years ago like McAdam, when many gluten-free products were not on the market. However, both of their gluten-free grocery bills for the week typically add between $40 and $50 simply because of the gluten-free component of their items.
Both Maxwell and McAdam agree that there are many more options on campus in terms of overall products compared to last year. Yet they believe that there are definitely more steps that Bon Appetit could take to accommodate those students affected by gluten intolerance.
"The school needs to have more gluten-free pastries and such, because all of the muffins, bagels, et cetera, look so good, but there isn't any for us," Maxwell said.
"If you're in a rush in the morning and need to grab breakfast, our options [at-C Street] are really either fruit or the omelette line. There aren't any options to just grab and go, which is really hard," McAdam said.
Although gluten-free choices were not as common a few years ago, a new gluten-free food cart was recently opened in Seattle and services Capitol Hill every Wednesday from 11 a.m. to 2 p.m. at the corner of Minor and Madison. Owner Andrea Ramos Moore came up with the idea for the food cart in December after she herself was diagnosed as gluten-intolerant three years ago.
"I found myself constantly frustrated with trying to eat out, in a hurry; I found that I couldn't eat most places," she said. "It took between six months and a year for my family and friends to finally realize that I couldn't eat a lot of what they were eating. This [food cart] was my answer to that."
The food cart, I Love My GFF (Gluten-Free Food), serves lunch at four different locations throughout the week and has roughly 40 regular customers per day at each location. During our interview, about 12 people came up to buy one of the two gluten free bowls available, along with the cart's gluten-free chocolate chip cookies.
"We've been really well-received. A lot of people seem to appreciate what we're doing, not just from a gluten-free perspective, but from a healthy food angle," Ramos Moore said. "We really try to reach out to people and share our food with them, as well as try to make the gluten-free meals accessible."
While native Californians Maxwell and McAdam, along with Ramos Moore, have been able to adjust to their own gluten intolerance and celiac disease in their home cities, sophomore Aimee Miller has not been as lucky with the transition as a native of South Dakota when she discovered her gluten intolerance this past June.
"There isn't really a variety of anything. It's very down home, meat-and-potatoes kind of people, so coming out here, it's a lot easier to be gluten intolerant," she said. "At home, it's a challenge when my friends want to eat pizza constantly."
Many of Miller's friends back home didn't understand her gluten intolerance, and her diet typically consisted of salads over the summer. Since there are only 1,000 people in her town, the nearest gluten-free grocery store to her hometown is two hours away in Bismarck, N. Dakota.
It has been a nice change to be gluten-intolerant in Seattle.
"I eat a lot of ethnic food, like Thai, and a lot of fruits and vegetables. But I've still lost about seven pounds since the transition," she said. "Yet, I've always enjoyed ethnic food, so it really hasn't been terrible."
More gluten-free options have become available in recent years. People are more aware of the disease, but there's something trendy about it too.
If you want to be like Lady Gaga, go gluten-free. The already fit and healthy singer gave up gluten to lose 10 pounds.
"…You get off on the attention; you get off on being a special [little] snowflake. Problem is, since half the world's population is mysteriously falling ill with celiac disease, the snowflakes are piling up into a big indistinguishable drift," said a commenter in an online Amazon health forum. According to the comment, gluten intolerance is a bandwagon that "millions of hysterical" people have jumped aboard in chase of a trendy diet—"feigning a serious illness just so they can feel in vogue."
Capitol Hill is definitely "in vogue."
Blue Moon Burgers, Flying Apron, Sage Cafe and Romios Pizza & Pasta are just a few of the local restaurants that are cooking to accommodate the high demand for wheat-free dining.
Because gluten-free options are pricier, such a diet might seem like a luxury to many people. However, students at Seattle U with sensitivities to gluten say they aren't trying to be trendy. Cutting gluten from their diet has affected their health.
"I wouldn't really cut out gluten completely if I had a choice. If you eat items designated as 'gluten-free,' it isn't any healthier for you than the normal item, so I don't fully understand how people can say it's a fad," Maxwell said.
McAdam agreed, stating that as far as she knows, gluten-free food doesn't help in weight loss.
According to University of Virginia's Nutrition Services, many gluten-free foods, such as oils, creams, nuts, cheeses and eggs, are high in calories. Therefore, eating a gluten-free diet won't necessarily help you drop pounds. It could even have the opposite effect.
Although Miller may have had one of the toughest transitions of those interviewed, she said that the classification of gluten-free diets as a trend doesn't necessarily bother her.
"There are people who have gluten-free diets specifically for that purpose," she said. "I just think it's a completely different subject when it comes to gluten intolerance or celiac disease."
While many individuals would just blow off the severity of the disease, McAdam explains that eating gluten can truly affect an individual, especially if there are problems of cross-contamination.
"People with celiac disease are much more susceptible to cross-contamination problems, and it can vary in severity," she said. "While I'm not, I know a lot of people who, if their food even touches anything that has gluten in it, they can end up in the hospital."
The Food and Drug Administration have a regulated department focusing on gluten called the Gluten-Free Labeling of Foods Program. The team uses the highest standards for gluten-free ingredients and safe-processing environments based on continuous reviews of gluten intolerance among the general population. There are currently 6,000 products in the United States that have met the standards for being certified as gluten-free.
Some things, however, that have always been free of gluten, are only now being advertised as such, like Rice Krispies.
Though rice has never had gluten in it, Kellogg's only recently began labeling their boxes with wheat-free messages. Perhaps this is a move out of concern for celiac-diseased diners, or maybe an attempt to fit in with the gluten-free popularity contest.
As you eat your morning cereal or bagel, remember how lucky you truly are to be able to do such without a second thought.
Grace may be reached at [email protected]
Leave a Comment