G.A.S. Struggles to Fuel Mass Student Intrest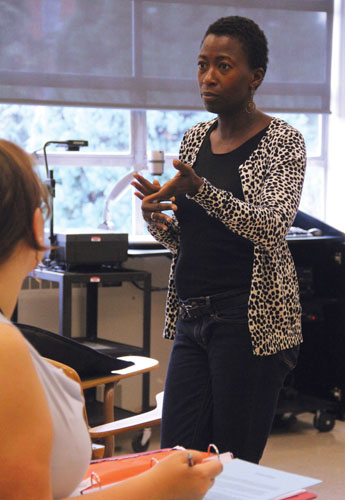 After the TV show you are watching one night, there is an infomercial. You see a group of dark-skinned children with old, ragged clothes on with hardly any food on their tables and a makeshift shelter from pieces of wood or a mix of materials. Then the narrator asks for your help to donate money.
In general, this is the perception of Africa: in need of aid.
Although many parts of Africa are in need of reform, rehabilitation, infrastructure and maybe even aid, the Global African Studies (G.A.S.) minor is working to change the perception that Africa is just a consumer of foreign aid.
"I think the vision for most people when you talk about Africa is of this poor place where you go to help people," said race and ethnicity professor Ruth White. "There's no notion of thriving economies and big cities with high rises and high ways and traffic jams."
"We've never been taught to think that Africa has many other things, [other] than it needing aid… There's never been a discussion for probably 99 percent of us coming out of high school that this is actually a place that has an intellectual history," said junior Allason Leitz-Lesch.
But in order for this minor to change students' perception about African studies, it first needs more student interest.
The Global African Studies minor began about six years ago when the department's director Femi Taiwo came to Seattle University. It is one of the smallest minors at the university.
"Part of it might be that it is unique in its conceptualization," White said.
This minor isn't simply African-American history. It studies the culture, history and politics of people of African descent. It is looking at this topic globally, centered around Africa and how the people share commonalities, but are still unique entities wherever they are.
The Spectator tried to speak with several faculty involved in the program. Few were willing to sit down with us.
There is some evidence, however, that enrollment in the program is quite low.
"Women Studies is small as a minor as well. But people can conceptualize it as what that is. They're like, 'woman, okay, I can study that.' When you say Global African Studies, for some people, it's hard to identify what that means," White said.
According to White, many of the students take this minor because there is an interest in Africa as a source of ideas and ways of cultural traditions that spread throughout the world.
For instance, White talked about hip-hop. For some students the minor includes a class on hip-hop.
"[Hip hop] came out of America but it's not purely an American creation. It has its sources in Jamaican ways of communicating and a lot of the original hip-hop people were Jamaican," White said.
Leitz-Lesch's experiences working on a film festival in the Congo led her to minor in Global African Studies. Leitz-Lesch noted that while the program was small, her classes has been fairly full—many of the program requirements are cross listed and count for history or international studies majors.
"I mean it would obviously be great if there were more people coming into the program on campus but I think it's also it's not like there's only three people in the class. There's enough people to make an interesting discussion."
Senior Alex Hopkins, an international studies major also studies Global African Studies and studied abroad in Ghana last year.
"I didn't see how it would be applicable before, but after going abroad and learning about it, I can definitely see where I could use it professionally and how it connects to every day life," said Hopkins.
Hopkins also noted the small size of the program, commenting that he hoped more people would add Global African Studies as a minor.
"If people knew how flexible it was and the different ways you can approach it, definitely you can combine it with different things," Hopkins said. "It's not like some minors where you have to take these five or six courses to do it. I filled it up with study abroad credit. So you can complete it fairly easily and you can take from it what you want."
The department tries to make itself visible to students by doing on-campus events and sending out information during advising time.
However, Hopkins thinks that the department still has to improve.
"I have never really heard about it before until my friend told me about it," Hopkins said. "She only really told me about it because we were both considering going to Ghana. If I hadn't studied abroad in Africa, I doubt I would have heard about it."
Bianca may be reached at [email protected]
Leave a Comment