Double Feature Opens At Lee Center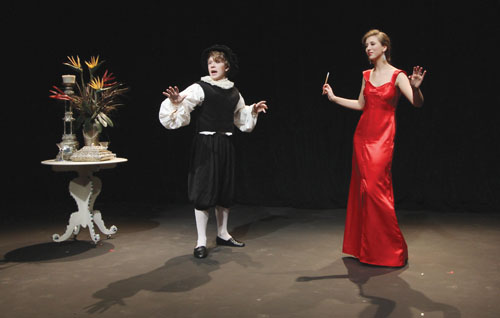 Two senior theatre majors took over the Lee Center for the Arts main stage last weekend, where their one-act plays of "The Actor's Nightmare" and "Rain" are being featured.
Director Robert Keene's pick, "The Actor's Nightmare" by Christopher Durang, keeps the audience guessing throughout the non-naturalistic comedy.
The main character George Spelvin, played by Connor Rice, wakes up in a beaming spotlight to learn that he is replacing the lead actor in an enigmatic play. Confused because he doesn't know any of the lines nor has any recollection of ever going to a rehearsal, Rice does an exceptional job portraying George's worry and anxiety over having to go on stage unprepared.
"For Rice, I wanted him to focus on the stakes of the situation," said Keene. "There's so many twists and turns to the play, and Rice does a great job at keeping the arc going and building upon each event even though they are over the top."
As the play changes each time a new actor comes on stage, George tries to keep his part straight while he travels through Noël Coward's "Private Lives," William Shakespeare's "Hamlet," "A Midsummer Night's Dream," "Macbeth," "The Taming of the Shrew" and more. With these changes, color-filtered lights signify each play that George encounters, whereas the rest of the set is made up of simple props and design elements.
George's five co-stars help deliver the play's comedic punches and keep the scenes moving. Even with a few dark curves in the plot, George's interactions with the other characters leave the audience laughing.
"For the rest of the cast, they've done their part in playing these ridiculous stereotypes and not feeling self-conscious about it," Keene said. "The comedy doesn't work if the characters aren't just way over the top."
Still, George can't help wondering if he's actually awake or still asleep. Keene said that the emotions George experiences throughout the play are easy for college students to relate to.
"George is scared and he has regrets so it's very relevant to students, especially those who will be graduating soon," Keene said.
The second one-act is directed by Antoinette Bianco. Bianco chose to direct "Rain" by Garry Williams, which tells the story of the hardships and insecurities faced by the Holcomb family during a drought that is affecting their crops.
Even though the set—the porch of the family's farmhouse—never changes, the dialogue and issues within the story keep the show jam-packed. The powerful story brings up many difficult subjects through the interactions between the actors. As their conversations unfold, the dialogue slowly sheds light on their worries.
Staff Holcomb, played by Lucas Kiehn-Thilman, has just returned home from the hospital where he lay paralyzed after falling off the roof of his barn. His close call with death forces him to question his faith and confront his inner fears. Kiehn-Thilman portrays Staff's overwhelming anger and panic to a tee.
Staff's wife Mary Holcomb, played by Meme Garcia-Cosgrove, is being pulled in every direction as she tries to keep her family intact. Garcia-Cosgrove shows Mary's sincerity and unconditional love for all the members of her family with ease.
"They're all strong actors and they were willing to go there," said Bianco. "These are not necessarily the most comfortable characters to play, especially as college students, because they are having to encompass the problems older and married couples deal with."
Staff and Mary's relationship may be a bit dysfunctional, but their love overwhelmingly shines through.
"Rain, for me, is about love and what it means to truly love someone. [People] forget to realize it's okay for things to change and for others to be different," Bianco said.
Mary's unequivocal love for her mentally handicapped son Tyler, played by Sam Asher, is another dynamic point of "Rain." This love is seen while Tyler sits on the farmhouse's front steps, giggling every once in a while at the sunset while playing with his blanket, as Mary constantly reassures him with an "I love you, baby."
"Tyler is not an easy character to play," Bianco said. "He doesn't talk at all but he has such an important place in the story."
Both plays tug at the audience's heartstrings and make the viewers think about how the underlying feelings of the plays tie into their own lives. It's an event no Seattle U student should miss.
Ashley may be reached at [email protected]
Leave a Comment